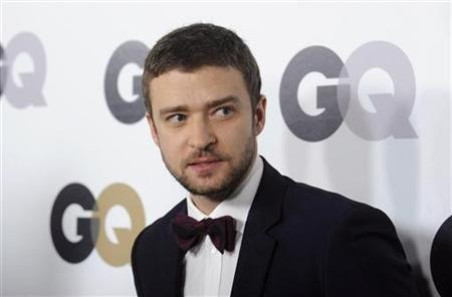 It has long been said that sex sells - but if you are Justin Timberlake it could get you in a bit of trouble.
The singer's video for new single Tunnel Vision has been banned from YouTube for violating nudity policies.
The promo directed by Jonathan Craven, Simon McLoughlin and Jeff Nicholas, shows a trio of models dancing around topless and wearing nude-coloured G-string bottoms.
Long-time music producer Timbaland also makes a cameo in the seven-minute promo, while the singer showcases some of his signature dance moves.
Ahead of its official debut, Timberlake posted a message on Twitter warning fans of its raunchy nature.
"Check out the new video for Tunnel Vision and be ready...it's explicit. -teamJT," he told his 22.3 million followers.
The 32-year-old star appears to have taken inspiration from Robin Thicke's unrated video for his hit song Blurred Lines, which was also banned last month from YouTube for recruiting topless models.
The track is the Cry Me a River hitmaker's third offering from his comeback album The 20/20 Experience.
Fans have since reacted to YouTube's decision to ban the provocative video.
One fan said: "This is not porn.... At first I was skeptical I've downloaded the song and heard it 4 times to understand it. There was no sexual act its meant to be a part of our male imagination and Justin was giving his point of view by showing beauty not trashy like they do in rap videos."
"I don't mind naked girls but, this video would have been better without the nudity. Classy would have been a better fit to this song," another wrote.
Timberlake's follow-up album called 20/20 Experience (2 of 2) has been scheduled for release in September.