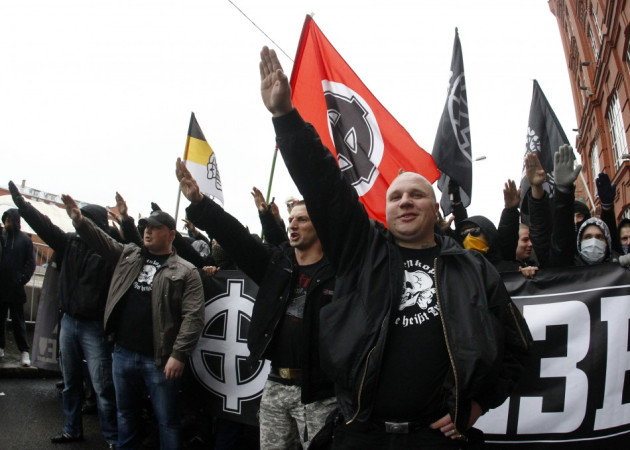 Russia is to make the glorification of Nazism illegal and is currently preparing a bill on the inadmissibility of the rehabilitation and glorification of Nazi war criminals.
Under the law, any use of Nazi symbols, icons, shapes, greetings, gestures, and any other attributes associated with Nazism, will be a crime, Izvestia daily reported.
Those who break this law will face a fine of 300,000 rubles (£5,900), as well as corrective labour and a possible jail term of up to two years.
The law will not affect scientific or artistic activity, including literature or military burial places, so long as rituals are not conducted around them.
On 4 November, Russia celebrated the Unity Day, during which nationalists marched in Moscow. Police arrested 25 people who were wearing Waffen-SS uniforms and shouting Nazi slogans.
Legislator Konstantin Dobrynin said: "The new law will become sort of a vaccination against this trend."
The bill will be submitted to the State Duma by the end of this year.
There has been a surge in racially motivated attacks over recent years in Russia.
Last year, Russia banned two neo-Nazi groups - the Movement Against Illegal Migration and the Slavic Union - for their extremist beliefs.
In 2011, five members of the neo-Nazi group the National Socialist Society (also banned) were sentenced to life in prison of the racially motivated murders of 27 people.
During World War Two more than 10 million soldiers of the Soviet Union were killed or died in Nazi captivity. In total the Soviet Union lost 26.6 million men and women in total, more than any other country in any single war in human history.