German car manufacturer BMW has launched a new car at the Moscow International Automobile Salon (MIAS) show that Q might want to order for James Bond – a vehicle able to withstand huge amounts of automatic machine gunfire.
The BMW X5 Security Plus is a specially-modified version of the BMW X5 sports activity vehicle (SAV) that comes with bullet-proof safety glass coated in polycarbonates, which can withstand gunfire from AK-47s as well as the Colt M4 Carbine favoured by SWAT teams and other automatic rifles.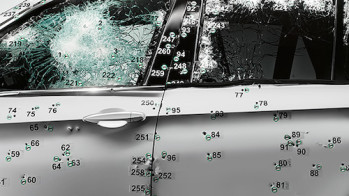 The car is specifically positioned at private security firms that protect high-profile passengers who might be at risk of violent assault, kidnapping and organised crime.
BMW has also upgraded the seam joints and connecting panels in the BMW X5 with steel armour so that they now turn the car into an armoured security cell.
To that end, the car features a 330 kW/450 hp BMW TwinPower 4.4 litre turbo V8 engine, Kevlar flooring, tires that can run when they are flat, an onboard fire-fighting system in the boot and a reinforced fuel tank and radiator that seals itself when under attack.
Although the extra armoured materials increase the car's weight by 2,250kg, it is still able to go from 0 to 100kmph within 4.9 seconds both "on and off surfaced roads", according to BMW.
BMW has other security-enhanced versions of popular vehicles in its portfolio, such as Rolls-Royce limousines and the BMW 7-series, and the company aims to make these vehicles indistinguishable from regular models in order to avoid attracting unwanted attention from potential kidnappers and assassins.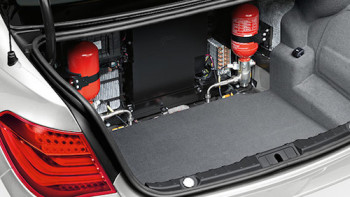 While the BMW X5 Security Plus might be one of the most advanced cars in terms of security, it is also very expensive, starting at $180,000 (£108,496) - three to four times as much as a regular BMW sports activity vehicle.
Other car manufacturers like UK's Jaguar Land Rover and German luxury automobile makers Volkswagen and Daimler also provide armoured versions of their cars, including Sentinel limousines and SUVs, Mercedes-Benz and Audi cars.
Security-conscious car buyers can also look to upgrade a regular car by taking it to a dealer that can fit armouring onto it, which can be cheaper, such as Texas Armoring, which has previously turned Chevrolet Suburban cars into armoured war vehicles that have survived roadside bombs in Iraq.