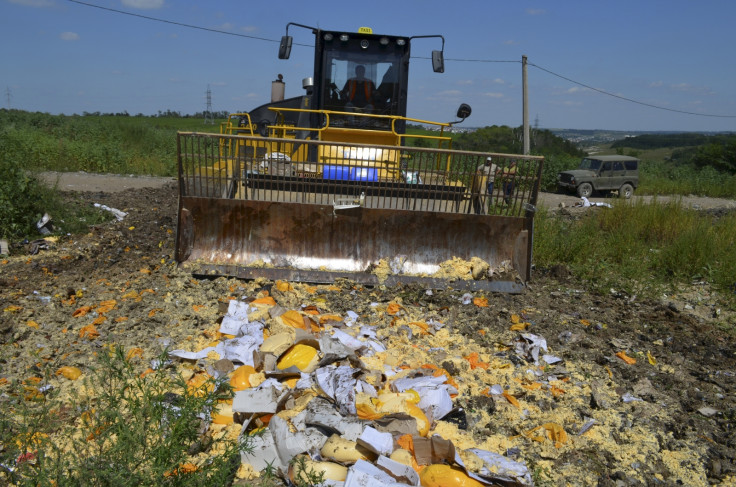 More than 300 tonnes of imported cheese, fruit and vegetables were destroyed in a single day in Russia, as part of the government's commitment to a ban on western foods.
Public protests seeking the food be distributed to the poor in the country struggling against the price rise, went unheard. Steamrollers crushed nine tonnes of cheese in Belgorod and burned another 20 tonnes in incinerators at St Petersburg.
Truckloads of European tomatoes and peaches at Smolensk got the same treatment, reports AP.
The national agricultural oversight agency Rosselkhznadzor, said a total of 290 tonnes of banned imported fruit and vegetables were destroyed on Thursday 6 August, along with 29.3 tonnes of animal products.
The food items were smuggled into the country after the Kremlin imposed a ban in retaliation for sanctions imposed by Europe and the US for Moscow's annexation of Crimea and support for Ukraine rebels.
The ban on western agricultural products including meat and milk products completed a year and Putin's government has extended the same after the western sanctions were extended.
Putin has defended the ban saying it helped boost local agricultural produce.
However, Russian importers have found ways to work around the ban with false documents and help from neighbouring Belarus where the banned items are repackaged to change the country of origin.
Goods meant for Russia are falsely documented as meant for Kazakhstan.
An online petition on change.org saw thousands call for distribution of the seized food among the poor, reported news agencies.
Media comments likened the destruction to a 'display of barbarity' and an irony in a country that has suffered horrible hunger, while the opposition parodied the campaign as a war. Even some communist party members called the move 'extreme'.
A tweet from an account mimicking the foreign ministry read: "The euro is at 70 the ruble, the dollar is at 60? Quick, let's distract them: set fire to the Parmesan!"