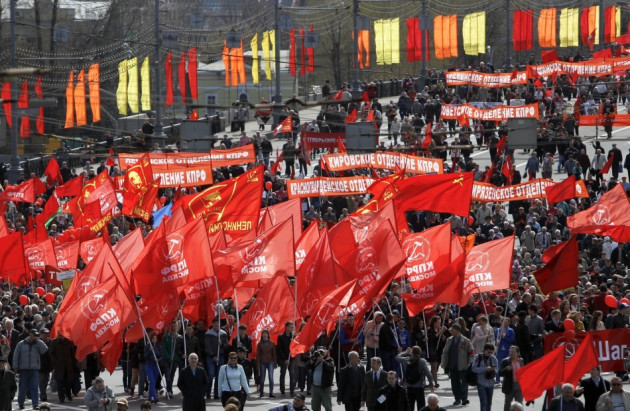 Hundreds of Russian opposition protesters marched in Moscow on Monday to mark the anniversary of a demonstration that ended in clashes with police, dozens jailed and several prosecutions last May.
So far, around 400 people have joined the march when it started its movement from Kaluzhskaya Square to Bolotnaya Square, according to the Moscow Police Department's website.
Security is tight and marchers were required to pass through metal detectors and were checked by police.
The protestors carried posters reading "Freedom to Political Prisoners!"
The rally on 6 May last year, the eve of Vladimir Putin's inauguration for a third presidential term, has become a clarion call for discontent over the detention of 17 protesters on public order offences.
According Reuters, protesters took to the streets in Moscow on Sunday demanding the release of the so-called Bolotnaya 17 detainees, chanting "Russia without Putin!" and "37 won't work", in a reference to the Stalinist purges of 1937.
One Bolotnaya detainee was jailed for four and a half years last November after admitting public order offences. Several cases have not come to trial, while other suspects have retracted confessions they say they gave under duress.
Protests against alleged ballot fraud in the parliamentary election of December 2011 and the March 2012 presidential vote had attracted up to 100,000 people.
Putin responded to the protests by pushing through laws which the opposition says are meant to stifle dissent - including tightening legislation on defamation and increasing fines for protesters.
The president has denied political persecution but said Russia needed order and discipline.
Protesters accuse the police of using excessive force during the march last year, and say any violence on their part was in self-defence.
According to Sky News, at least 15 people are still being held in detention centres across Moscow awaiting trial, in many cases without charge.
Several more are under house arrest, including Left Front leader Sergei Udaltsov, who is accused of conspiring to organise mass riots.
Amnesty International has expressed concerns about the evidence against many of those detained, and says there are grounds to consider at least some of them "prisoners of conscience".
Human Rights Watch has accused President Putin of presiding over the harshest crackdown on civil society in Russia's post-soviet history since his return to the Kremlin last year.