Senior British officials say Russia plotted to assassinate the prime minister of a European country and overthrow its government last year, the Sunday Telegraph has reported.
Russian intelligence officers, with the blessing of Moscow, were said to have directed an election day plot to stage a coup in Montenegro's parliament by killing the pro-Western leader, thus sabotaging the country's plan to join Nato.
The alleged plot, scheduled for 16 October last year, was foiled just hours before it was due to be carried out, avoiding heavy bloodshed and the potential the country could be plunged into turmoil.
It represents one the most blatant recent examples of an increasingly aggressive campaign of interference in Western affairs, Whitehall sources told the Sunday Telegraph.
While Russia was said to have constructed the plot in such a way that it could be blamed on rogue Russian nationalists if uncovered, the Kremlin has strongly denied any involvement.
But one unnamed Whitehall source told the newspaper: "You are talking about a plot to disrupt or take over a government in some way. You can't imagine that there wasn't some kind of approval process."
Foreign Secretary Boris Johnson and his US counterpart, Rex Tillerson, reportedly discussed the issue during their first face-to-face meeting last week.
Details of the alleged plot first emerged in November, when the Balkan country's chief special prosecutor, Milivoje Katnić, said a coup by "nationalists from Russia" had been thwarted.
He claimed they planned to break into the country's parliament on the day of the country's elections on 16 October, kill Montenegro's prime minister, Milo Đukanović, and bring a pro-Russian coalition into power.
Katnić stopped short of alleging Russia's complicity in the assassination plot, instead saying: "The organisers are Russian nationalists. The aim was to stop Montenegro on its Euro-Atlantic path and in particular joining Nato."
But British and American intelligence agencies have reportedly gathered evidence of high-level Russian involvement.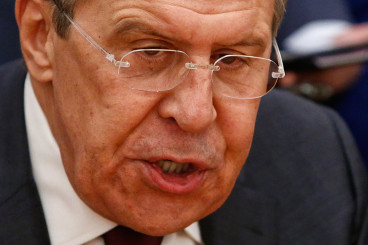 Encrypted phone calls, email traffic and testimony from plotters-turned-informants are now said to be part of the criminal investigation into 21 conspirators accused of involvement.
Predrag Bošković, Montenegro's defence minister, told the Sunday Telegraph there is "not any doubt" that the plot was financed and organised by Russian intelligence officers alongside local radicals.
Interpol is currently hunting two alleged plotters wanted by Montenegrin authorities.
One of those already arrested is Serbian national Nemanja Ristic, who was recently photographed in a group standing in near Sergei Lavrov, Russia's foreign minister, when he visited Serbia.
Details of the alleged plot come as tensions between the Russian officials and counterparts in Europe continue to grow.
Moscow has been opposed to Montenegro, a former Yugoslav republic, becoming part of Nato and drawing closer to the EU.
At an annual international security conference in Munich on Saturday (18 February), Lavrov criticised Nato as a "Cold War institution" whose expansion has caused unprecedented tensions in Europe. He used his speech to call for a "post-West world order".
Earlier this month, Sir Michael Fallon, the UK defence secretary, warned of a "step change" in the Kremlin's interference in Western countries during 2016.
He warned Russia had been "clearly testing Nato and the West" by "seeking to expand its sphere of influence, destabilise countries, and weaken the alliance".
The head of MI6 also said in November that Russia was pushing becoming increasingly aggressive in pushing its foreign policy, including using cyberattacks and espionage.
Moscow has denied this, and challenged Britain to produce evidence.
Asked about the Sunday Telegraph's report, the UK Foreign Office said Montenegro had identified Russian nationals as behind the plot.
"Montenegro must itself deliver a competent, transparent judicial process and trial of the coup suspects," a foreign ministry spokeswoman said.
"Success would be a major step in convincing the international community of real progress in Montenegrin rule of law reform and compatibility with Nato and EU standards," she added.