Tens of thousands flooded Moscow's streets Tuesday in the first anti-Putin protest to be held since his inauguration on 7 May.
Some opposition leaders were summoned for questioning just an hour before the rally, as Russian authorities sought to tighten their grip on protesters after a new measure repressing dissent was passed.
The bill, backed by President Vladimir Putin and adopted earlier this month, increases the fines that can be imposed on those who take part in unauthorised rallies.
Left Front movement leader Sergei Udaltsov, whose home was raided by police the previous day, defied the order to report for questioning.
Instead, he took to Twitter, where he claimed to be the leader of the protest, and led a group of demonstrators carrying red flags and chanting "Putin to jail" and "All power to the people".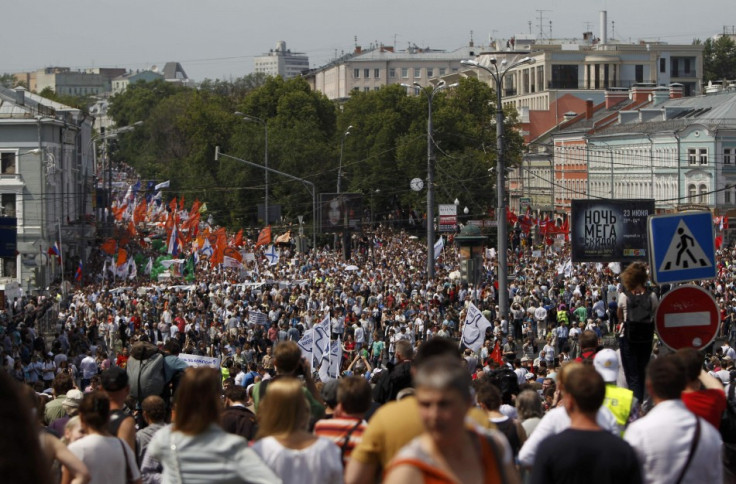 The rally had been officially sanctioned and the investigative committee denied that it would seek Udaltsov's arrest, saying it would interrogate him later.
Udaltsov is confident that Russian authorities "are in a panic".
"They are trying to conduct primitive, repressive actions, but I am sure they'll only achieve the opposite effect," he said. "These sorts of searches annoy and outrage people, and people in even greater numbers take to the streets."
In an attempt to scare the opposition, anti-corruption blogger Alexei Navalny and liberal activist Ilya Yashin were held for questioning and could not attend the demonstration.
The new anti-demonstrations bill will raise fines 150-fold on those who take part in illegal protests, to almost the average annual salary in Russia.
"I can't predict whether I'll leave here freely or in handcuffs," Yashin said.
During the rally, thousands chanted "Russia will be free" and streamed down a central boulevard in defiance of Putin's attempt to crack down on opponents.
"Those who fought are beyond being scared," Valery Zagovny, 50, who served with the Soviet army in Afghanistan, told Reuters. "Let those behind the red-toothed walls of the Kremlin be scared."
Opposition lawmaker Ilya Ponomaryov said 60,000 to 70,000 people turned out for the rally, but police estimated only 18,000.
Uldatsov and Navalny served two weeks in prison for their roles in an anti-government rally ahead of Putin's inauguration and were met by a cheering crowd upon their release last month.
Demonstrations against Putin's domination of Russia and irregularities in the December parliamentary elections, notably allegations of vote rigging and ballot boxes being stuffed, brought at least 100,000 to the streets when protests were at their peak in January. Internet-savvy figures and bloggers like Navalny helped lead the protests.