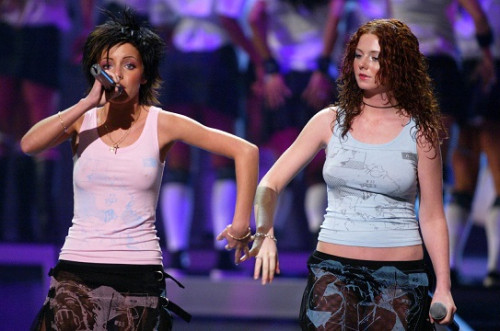 Russian pop duo t.A.T.u, who used lesbian imagery to help gain worldwide success, have reportedly been asked to perform at the opening ceremony at the Sochi Winter Olympics, according to reports.
Details of the opening ceremony of the Sochi Winter Olympics on 7 February have been kept a closely guarded secret, however rumours of who will be performing have begun to circulate.
It is claimed not only will the Russian team enter the stadium to the soundtrack of t.A.T.u's 2003 hit single Not Gonna Get Us, but the pair - Lena Katina and Yulia Volkova - will also be performing at a warm-up show which will not be broadcast internationally.
"They've invited us to appear at the opening of the Olympics in Sochi," read a tweet on Katina's account, which was shortly deleted.
The reports about t.A.T.u performing at the ceremony have caused a stir, given that Russia recently passed laws forbidding the spreading of "gay propaganda" to children, which have prompted many to urge a boycott of the games.
In 2003 the group had a worldwide hit single with All the Things She Said, with an accompanying video featuring Katina and Volkova wearing school uniforms and kissing.
The video generated a lot of controversy, with claims it promoted lesbianism among teenage girls as well as paedophilia. Critics mocked the faux lesbianism used to promote t.A.T.u's music as a gimmick to create scandal and media buzz.
Despite marketing themselves as lesbians, both singers later married men. Volkova now has two children with her male partner.
If the reports of t.A.T.u performing are true, it will surely be seen as a surprise decision by the organisers, given the controversial laws which look set to overshadow the games.
There has been no confirmation from either the band or games officials as to whether t.A.T.u will perform. After deleting her original tweet, Katina tweeted a second message which read: "All statements will be made at the right moment. As it turned out, this was not yet the right moment."
Despite this, Russian media also reported on the claims. "Lena Katina and Yulia Volkova from TATu will be singing at Sochi Olympics opening ceremony," stated news outlet gazeta.ru.
The duo released six albums during their career – three in English and three in Russian - selling more than 15 million albums worldwide.
They also represented Russia at the 2003 Eurovision Song Contest, finishing in third place. They officially spilt in 2011, but reunited in December 2012 for a concert.