Sochi Olympics 2014: Channel 4 Dispatches Reveals Russia's Anti-Gay Vigilantes
Gay men and women lured into dates before being attacked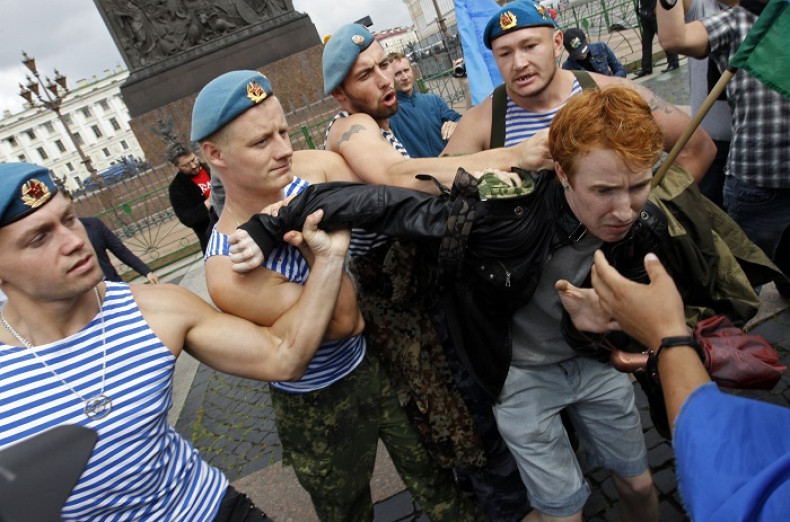 Channel 4's Dispatches programme is set to expose the shocking extent of homophobic attacks in Russia - just as the Sochi Winter Olympics are about to open.
The documentary follows journalist Liz MacKean as she investigates vigilante gangs who partake in "hunting missions", luring gay men and women out on dates before attacking them.
Last summer Russia passed a law protecting its children from "non-traditional" relations, effectively banning homosexuals from being open about their sexuality. One of the many concerns raised internationally regarding the law is how it likens homosexuality to paedophilia.
The implied link was also prevalent in a statement by Russian president Vladimir Putin, who said that LGBT athletes were welcome at the Olympics as long as they left children alone.
You can watch the trailer below...
One man attacked by a group said: "If it's constantly drilled into people that we are scum and perverts, I understand why these guys shot at me essentially a hunting season is open and we are the hunted."
In St Petersburg, MacKean meets Timur Isaev, leader of a group called Parents of Russia, who organises such attacks. Laughing as he does so, Mr Isaev told Dispatches: "This is Russia. This is hell for homosexuals. They should get used to it."
Attacks on gay Russians are commonplace. One woman, Yekaterina Bogatch, who protested the widespread discrimination is now under investigation and may also lose her job.
"There comes a moment when you realise that you can no longer keep quiet," she says. "Otherwise you simply start to lose self-respect."
Isaev insists that Bogatch is not a good person. "She may be a good teacher but she is a bad person," he says.
Cyd Zeigler, co-founder of gay sports magazine OutSports told IBTimes UK: "The real threat to LGBT people attending the Olympics has never been the International Olympic Committee or the Russian government, it's these anti-gay gangs that run free in Russia.
"The Russian government allows them to hunt, torture and kill LGBT people with no repercussion from the police. Forget about repealing anti-gay laws in Russia, that's not going to happen any time soon. We should be focusing on pushing the Russians to simply crack down on these illegal groups. That alone would be a huge step."
Dispatches is on C4 tonight (Wednesday) at 10pm