Russia's Gazprom has snagged the crown of the world's leading energy company, ending US oil and gas behemoth ExxonMobil's 12-year reign atop the leader-board.
What's worse, poorer returns from a lower oil price meant ExxonMobil barely managed to stay within the top 10 – coming in at 9th place – in ratings agency S&P Global Platts' annual corporate rankings for the energy sector.
Moscow-headquartered Gazprom is majority-owned by the government of Russia, though it is technically a private company described as a "Public Joint Stock Company" or PJSC under the country's corporate structure framework.
While the Russian company – which has natural gas exploration and trading at its core and the Kremlin's benign backing – topped the list, Platts said Gazprom's rise mirrored a pattern in favour of gas, utilities and pipeline companies leading the way this year.
Among other big movers were Germany's E.ON, which climbed 112 places to 2nd place from 114th, and British Gas' owner Centrica up to 15th from 156th.
Japan's JXTG Holdings landed just outside the top 25, at 26th, an advance of more than 100 ranks while Brazil's Centrais Eletricas Brasileiras, known as Eletrobras, made the lead 50, at 47th, up from 193rd.
There were plenty of familiar names rounding out the top 10, behind Gazprom and E.ON, such as 4th-ranked South Korea's Korea Electric Power, which debuted in the top 10 just last year; China Petroleum & Chemical at 5th place; Russia's Lukoil at 6th; Indian Oil Corp at 7th place, US refiner Valero Energy at number 8, and France's Total just behind ExxonMobil in 10th place.
Platts commented that its 2017 rankings were the "most profound" in the series that dates back to 2001. The study ranks energy companies based on financial performance using four key metrics: asset worth, revenues, profits, and return on invested capital. All companies on the list have assets greater than $5.5bn (£4.1bn).
In terms of regions, Asia-Pacific and Europe, Middle East and Africa (EMEA) both had 4 representations each on the coveted top 10, while the Americas had only two of the elite spots.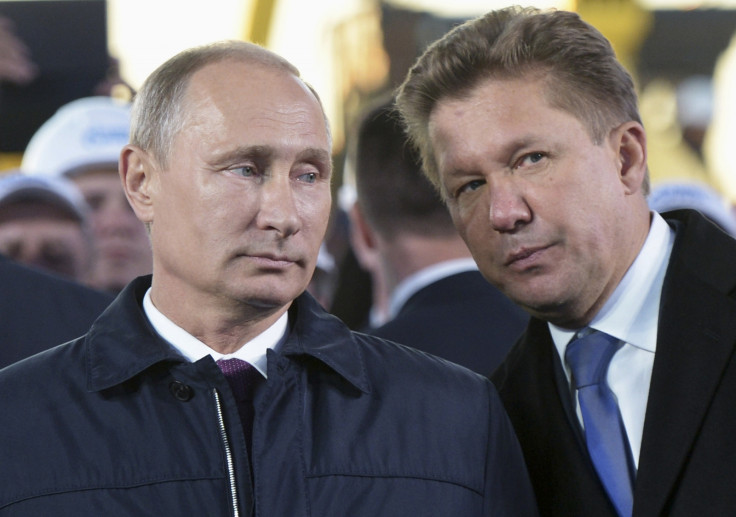 Harry Weber, senior natural gas expert at S&P Global Platts, said European utilities and North American pipeline operators got a boost from sticking to what they know best and shying away from more risky enterprises and territories.
"Regulated utilities, in particular, have an advantage because their revenues are largely defined and consistent, and are not as susceptible to swings in oil and gas prices."
For instance, it was India's Reliance Industries rising to 3rd place from last year's 8th and France's Total rising two slots to 10th from 12th - returning to the top 10 after a two-year absence - that showed the strength of pipelines as the other sector that was among those that surged up this time around, according to Weber.
"Both companies have been making investments in the US that benefit from increasing supplies of natural gas and the new pipeline infrastructure that is being built to carry those resources to the Gulf Coast for regional use and for exports to overseas hubs."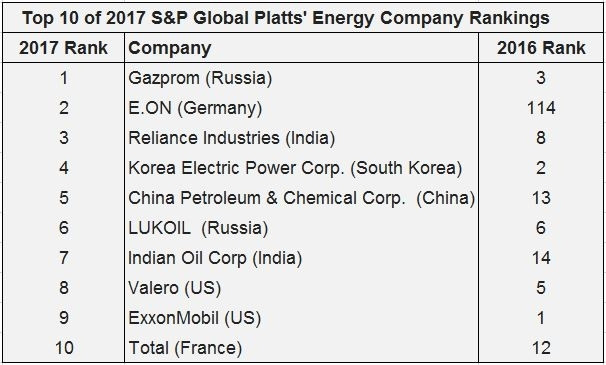 Overall, thanks to the new entrants buoyed by utilities and pipelines, revenues of the top 10 global energy companies surged more than 30% to $1.1trn from $830.2bn in the 2016 rankings.
Collectively, the world's top 10 companies posted combined profits of $63.7bn last year, 14% lower than the $74.3bn posted the year before.