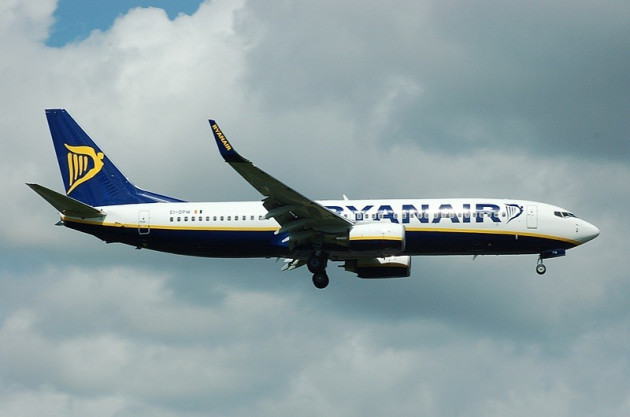 Shares in low-cost carrier Ryanair has tanked by nearly 12% as it cut its yearly profit outlook again on lower average air fares due to intense competition in Europe.
The Ryanair stock price reached 540p as of 1114 GMT.
Europe's biggest discount airline expects to record a yearly profit between €500m (£423m, $674m) and €520m. The company previously expected a profit between €570m and €600m.
The new forecast range represents the first fall in the company's profits in five years. In the previous year, the company reported a profit of €569m.
Ireland-based Ryanair attributed the decline to falling air fares in Europe. It expects a 9% decline in fares in the third quarter and up to 10% fall in the fourth quarter.
"The continuing fare and yield softness means that full year profits will be lower than previously guided," Michael O'Leary, Ryanair CEO, said in a statement.
The company noted that fares had been falling due to "increased price competition, softer economic conditions in Europe and the weaker euro-sterling exchange rate".
First-Half Results
In the first half of the fiscal year ending in March, Ryanair reported a 1% increase in profits to €602m, in line with forecasts, on a 2% increase in the number of passengers to 49 million. Revenue for the first half rose by 5% to €3.3bn.
The company added that it opened seven new bases and 116 new routes in the first half and agreed on 175 new aircraft order with Boeing. In addition, it signed new 10 year growth deals at London and Warsaw airports.
Nevertheless, fares fell by 2% in the period due to the timing of Easter, the summer heatwave in northern Europe, French ATC strikes in June, and weaker sterling.
On the back of Ryanair's counter measures including the successful roll out of reserved seating, priority boarding and higher credit/debit card fees, revenue per passenger increased by 2% and ancillary revenues rose 22% in the six month period driven by the successful roll out of reserved seating.
However fuel costs climbed by 7%, lifting unit costs by 3%.
Ryanair's competitors such as Norwegian and Aer Lingus have also said earlier that strong competition is lowering ticket prices.