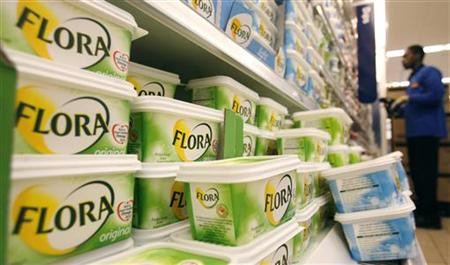 J Sainsbury PLC sales growth has slowed in Q1 in their Interim Management Statement released today.
For the twelve weeks to 12 June, Sainsbury's produced a 1.1 pct increase in like-for-like sales (excluding fuel), in line with expectations and rival Tesco's. Sales growth overall was 4.6 percent, slightly ahead of Tesco's 3.8 pct.
"We've delivered another good performance ahead of the market." said Justin King, Chief Executive as the group made good use of fuel price inflation to double its sales growth, to 7.6 pct when fuel is considered.
Shares in the supermarket have risen 5 pct above the FTSE 100 in recent times after the group reported better than expected full year results. Revenues at the supermarket chain, which runs over 800 stores were up five per cent to £21.4 billion and profit up 17 per cent to £610 million, higher than the £595 million expected.
"The comparison with Tesco is inevitable, but Sainsbury has not made any notable inroads into eroding the bellwether's position." said Keith Bowman, analyst at Hargreaves Lansdown.
"Sales growth was fairly anaemic, whilst in the background the Qatari stake and the pension deficit continue to cast shadows. The tougher consumer environment and lower food inflation have and will continue to impact, and higher fuel prices add to the mix. More positively, steps are being taken to address the pension position, the accompanying comments showed some optimism, and the dividend yield of around 4.4% is supportive in the current interest rate environment.
"The shares' performance has outperformed the wider FTSE100 by 5% over the last quarter, but the picture is less impressive over the last year, where the company has given up 1% versus a FTSE gain of 21%. Thus, despite investors' reservations following on from Tesco's update yesterday, that company remains the preferred play within the sector with Sainsbury coming in at a weak hold in terms of market consensus."