Crystal Palace have dropped the strongest hint yet that they may be powerless to prevent Wilfried Zaha leaving the club, after manager Sam Allaryce admitted an offer "impossible" to turn down would force the south Londoners' hand. Tottenham Hotspur have been heavily linked with a move for the Ivory Coast international in recent months after the club failed with a move in the January transfer window.
The Sun understand Spurs boss Mauricio Pochettino is confident of luring Zaha to north London with an offer of £30m in the summer transfer window. Six goals and 11 assists from the winger this season, showings which included a man-of-the-match display in victory over Arsenal, has seen the Eagles pull clear of the relegation zone – yet those showings have intensified speculation over his future.
Palace are planning to discuss a contract extension with Zaha in the summer in order to cement his future, while chairman Steve Parish has ruled out inserting a buy-out clause in any new deal. But in a statement which will encourage the likes of Tottenham, Allardyce has indicated that a high bid may be enough to see Zaha leave.
"Wilf, us and the clubs that want him will decide his future in the end," he said, according to The Evening Standard. "There is always a point where it may be impossible to turn down what is offered. That is realistic. Hopefully, we do not get to that point for a long time but it may be a possibility.
"Because it is a rare talent. There should be another 20 or 30 young Wilfried Zahas across the country. However, we do not develop enough so foreign players have to come in and take their places. Who knows? Now you have got competition. The Premier League has got bigger competition than ever before. It is called China. Now the Chinese are looking at the younger ones and are paying bigger money than the Premier League has ever paid out to entice them to go to China.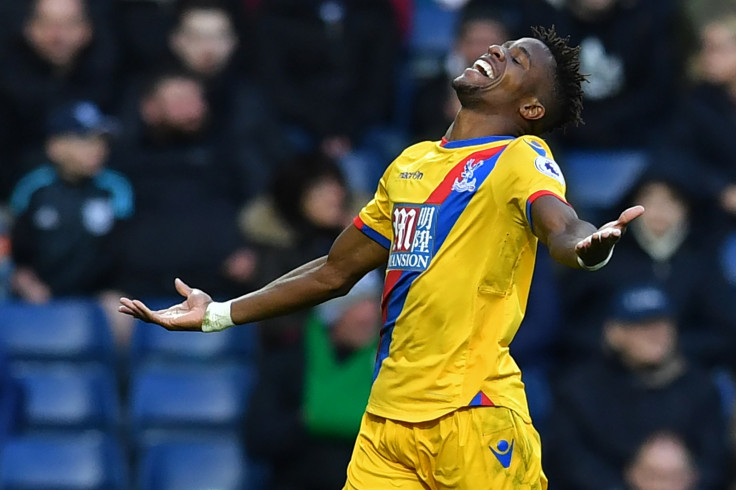 "So who knows what the market forces will bring in terms of the price. We will sit down at the end of the season and I am very confident we can keep him. We are looking to improve the squad and improve the squad and Wilfried is an intrinsic part of what we are doing."
Zaha would fill a wide void at Tottenham which summer signing Moussa Sissoko – who arrived from Newcastle United on the final day of the transfer window – has been unable to plug this season. Pochettino will be keen to enhance his squad during the off-season ahead of another campaign in the Champions League and in an effort to stage a renewed assault on the league title.
Tottenham only trail Chelsea by seven points with seven games remaining this term however, with matches against Arsenal and Manchester United to come between now and the end of the end of the campaign. Their most realistic hope of closing the gap further comes this weekend when they host AFC Bournemouth and the Blues travel to Old Trafford to face former manager Jose Mourinho's United.