Is that you Sam Smith? The British star looked almost unrecognisable when he showed off his dramatic weight loss at the recent Yves Saint Laurent bash in collaboration with Sink the Pink.
He attended the event held at the Shoreditch venue The Curtain with other celebrity guests including The Pink Creative Director Glynn Fussell, X Factor alumni Louisa Johnson and newlyweds Dustin Lance Black and Tom Daley.
Donning a loose fitting retro top and baggy blue jeans, the 25-year-old flaunted his makeover as he posed for pictures at the showbiz bash.
As the pictures of the dramatic transformation emerged online, fans couldn't hide their appreciation of his new svelte physique.
"Wow like a completely different person. Hope he's happy he looks great," one person said while another added: "He looks amazing...so different..like half his weight....gorgeous to me at both weights..but glad he's healthier now."
A third said: "Personally I think @samsmithworld looks amazing with his weight loss and I can't wait for new music!"
Smith, who catapulted to fame in 2012, has been showing off his trim new look on social media in recent weeks as he reportedly prepares for a musical comeback later this year with a brand new album. His impressive selfies have prompted many of his Instagram followers to speculate how he lost the weight.
The London-born crooner previously credited fitness guru Amelia Freer for helping him kick start his weight loss journey. He is now focused on eating clean and has cut gluten, dairy and refined sugar from his diet.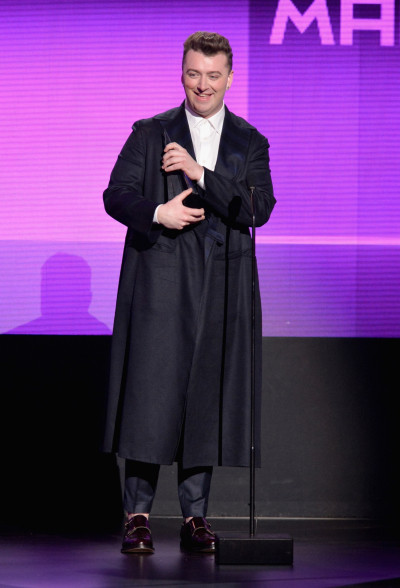 "Amelia Freer has helped me lose over a stone in two weeks and has completely transformed my relationship with food," he said in 2015.
"Everyone go check out her incredible book, and start to live healthy. It's not even about weight loss it's about feeling happy in yourself. Love you Amelia and thank you for making me feel so happy inside and out."
At the 2016 Grammy Awards he admitted that the lifestyle change was no easy feat. "I've just not eaten like a pig anymore – that's what I'm doing, basically," he explained. "It's very very difficult. I love food so much so it's a constant battle. It's always going to be a battle but I'm trying my best."