Samsung bets big on Rio 2016 Olympics to push its VR content
Samsung presented 12,500 Galaxy S7 Edge Olympic Games Limited Edition phones to athletes at the 2016 Olympics.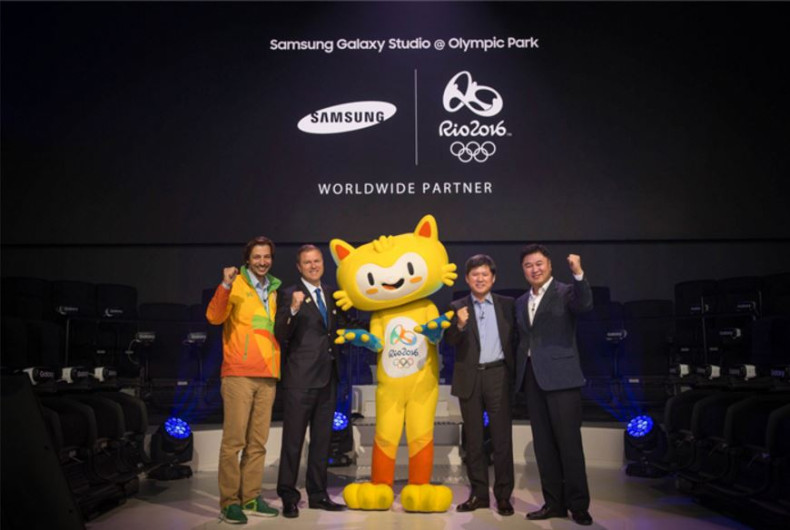 If you cannot get a seat in the Rio de Janeiro Maracana Stadium to watch the 2016 Olympic Games, fret not as Samsung can help you. The tech giant is offering viewers the best place to watch games with its virtual reality headset that can transport you to Brazil.
The South Korean tech major has teamed up with Comcast's NBCUniversal and the Olympic Broadcasting Services to distribute its first VR Olympic broadcast for select events such as the opening and closing ceremonies, diving, basketball, track and field and gymnastics.
Virtual reality is expected to bring a whole new experience in all fields starting from gaming to sports and communication. The technology is still in the nascent stage and tech firms are yet to figure out ways to make money out of it. However, Brazil could be a perfect platform, with the Olympics being a showcase for new technologies.
"It makes sense for Samsung to get as much early experience with the technology as possible so that it can try to take the lead. Being ahead on the technology curve allows for better returns and profitability," Morningstar analyst Dan Baker told Bloomberg.
Samsung began its Olympic Games involvement as a local sponsor of the Seoul 1988 Olympic Games. It extended its commitment to the Olympic movement as a worldwide Olympic partner in the wireless communications equipment category called Wireless Olympic Works (WOW), and mobile devices starting with the Nagano 1998 Olympic Winter Games. It even hosts various Olympic campaigns to share the excitement of the Olympic Games with viewers worldwide.
Samsung, in collaboration with the International Olympic Committee (IOC), presented 12,500 Galaxy S7 Edge Olympic Games Limited Edition phones to the athletes competing in the 2016 Olympic Games.
Despite having exclusive VR rights, Samsung would only be able to broadcast 80 hours out of the total 6,700 hours of programming using VR technology, and it would be aired a day later. To watch the games, viewers would need the Gear VR headset that costs $100, a Galaxy smartphone, a cable subscription and the NBC Sports app.
The company has unveiled the Galaxy Studios in Brazil to offer its VR experience. It has launched a studio in Olympic Park for the Rio 2016 Olympic Games; apart from that there would be two more studios in the Olympic Village and Main Press Centre, and several more throughout local cities in Brazil to help expand the Olympic experience to more people.
Samsung turned its focus to VR technology amid the slow growth of its high-end smartphones. Samsung expects the Olympic investments to fetch the company a platform provided the VR experience becomes a major source of growth.
"The Olympics will give extra momentum for virtual reality. Virtual reality is really having a big wave right now," said Mario Laffitte, Samsung's Latin America vice-president of marketing and corporate affairs in an interview at Sao Paulo.