Brazilian prosecutors allege Samsung is violating labour laws by forcing employees at its Amazonian plant to work 15-hour shifts.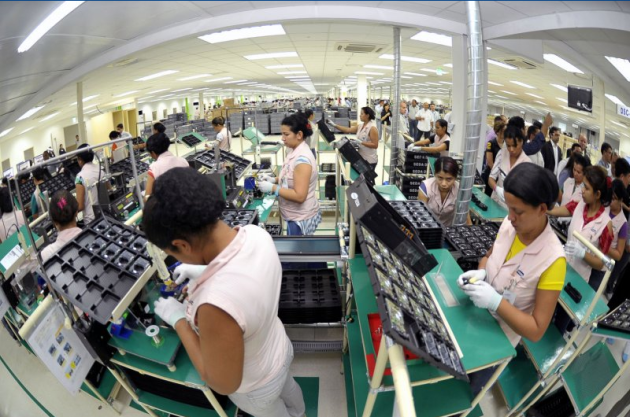 A worker in Samsung's factory in Zona Franca de Manaus, which sits on the banks of the Amazon, is given just six seconds to prepare a box containing a mobile phone battery charger, headset and two instruction manuals. This task is expected to be carried out up to 6,800 times in single shift.
This is the situation in the factory according to Brazilian prosecutors who have instigated legal action against Samsung for allegedly violating labour laws in the country. The South Korean giant employs 5,600 workers at its Manaus plant suppling products including TV, smartphones and air conditioning to countries in Latin America.
The legal action follows an inspection of the plant in May 2011 along with 1,200 formal complaints by workers and over 2,000 requests for temporary removal from the factory floor (of up to 15 days) on health grounds.
Speed
The speed at which employees are expected to work seems to be the main issue at the factory. According to a report in Brazilian newspaper Tribuna Hoje the investigators found that a Samsung TV is placed in its cardboard box every 4.8 seconds while an entire smartphone has to be assembled in just 85 seconds.
However this is not the only issue. Investigators from the Regional Ministry of Labour are alleged to have found workers carrying out 10-hour shifts entirely on their feet, while others carried out 15-hours shifts in total. One worker was discovered to have worked 27 days straight without a break.
Samsung, in a statement, said it was conducting "a thorough review of the complaint," and promised "to fully cooperate with the Brazilian authorities."
It added: "We take great care to provide a workplace environment that assures the highest industry standards of health, safety, and welfare for our employees across the world."
Violations
The prosecutors' office is claiming more than 250m reais ($108m; £70m) in damages from the company for serious violations of labour legislation.
Prosecutor Ilan Fonseca told the Tribuna Hoje newspaper that the factory had been subject to very high incidents of illness with musculoskeletal disorders (MSDs) among the most prevalent problems. Prosecutors estimate that if working conditions don't improve, in the next five years 20% of all employees will develop a MSD.
Samsung has previously come under fire for labour violations in China last November when it admitted excessive overtime and fines for employees at one of its suppliers - with the New York-based China Labour Watch saying employees at one of Samsung's suppliers worked 16-hour days with one day off a month.