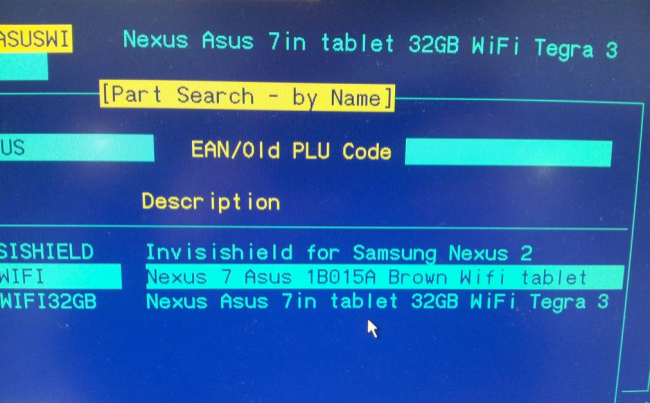 A leaked screenshot of a database listing that is said to be from well-known online retailer in the UK, Carphone Warehouse, has been received by folks at Droid Life. As of now, the Nexus 7 has been released with two internal storage options, 8GB and 16GB, while it lacks a microSD card slot. The listing shows a 32GB variant of Nexus 7 which could be an attractive factor for customers.
The screenshot has a description column that states "Nexus 7 Asus 1B015A Brown Wifi tablet". A 32GB Nexus 7 could be a tough competitor in the tablet market.
A plethora of devices have been making their way into the tablet market. Recently, Amazon's Kindle Fire HD was launched that comes in two versions: 7in and 8.9in. Both versions come in internal storage options of 16GB and 32GB.
Barnes & Noble's Nook series of tablets, 9in Nook HD+ and 7in Nook HD, have been announced recently. The 7in tablet comes in storage options of 8GB and 16GB, while the 9in device comes in 16GB and 32GB. As per the screenshot, if the Nexus 7 comes in a 32GB variant then there could be stiff competition in the tablet market.
Apart from a 32GB Nexus 7, the screenshot mentions Samsung Nexus 2. The Samsung Nexus 2 has been making headlines in recent times. In August, specs of a Samsung device with a model number i9260 aka Nexus 2 surfaced that included a 4.65in Super AMOLED HD screen, 1.5GHz dual-core A9 processor, eight megapixel rear camera, 1.9 megapixel front camera, 16GB internal storage option and a microSD card slot.
In September, once again the device made its appearance; the GT-i9260 popped up on Picasa in the form of some pictures.
This time, a leaked screenshot reportedly shows up a screen protector known as Invisishield for Nexus 2. The screenshot does not reveal anything else apart from the Invisishield.