Key Features
10.1in LCD display, 1280 x 800 resolution
Quad-core 1.4GHz processor
2GB RAM
5 megapixel camera
S-Pen and handwriting recognition
Price as reviewed: £399.95
Samsung Galaxy Note 10.1: Introduction
Samsung has launched the Galaxy Note 10.1 right in the middle of its multi-billion-dollar patent infringement case against Apple, but if there's one thing the iPad maker can't accuse Samsung of copying, it's the Note's S-Pen stylus.
Following in the footsteps of its little brother, the 5.3in Note smartphone, the 10.1in version is definitely more tablet than phone and features a powerful 1.4GHz quad-core processor with 2GB of RAM, and of course that Wacom-powered stylus.
Priced at £399.95 for the 16GB Wi-Fi model, the Galaxy Note 10.1 costs the same as the slightly smaller 9.7in iPad, but of course Apple's tablet doesn't have an intelligent, syncing stylus.
Samsung Galaxy Note 10.1: Design and Feel
Available in glossy white or blue, the Samsung Galaxy Note 10.1 has more than a passing resemblance to the Galaxy S3 smartphone which we reviewed earlier in the year. This means the Note gets an all-plastic construction with rounded corners and that cheap-looking fake metal band around the edge.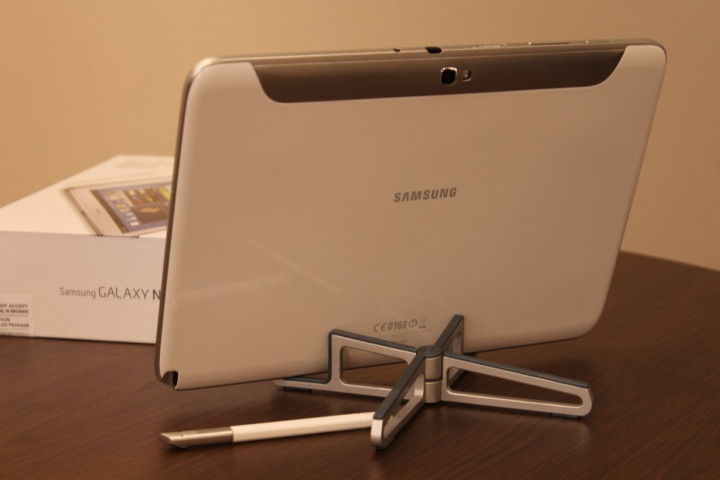 We hated Samsung's choice of fake aluminium in the Galaxy S3, and we're still not keen on it here either. It looks good enough, but is instantly warm to the touch and makes the Note feel cheaper than its £400 price tag suggests.
At least the front panel is glass, and the screen bezel is wide enough to allow space for your thumbs on all four sides, without looking too large and space-wasting.
That bezel houses a pair of stereo speakers either side of the 10.1in screen and a front-facing camera next to an ambient light sensor above it, although the camera is slightly off centre.
You'd think the Note 10.1 would offer great sound with the speakers so obviously on display, but we found them to be average - decent enough for a quick YouTube video, but tinny and lacking depth at high volume.
Along the top edge there is a power/screen lock button, volume rocker, covered microSD card slot, an IR transmitter to make use of Samsung's universal Smart Remote TV app, and finally a 3.5mm jack for the bundled in-ear headphones.
The left and right edges of the Note 10.1 are completely blank and there's nothing but a microphone and proprietary charging/syncing port at the bottom, which looks incredibly similar to Apple's 30-pin dock connector.
We wish Samsung would have used the near-industry standard microUSB for charging and syncing, because one day you're bound to lose that proprietary cable and Samsung will no doubt charge you plenty for a new one.
Around the back, there's a 5-megapixel camera which can also shoot 1080p HD video and next to that is a single LED flash.
Finally, the Note 10.1's S-Pen stylus is located in a slot in the bottom-right corner. Removing the stylus causes a beep and vibration from the Note, and brings up a drawer of stylus-optimised applications.
Samsung Galaxy Note 10.1: S-Pen
The unique selling point of the Galaxy Note 10.1 is of course the S-Pen and Samsung's range of integrated stylus-friendly apps to make use of it.
The S-Pen itself is 6.5cm in length, with a tip that can measure 1,024 levels of pressure when pressed against the screen. Technology for the S-Pen is provided by graphics tablet maker Wacom, so you know you're in safe hands.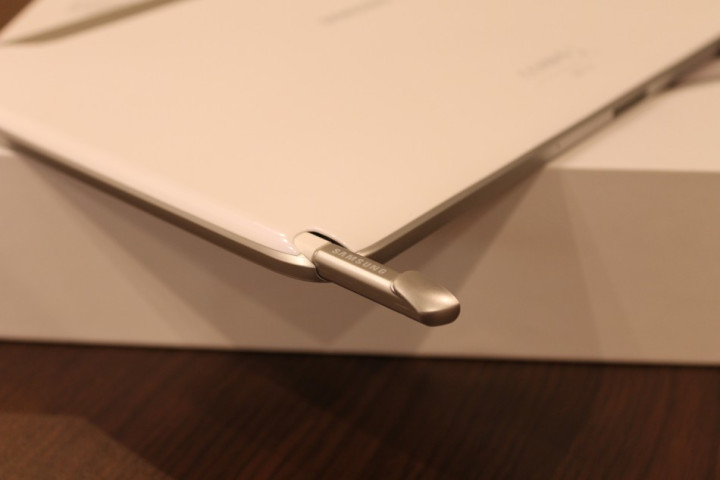 Much shorter and slightly narrower than a conventional pen or pencil, the S-Pen is comfortable to hold and there's a button where your thumb would rest for application developers to take advantage of - maybe to use as a quick way of selecting an eraser, for example.
The stylus comes with a nib pre-installed and five spare nibs if you break or lose them. Samsung also provides a slightly obscure metal ring that, despite looking a lot like a puzzle found in a cheap Christmas cracker, is actually a tool to help you pull nibs out of the S-Pen when they need replacing.
Removing the S-Pen when the tablet is unlocked reveals a drawer of applications on the right side of the screen, this includes S Note, S Planner, the game Crayon Physics, PhotoShop Touch and Polaris Office.
Sadly, these applications cannot be changed, so you'll always be greeted by the childish Crayon Physics icon for as long as you use the tablet.
We spent most of our time with the Galaxy Note 10.1 in S Note, an application that uses the stylus for jotting down memos, reminders and for creating written documents with text and handwriting.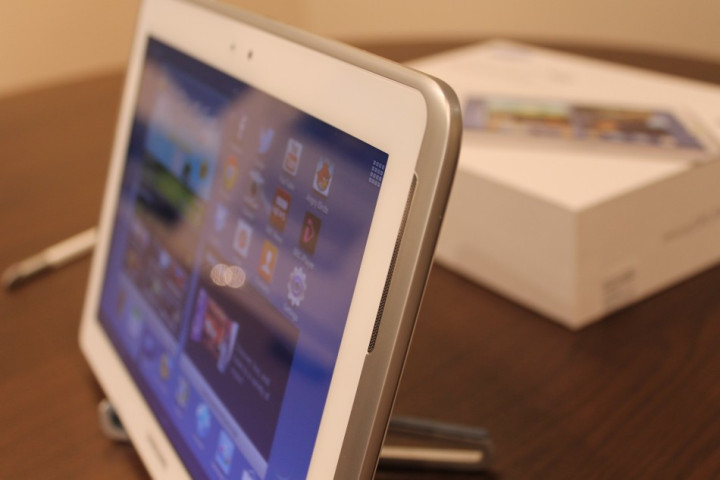 Having used a couple of styluses [styli? We're not sure, it's a confusing one] for the iPad in the past, we were much more impressed with the purpose-built S-Pen. Those styluses for the iPad merely mimic a fingertip and act more like a fat permanent marker than a highly-sharpened pencil.
Writing with the S-Pen takes a few minutes of getting used to, but from then on we found the tablet responsive enough to keep up with our inputs. It certainly makes your writing less neat, but after a little longer we started to recognise the digitised scrawls as our own.
The tablet can distinguish between the stylus and your palm and fingers, so leaning on the screen to write as you would on a sheet of paper doesn't cause any inputs to be picked up other than from the pen.
Even if you accidentally draw on the screen while resting your hand on it, once the stylus is around a centimeter from the screen the Note works out what you're doing and removes the mess made with your hand.
There's a small delay between writing a letter and it appearing on the screen, but it's so small that you don't really notice it's there when writing at a steady pace.
Being able to register more than a thousand levels of pressure means that touching the screen lightly will produce a thin, sometimes broken line, but pressing more firmly will see the ink thicken. The thickness and style of pen can also be adjusted by tapping an icon.
As for handwriting recognition, the Galaxy Note 10.1 and S-Pen did much better than we were expected, translating our almost hieroglyphic scrawling into typed text around two to three seconds after we had finished writing.
It's clever, but we'd probably stick with handwriting throughout, as when it is converted to a typed font the words are moved to the top of the page and not left where we wrote them.
Useful for creating neat headlines perhaps, but beyond that we were happy to see our own handwriting remain in place.
Samsung has bundled the Note 10.1 with PhotoShop Touch, the powerful photo-editing and drawing application from Adobe that uses the S-Pen and can be used to create art from scratch, or to touch-up photographs and other images.
PhotoShop Touch lets you zoom in by up to 400 percent, so retouching images can be done surprisingly accurately and quickly, once you've learnt what most of the icons do - something that took us a while without seeking help online.
To conclude, the S-Pen works very well. It's accurate and responsive, while feeling comfortable and natural to use. Once you've got over the novelty value of it, jotting down notes or writing yourself a to do list feels as natural on the screen as it would on a sheet of paper, with the added benefit of being able to email that note on to someone or insert an image from the web.
Even navigating around the rest of the Android system and browsing online with the stylus instead of using your fingers is fun and, again, feels entirely natural.
Of course, you can't pinch-to-zoom with a stylus, and there's the ever-present risk of losing it, but for us Samsung should be commended for including it with its latest tablet.
There aren't many apps available yet to take advantage of the S-Pen, though some decent drawing apps are avialable in Google Play.
We hope more will become avialable once developers get busy and think up new ways to use the stylus; for now it feels like the technology is reminding us that we're an early adopter.
Samsung Galaxy Note 10.1: Hardware and Connectivity
Samsung has given the Galaxy Note 10.1 plenty of power to justify that iPad-rivalling price. There's a 1.4GHz, quad-core processor inside with a huge 2GB of RAM, 16GB of storage (plus up to 32GB more through the microSD card slot) and a 3G version for £499.95.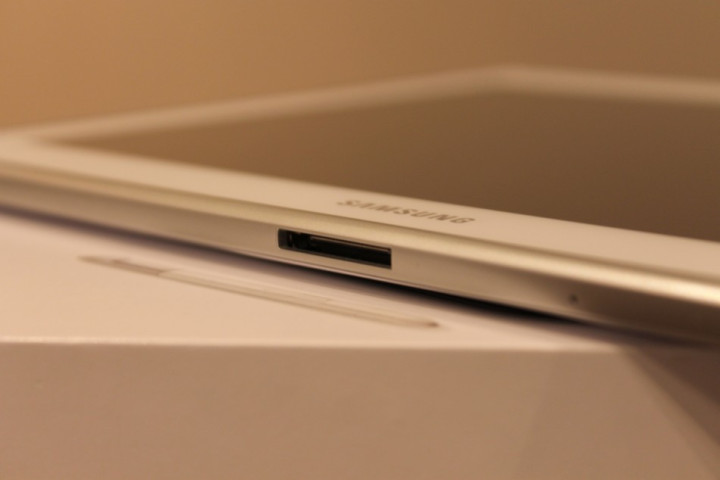 The Note also has everything else you'd expect from a premium tablet, so there's Wi-Fi 802.11 a/b/g/n, Bluetooth Smart to efficiently connect with a wide range of accessories, including speakers and headphones for wireless music streaming, and that infrared transmitter mentioned earlier.
Inside, there's a GPS chip and digital compass to work with the Maps app, and an accelerometer to flip the display from horizontal to portrait when you turn the Note onto its side.
Samsung Galaxy Note 10.1: Operating System and Performance
The Note 10.1 runs Android 4.0.4 (Ice Cream Sandwich), but with Samsung's own TouchWiz skin draped over the top.
We say draped, it's more smothering than neatly covering, and turns Ice Cream Sandwich into a very Samsung-themed operating system.
Users of the Galaxy S3 smartphone will be familiar with most of it, from the water ripples on the lock screen, to Samsung's use of wallpapers and annoying beeps when tapping icons.
Thankfully, the beeps can be turned off and of course the wallpaper can be changed to whatever you want, but TouchWiz remains and it's a bit of a love-or-hate affair.
Die-hard Android fans will hate how covered up Ice Cream Sandwich is and just how many Samsung apps have been allowed through the gate. S Note is fine, but S-Planner is a calendar application similar to the one on the iPad, complete with fake leather details, which brings nothing more than the regular Android planner does.
TouchWiz lets you have up to eight home screens to fill up with applications and widgets.
Samsung has given the Note 10.1 Pop Out Player, another feature ported over from the Galaxy S3 and one that makes more sense on a tablet.
Pop Out Play lets you take a video you're watching, make it into a small window and drag it to anywhere on the screen, while still controlling the user interface behind it - put simply, you can keep watching the video while writing an email or having a conversation on Facebook.
With that quad-core processor and 2GB of RAM, the Note 10.1 is no slouch, and we had no problems at all with it slowing down or not being able to loads apps quickly.
Everything flies and HD video is streamed with no issues at all, apart from causing the back to warm up slightly near the camera.
We haven't had our Note 10.1 long enough to fully test the battery, but after six hours of continuous light to moderate use and the screen at 60 percent brightness, the tablet still had 40 percent of its battery left - so we'd estimate that eight to nine hours is easily achievable.
Samsung Galaxy Note 10.1: Multitasking and split-screen
Samsung has added some neat new elements to TouchWiz, such as an application drawer that can be called up from the bottom of the screen and overlays any app currently open.
The drawer has a range of widgets including a clock/alarm, calculator, email client, music player, and access to S Note and S Planner. Each of these mini apps can be opened over the top of what is currently running, and as many as you like can be open and on screen at once.
So if you're browsing the web and need to work out a quick sum, instead of opening a whole new calculator application, you just open the draw, select the calculator and use it, with the website still on screen behind it.
The only annoyance about this app drawer was that we occasionally opened it by mistake when looking for the space bar - the keyboard isn't as large as we'd like it to be, although displaying numbers along with letters is a bonus when we're used to selecting them from a second panel on the iPad.
An evolution of the app drawer is Multiscreen, which allows some applications to be open on screen simultaneously.
Open S Note, tap Multiscreen and you can open the web browser (although not Chrome), video player, Polaris Office, Gallery, or Email at the same time.
Open apps sit next to each other in landscape and above one another in portrait, but be warned, while they may be open at the same time, they don't function at the same time.
There's a noticeable lag between each app becoming responsive, so drawing in S Note while flicking through a website isn't really possible, as there's a two-to three-second delay for an app to become responsive when you switch back to it.
This being Ice Cream Sandwich, regular multitasking between apps is done with a tap of the icon in the lower-left corner.
Samsung Galaxy Note 10.1: Display
The Note 10.1 has, as you would expect, a 10.1in LCD display with a resolution of 1,280 x 800 producing a pixel density of 149 pixels per inch (ppi).
This is some way behind the Retina screen of the new iPad, which has a resolution of 2,048 x 1,536 and a density of 264ppi. However putting the iPad aside, the Note 10.1 is on a par or better than almost every other 10in Android tablet out there.
At a glance, the Note's screen looks good, with even brightness than can be turned up to more than you'd ever need, while colours are correctly saturated and the temperature seems fairly neutral.
Viewing angles are also decent, thanks in part to the PLS LCd technology employed by Samsung.
But once you look at the Note 10.1 more closely, the resolution starts to disappoint. Sure, it's HD, but text looks grainy, blocky and nowhere near as sharp as we'd hoped.
For comparison, the 10.1in Note has the same resolution as the 5.3in Note smartphone - though becasue a tablet is held further from your eyes, the pixel density is not directly comparable.
If only Samsung had fitted a slightly higher quality screen with a higher pixel count, then we could describe the Note 10.1 as a true iPad rival, but it wasn't to be.
Samsung Galaxy Note 10.1: Cameras
Samsung has fitted the Note 10.1 with a 5-megapixel camera with autofocus on the back capable of shooting full 1080p HD video, and a 1.9-megapixel camera on the front for video chatting.
As anyone taking photos with a tablet looks like they're trying to find a signal with a tea tray, we won't spend too long on this.
Android devices always offer a healthy selection of options and settings for the camera app, and the Samsung Galaxy Note 10.1 is no exception, with icons to change the scene mode, timer, resolution, white balance, ISO, metering and flash, you'll be well accounted for.
There's also a range of filters, such as negative, black and white, and sepia, and the ability to take panoramic shots.
We've included a couple of photos taken with the Note 10.1 at the end of this review, but in all honesty your smartphone is probably capable of taking photos as good - if not better - and won't make you look weird taking them.
Samsung Galaxy Note 10.1: Verdict
Samsung first introduced us to using a stylus with the Note smartphone earlier this year, and instead of forgetting about it and moving on, the Korean company has stuck to its guns and implemented the technology even more successfully with the Note 10.1.
Using a stylus to draw and write makes much more sense on a larger screen, and we're pleased to see that Samsung is continuing to develop the S-Pen and its range of apps - we just hope that Android developers will be as keen is creating more apps for it in the future.
As a complete product, the Galaxy Note 10.1 offers very impressive performance and an operating system that, while not for Android devotees, is simple, attractive and easy to use.
The screen is a problem though, as the resolution simply isn't good enough anymore to be rivalling the iPad, which can be had for exactly the same price with an equal amount of storage.
For readers who would always choose Android over iOS or Samsung over Apple, then the Note 10.1 is still one of the best Android tablets on the market, it's just not on par with the iPad due to its screen and plastic construction.
We can live with the plastic design - after all, it's still an attractive product and feels well made - and the screen, while not offering a Retina resolution, is very bright, responsive, and the S-Pen is a significant benefit for those who need it. Up the pixel count for a future model, and Samsung has a great tablet on its hands.
Scores:
Screen: 6/10
Design: 8/10
Camera: 6/10
Operating System: 8/10
Build Quality: 8/10
Overall: 8/10
The Good:
Extremely powerful
S-Pen is more than just a gimmick
Android 4.0 with TouchWiz
Good Battery life
The Bad:
Low screen resolution
Average camera
Too much glossy plastic
Not many S-Pen apps yet
Photo Samples: