Samsung has unveiled the Galaxy Note 3 in Berlin which is thinner, lighter and faster and comes with Samsung's Know security technology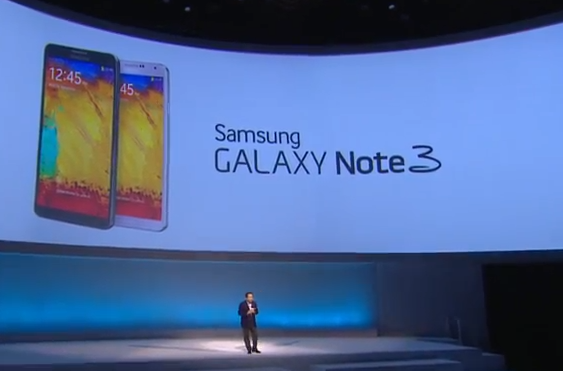 Samsung president JK Shin claims the Galaxy Note 3 is slimmer, lighter, larger, faster and features longer battery life that the Note 3. The phone also features a "warmer" leather finished compared to the cold plastic finish of previous models.
The phone will also come with Samsung's proprietary Know security software which was launched earlier this year but has been delayed until now.
The Galaxy Note 3 will go on sale in over 100 countries from 25 September with pricing still to be announced.
The Galaxy Note three was unveiled by Samsung at the IFA 2013 trade show in Berlin where earlier Sony had unveiled its own new flagship Android smartphone, the Xperia Z1 which features a 20 megapixel camera.
The Galaxy Note 3 is the third generation of so-called 'phablet' from Samsung, describing products which fall between phones and tablets. Samsung has managed to increase the screen size but without increasing the width of the device by decreasing the bezel size.
In terms of pure specs, the Galaxy Note 3 will feature a 5.7in Full HD and weighs just 168g. It will be powered by a 2.3GHz Snapdragon 800 processor and will come with 3GB of RAM and will run the very latest version of Google's software, Android 4.3 (Jelly Bean) - though this will be skinned with Samsung's proprietary TouchWiz skin. It will obviously support 4G connectivity, supporting all types of LTE networks around the globe according to Shin.
Samsung also revealed a series of leather covers which will come in 10 colours, and a future metallic cover which comes in 6 colours.
The Note 3 also comes with an updated S Pen stylus which is used in conjunction with the numerous bespoke apps Samsung preloads on its phones, including note taking and sketching apps.
Samsung's Galaxy Note range has been a resounding success despite many deriding the 5.3in screen size - a sixe which now seems small when you compare it to another Samsung phone, the Galaxy Mega which features a 6.3in screen.
Most Android phone manufacturers have followed Samsung's lead in the phablet market including Sony, Huawei, ZTE with HTC expected to follow suit soon with the much-rumoured HTC Max.