Samsung has officially unveiled an 8in tablet in its Galaxy Note range, with one version capable of making and receiving phone calls.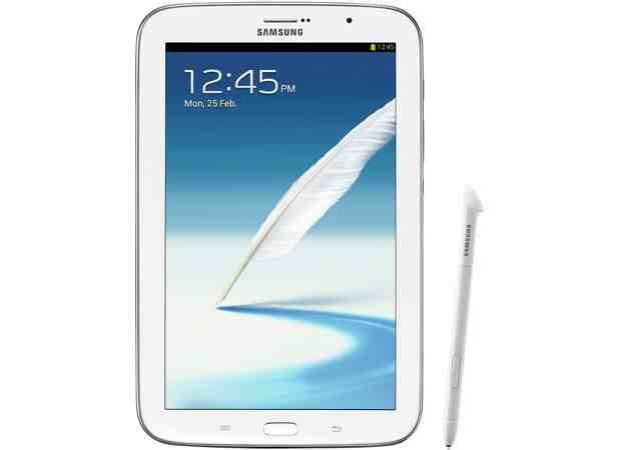 Mobile World Congress in Barcelona has just kicked off and Samsung is off the mark quickly by announcing the Galaxy Note 8.0, an Android tablet which comes with the S Pen stylus and which sits inbetween the Galaxy Note II and Galaxy Note 10.1.
One of the most interesting features of the new tablet is that it will be released internationally in a model which will allow users to make and receive phone calls, stretching the idea of a smartphone even further than the 5.5in Note II did.
Samsung is keen to get back in the game in the mid-sized tablet market, where currently the likes of the Nexus 7, Kindle Fire and of course the iPad mini are dominating.
Samsung was one of the very first companies to launch a rival to the iPad with the original Galaxy Tab back in 2010, but since then the company has struggled to stand out in the flood of Android tablets which have entered the market.
Samsung has not announced pricing for the Note 8.0 yet, though when it arrives in the second quarter of 2013, it will need to be able to compete with the tablets from Google and Amazon in this regard, if it wants to succeed.
S Pen
The Galaxy Note 8.0 comes with the S Pen stylus, which is an active digitizer and Samsung has tweaked its software and hardware to make the most out of this unique feature.
The sytlus can be used to navigate the UI; hovering it over the home and back buttons will now activate them and the tablet comes pre-installed with stylus-optimised apps, including the updates Note app. There will also be a version of the popular Flipboard app, where hovering the stylus over a particular story will bring up a preview.
The Note 8.0 will also come with a feature called Reading Mode, which aims to attract those looking to combine a tablet and ereader in one device.
When in Reading Mode, the Note 8.0 will automatically readjust the screen's contrast to help reduce screen glare, a problem associated with reading for long periods on traditional tablets, thanks to the emmissive nature of their screens.
Reading Mode will not only work with Samsung's own Reader Hub, but it will also kick in when using thrid party apps like Kindle.
The Note 8.0's screen has a resolution of 1280 x 800 giving it a pixel density of 189ppi, which is not as high as some of its rivals.
Powering everything is a quad-core Exynos chip from Samsung, running at 1.9GHz. This is paired with 2GB of RAM and the tablet will be available in 16GB or 32GB versions - with a microSD card clot giving you the option of adding a further 64GB.
You also get front and rear-facing cameras, Wi-Fi N, Bluetooth 4.0 and the Note 8.0 will also launch in 3G and LTE versions (though not in the US apparently.)