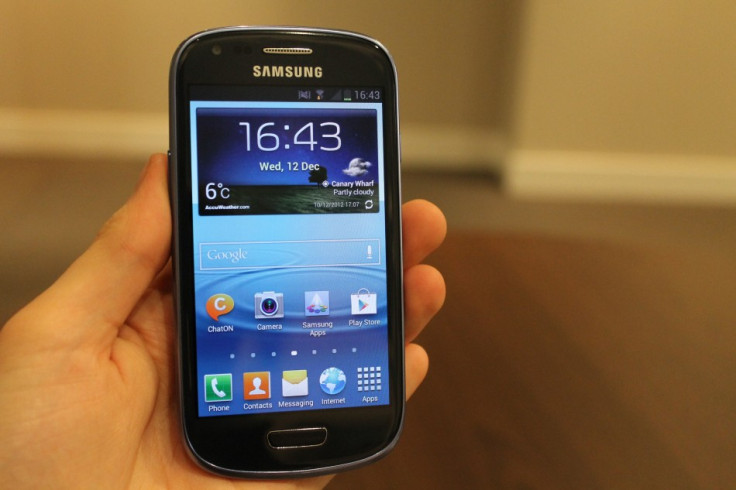 Key Features:
4in display with 480 x 800 resolution
1GHz dual-core processor with 1GB of RAM
8GB storage
5-megapixel camera with HD video recording
Android 4.1 (Jelly Bean)
Price as reviewed: Free on £28-a-month contract from Three
Galaxy S3 Mini: Introduction
When I reviewed the Samsung Galaxy S3 and compared it to the iPhone 4S back in June, I said that it was - just about - the best smartphone money can buy, knocking Apple off the top spot for the first time in five years.
I said Samsung had shown the world that the iPhone's 3.5in screen was too small, although it might have over-egged the pudding a bit with the Galaxy S3's 4.8in display, leading me to think that something in between the two is probably best.
Samsung must have been listening, because now we have the Galaxy S3 Mini, a phone that borrows exactly the same design as the regular S3, but trims the screen down to four inches.
The processor, storage and cameras have all been on a diet too, so will the S3 Mini bring us a pocket-friendly S3, or has Samsung dumbed the S3 down too far to reach the £300 price tag?
Galaxy S3 Mini: Design and Feel
The Galaxy S3 Mini is exactly what the name suggests - a smaller version of the S3 with the same design, button layout, thin profile and light weight.
My pebble blue review unit looks great - better, in my opinion, that the white one with its fake metal strip around the edge - but the glossy plastic still has the same cheap feeling as the regular S3.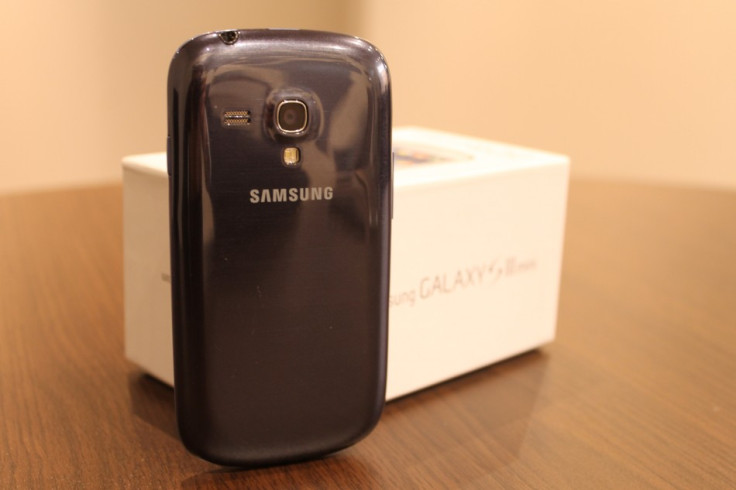 The 4in screen is protected by Corning 2 Gorilla glass and below it sits the central physical home button, flanked by two capacitive touch buttons for menu and Google Now (with a long press) on the left, and a back command on the right.
The right edge is home to a power/screen lock button, while there is a volume rocker on the left, a headphone jack at the top, and a microUSB port for charging and syncing next to a microphone on the bottom.
Above the screen there is a chrome speaker grille next to a front-facing VGA quality camera, and finally on the back there is a centrally-positioned 5-megapixel camera next to an LED flash and loudspeaker.
At 111.5g, the S3 Mini is half a gram lighter than the iPhone 5, which also sports a 4in display. At 9.9mm the Samsung is noticeably thicker than the 7.6mm iPhone and, strangely, the 8.6mm Galaxy S3.
The S3 Mini's footprint measures 122 x 63mm, compared to the iPhone 5's taller-but-thinner 124 x 59mm.
I've never been a huge fan of Samsung's excessive use of plastic on its Galaxy tablets and smartphones, but the S3 Mini (in blue at least) does a good job of exhibiting the quality its £300 SIM-free price tag suggests.
This doesn't mean it's perfect though, as I found a number of light scratches on the back of the phone after just a few days of being carried in my bag. The S3 Mini didn't share a pocket with any keys or loose change during my time with it, so I'm not sure what caused the scratches.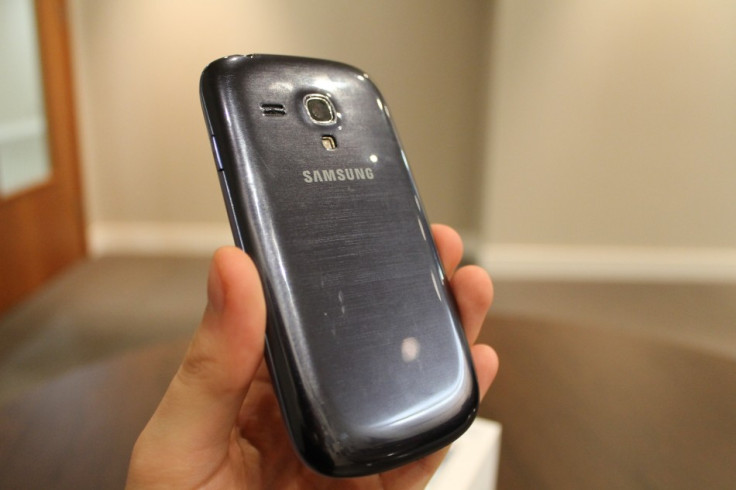 I found the full-size S3 a little too cumbersome to be used with one hand, because I couldn't quite reach the top of the screen and even the lock button and volume rockers were a stretch; but with the S3 Mini, I can comfortably use it single-handed, and it feels more secure in my hand.
With the S3 I felt my hand was under the phone rather than around it; the S3 Mini fixes this perfectly.
Galaxy S3 Mini: Hardware and Connectivity
Unsurprisingly, the S3 Mini gets very similar hardware to the regular S3, with a microUSB port being the only external connection, and there's a microSD card slot hidden beneath the battery, along with space for a regular-sized SIM card.
Even though it's hidden awkwardly beneath the 1,500mAh battery, you'll be happy the microSD slot is there, because the S3 Mini comes with just 8GB of internal storage, and only 4.5GB of that can be used by the user, with the rest assigned to storing the operating system. Although the phone doesn't come with an SD card - at least my review unit didn't - you can pick up a 32GB card for around £15 online.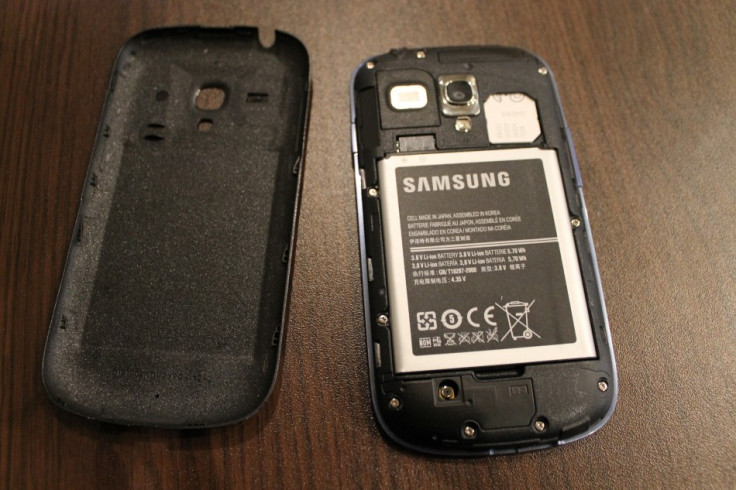 Inside, the S3 Mini has everything you would expect of a high-end smartphone, from Wi-Fi N, to the ability to be used as a Wi-Fi hotspot and Bluetooth 4.0 with A2DP for streaming music to wireless speakers and headphones.
There's also the usual range of sensors, including an accelerometer, gyroscope, proximity sensor and a digital compass for use with mapping applications.
The S3 Mini is powered by a 1GHz dual-core processor with 1GB of RAM, which is significantly down on the regular Galaxy S3's quad-core 1.4GHz processor, although the smaller display and lower screen resolution helps the Mini overcome any issues this may have casued the performance.
Galaxy S3 Mini: Operating System and Performance
The Samsung Galaxy S3 Mini runs Android 4.1 (Jelly Bean) and has the Korean company's TouchWiz skin draped over it. I'm a big fan of TouchWiz in its current guise and have liked it since the Galaxy S3 arrived earlier this year.
What it means for the S3 Mini is the same 'inspired by nature' UI as the full size S3, and that means the same watery effect on the lock screen and a wide range of motion controls, such as tilting the phone to zoom in on photos, pan the phone to move around when zoomed in, and turn the device over to mute an incoming call or pause playing music.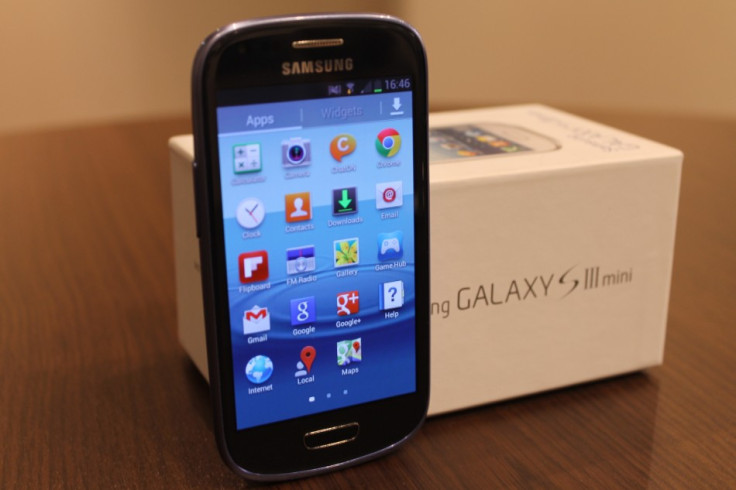 Some users will see no purpose to these features, but once you learn how to use them (and most importantly, remember to use them) they can make interacting with the S3 Mini more enjoyable and efficient.
Another 'inspired by nature' feature taken straight from the regular S3 is Smart Stay, which will keep the screen on and unlocked while you look at it, but if you look away then it will lock, thanks to the front-facing camera 'watching' you. Creepy perhaps, but it works effectively.
Elsewhere, Android users will feel right at home, with the seven home screens offering up space to stick application shortcuts and widgets; a swipe down from the top gives you your notifications and quick access to toggle settings like Wi-Fi, Bluetooth, GPS, mobile data and automatic syncing on and off.
There's also a link to the full Settings application and a slider to adjust the screen brightness - bizarrely, Samsung has removed the auto screen brightness function for the S3 Mini, so you'll have to adjust it yourself if you want to get the most out of the battery.
Despite being much less powerful than the quad-core Galaxy S3 on paper, the Mini feels nice and responsive, with the home screens flying by at the slightest touch, notifications coming through and opening quickly, and multitasking between applications takes no longer than on more powerful phones.
With less pixels to push around, the 1GHz dual-core processor isn't bad at all, and goes to show that with smartphone performance you shouldn't always read a book by its cover. Of course, intensive 3D games are going to tax the S3 Mini and drain its battery, but for regular day-to-day use I didn't encounter a single problem with performance.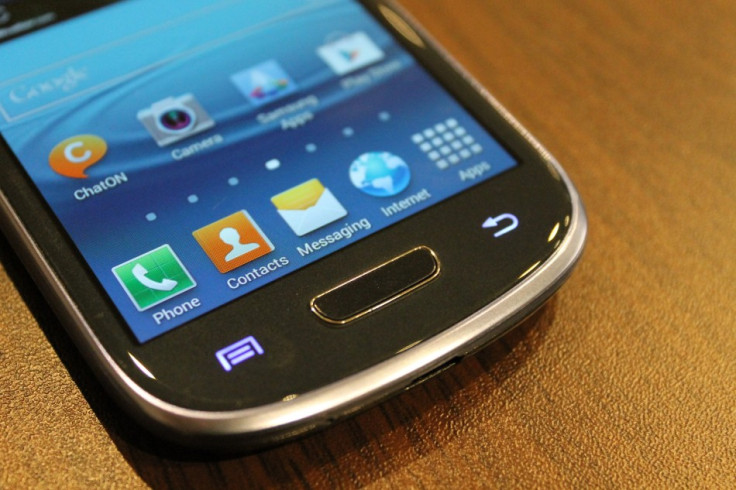 If you've ever been watching a video on your phone but keep getting interrupted by text messages and emails, or want to play a game at the same time, then Pop up Play on the Galaxy S3 Mini is for you.
Pop up Play is an icon in the video player, tap this and the video pops out into its own small window that can be dragged around the screen and placed over any other application.
This means you can keep watching the video while answering a text message, or continuing your game of Angry Birds. While not being a feature that I can see myself using often, Pop up Play is a great way of demonstrate that the S3 Mini's performance is better than you might think: in testing, the phone didn't slow down at all while playing some HD video over the top of other applications.
Of course, running HD video and a 3D game at the same time is going to kill your battery, and where the feature made sense on the large S3, the Mini's screen isn't really big enough for Pop up Play to be useful, but I'm glad to see Samsung has kept the feature in, to prove the S3 Mini packs a bigger punch than its name suggests.
The S3 Mini's 1500mAh battery is slightly larger than the iPhone 5's, and I was able to get two full days out of it, although this was with very light use, as I wasn't using the Mini as my main phone initially.
Having said that, I had push notifications coming through from Twitter, Facebook and Gmail, so some users might just get two days out of the Mini. But once I started to use the Mini as my main phone battery life fell faster so, as ever, I'd recommend charging the phone every night, just like every other.
Samsung Galaxy S3 Mini: S-Voice
S-Voice can be activated by double-pressing the Home button or by saying a predetermined phrase, such as the default "Hi Galaxy", but having this feature turned on means the phone is constantly listening and will affect battery life.
In testing I found S-Voice to take some time to answer my questions, more than ten seconds in some cases, and often key clauses of requests were missed. For example, asking S-Voice to remind me to buy lunch at midday tomorrow resulted in a reminder to buy lunch tomorrow, but at 9am.
Despite this, S-Voice impressed me with its ability to understand indirect phrases such as "is it going to rain tomorrow?", which produced tomorrow's weather forecast for my current location.
All told, S-Voice is good enough at answering basic internet searches and filing reminders, but I found it's voice recognition not accurate enough to be trusted every time. I like that Samsung hasn't filled S-Voice with jokes and film references (I'm looking at you, Siri), but a broader understanding of colloquial phrases and sentences with multiple clauses would be helpful.
Because S-Voice is accessed by a double tap of the Home button, there is always a small delay between pressing the button once and the phone responding, as it waits a second to see if you're going to press for a second time.
Samsung Galaxy S3 Mini: Display
Samsung's efforts to reduce the size and cost of the Galaxy S3 mean the Mini misses out on an HD screen. Instead, the 4in display has a resolution of 480 x 800 and a pixel density of 233 pixels per inch (ppi) which, for reference, is about the same density as the iPad mini.
The iPhone 5 comfortably trumps this, with a resolution of 1136 x 640 and a pixel density of 326ppi, but that doesn't mean you should discredit the Samsung on numbers alone.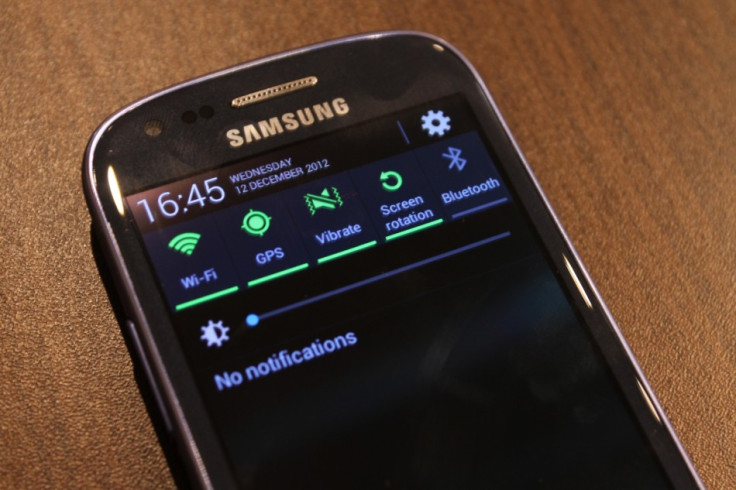 It's actually a very good screen, with sharp, accurate colours, deep blacks and good levels of saturation and contrast.
As with the full-size Galaxy S3, the Mini's AMOLED screen has a slight blue tinge to it, which is exaggerated by the TouchWiz UI and its cooler grey and blue tones, but you soon get used to it if yoyu're moving over from a different manufacturer and operating system.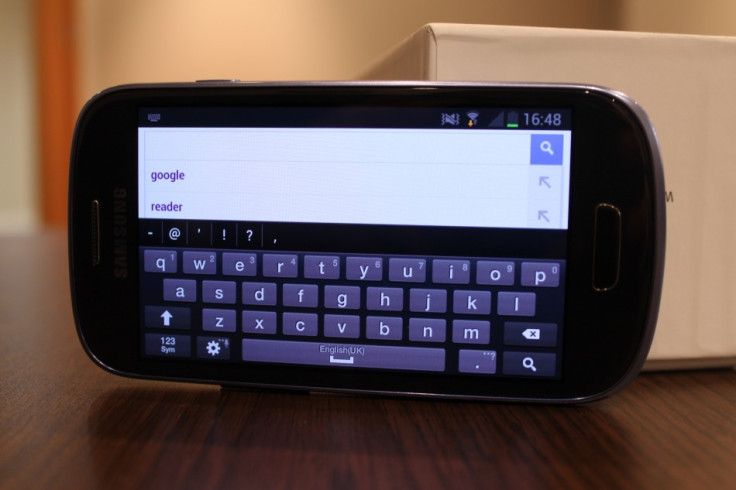 One criticism I have with the S3 Mini's screen - and it's something I touched on earlier - is its brightness. For a start, there is no auto-brightness option, so you have to constantly change it yourself via the drag-down notification drawer.
But when you do turn it up, you'll notice that the display isn't all that bright. Compared to my (admittedly more expensive, but older) iPhone 4S, the Mini is nowhere near as bright, even with it cranked right up.
This is fine for indoor use, but outside and especially on a bright day the S3 Mini could do with being brighter.
Samsung Galaxy S3 Mini: Camera
I'm not a fan of Samsung opting to place the S3 Mini's camera in the middle, because it's very easy to get your fingers in the way when taking a photo. It was in the middle with the regular S3 as well, but being a large phone there was more space to rest your digits; with the S3 Mini, Samsung should have dropped the symmetry and placed it in one of the top corners.
The S3 Mini misses out on a dedicated shutter button for the camera, so instead you've to make do with tapping an icon on the screen. While you're there, you can also tap the screen to focus, and there's a smorgasbord of options to tinker with to get the perfect shot.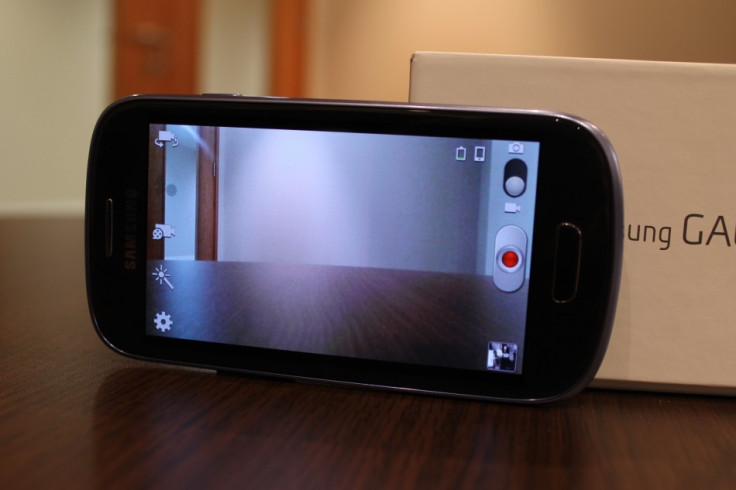 Although the sensor is only 5-megapixel and not eight like the Galaxy S3, Note 2 and even the Galaxy S2, Samsung's camera software helps to make up for the lack of resolution.
White balance, metering and ISO can all be adjusted manually, or left to work things out automatically, and there's 13 different scenes to choose from, ranging from sports and portraits, to shooting by candlelight or capturing fireworks.
If you're running low on storage space, or want to email photos more quickly, shots can be changed from the default size of 5-megapixels to four, 3.2, 2.4 or 0.3-megapixel VGA quality.
Photos I took with the S3 Mini looked great on the device itself. Bright, sharp colours and a surprising amount of detail, but when you look at the photos on a large computer screen you'll see that they are a little washed out, with those bright colours appearing faded and pale. The S3 Mini is fine for quick snaps, and the best camera is always the one you have with you, but don't expect this phone to replace your dedicated point-and-shoot camera, as the full-size S3 can.
The camera struggled with bright lights, which caused glare in some of the photos I took. See the first photo in the last section of this review to see what I mean, where the light of the television and reflection from the chrome strip of my PS3 have caused glare across the photo.
As for video, the Galaxy S3 Mini shoots at 720p, so not full HD, but you can't tell the difference on a screen this size anyway, and photos can be taken while shooting video simultaneously.
The flash can be turned on to help illuminate the scene while recording video and there is a useful icon to show how much storage the phone has left, and how much the current recording is taking up.
Apart from Skype video calls, the front-facing camera has a couple of other uses, such as facial recognition so the phone will only unlock when the owner shows their face, and Smart stay, which uses the camera to monitor your eye movement - look away from the phone for a few seconds and the screen goes off.
Samsung Galaxy S3 Mini: Verdict
So is the Galaxy S3 Mini worth considering if you're in the market for a mid-range 4in smartphone? Well, yes, I think it is: not everyone wants a huge phone like the 4.8in regular S3, but lots of consumers still want all of its features, and that's where the Mini fits in.
As I said above, it's a lot like someone has put an S3 in the photocopier at 75 percent, but that's not a bad thing. Samsung isn't the world's number one phone maker by chance, it's got there staggeringly quickly by knowing what consumers want and offering them plenty of options to cover all bases.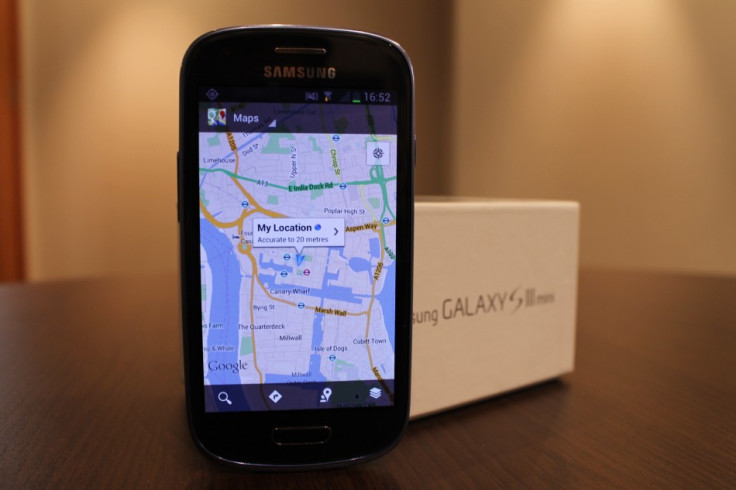 Like Android and TouchWiz? Good, now would you like that in small (S3 Mini), medium (S3), or large (Note 2)? Each phone offers essentially the same user experience, but with varying screen sizes and performance to fit most budgets.
Addressing the S3 Mini on its own, it's a smartphone that runs the newest version of Android, along with the boatload of features Samsung packs in with TouchWiz (which, for my money, is the best Android UI out there) and packages it all in smart, sleek and attractive hardware.
It's annoyingly easy to scratch the back cover, and I can't stand the fake metal band on the white model, but they are my only major complaints.
The bottom line is that with the Galaxy S3 Mini, Samsung has a smartphone that can match the iPhone 4 and 4S for screen size (although not resolution) and performance. If the full-size S3 is simply too big, but you want the same design and the excellent Android 4.1 operating system, then the S3 Mini is definitely worth considering.
Scores:
Screen: 7/10
Design: 8/10
Camera: 7/10
Operating System: 9/10
Build Quality: 7/10
Overall: 8/10
The Good:
Looks, especially in blue
Android 4.1 with TouchWiz
Better performance than you'd expect from the spec sheet
The Bad:
Case scratches easily
Screen resolution could be higher
Only 8GB of internal storage