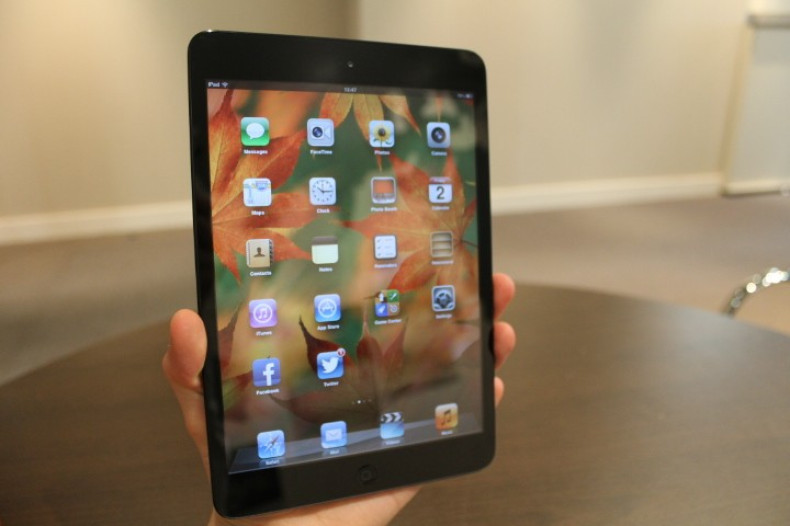 Key Features:
7.9in screen, 1024 x 768
iOS 6
7.2mm thick
Dual-core A5 Chip
Price as reviewed: £269 (16GB, Wi-Fi)
Introduction
More than any other consumer electronics product, getting the look, feel and size of a 7in tablet right, is of paramount importance.
This is a product which is meant to be comfortable to hold in one hand, and light enough to hold for extended periods.
Others have come before, most recently Google, Amazon and Samsung, who have all launched 7in tablets this year. While all have features to recommend, none has managed to get the balance of design and quality quite right.
Apple has nailed it.
iPad mini: Design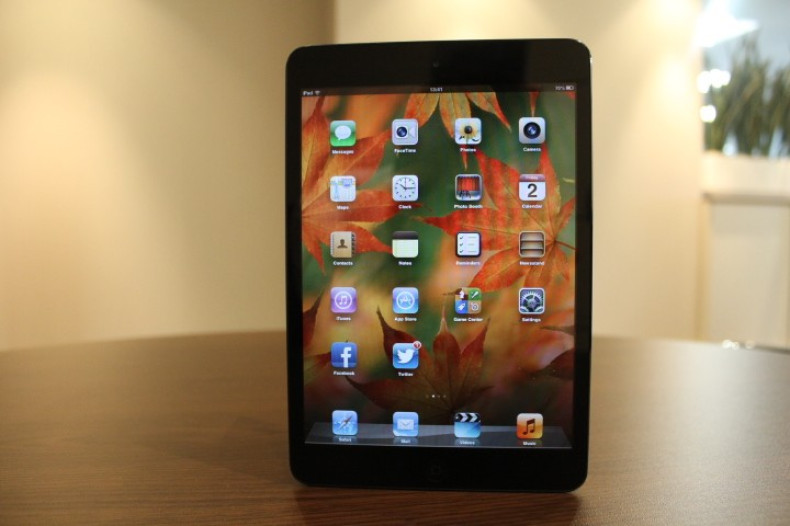 The iPad mini is thin and light, yet has a screen which is significantly bigger than its nearest competitors.
The Amazon Kindle Fire HD for example has almost the same footprint as the iPad mini (193 x 137mm compared to 200 x 135mm) and is significantly thicker at 10.3mm compared to just 7.2mm.
Despite this, Apple's screen is almost an inch bigger (measuring on the diagonal). The Nexus 7 is quite a lot narrower, but is also significantly thicker, at 10.5mm.
This all means that in a body which is thinner and lighter than competitors, Apple has managed to fit a bigger screen, without compromising portability.
The iPad mini is also surprising light to hold. At just 308g, it is lighter than the Nexus 7 (340g) and a lot lighter than the Kindle Fire HD (395g). This means you will be able to hold it one-handed for a long time without straining your wrists.
A full-sized iPad in comparison feels bulky and overweight.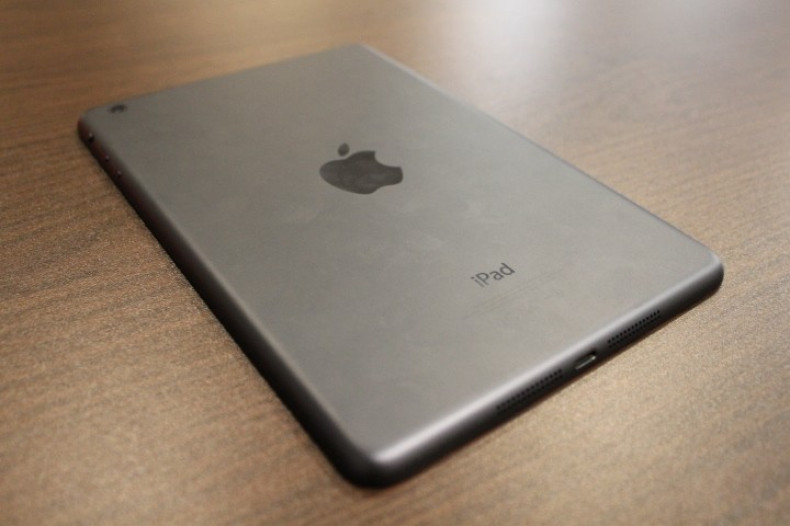 Like pretty much all Apple products these days, the build quality is flawless. As usual, Apple has used premium material - it's all aluminium and glass - and although you are paying more compared to some competitors, you can see and feel where the money went.
There is no flex, no creaking and it feels very comfortable in the hand.
Getting you hand around the tablet when it's in portrait mode is a bit of a struggle for someone, like me, who has small hands, but I was still able to manage it.
Holding the tablet in landscape is just as comfortable with one hand, and I expect to see this the default orientation for a lot of commuters who want to watch video on their way to work.
iPad mini: Screen
The screen of the iPad is, as we said, 7.9in and has an aspect ratio of 4:3, the same as the full-sized iPad. This is key, as it means that the more than 275,000 iPad-optimised apps in the App Store will all work perfectly on the iPad mini.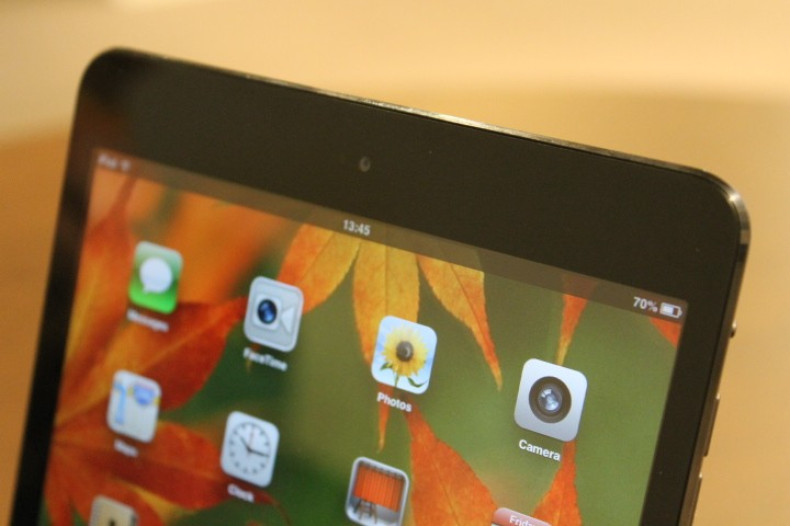 Apple has managed this by slimming down the bezels on the long sides of the iPad mini, while retaining the thicker bezels we're used to seeing on the full-sized iPad, at the top and bottom.
Apple claims this lets them put a lot more onscreen at once, especially when browsing - and especially when in landscape mode - in comparison to the competition, and they're right. Surfing the web is a much better experience on the iPad mini, with a lot more information at your fingertips all at once.
The LCD screen uses IPS technology meaning that viewing angles are great, and contrast is great.
However, it has been the resolution of the screen which has caused the most furore. It is not Retina. The resolution is in fact the exact same as the iPad 2, at 1024 x 768 giving it a pixel density of 163 pixels per inch (ppi).
The Retina screen on the full-sized iPad has a pixel density of 264ppi, and if you put the two side-by-side, the difference is immediately noticeable.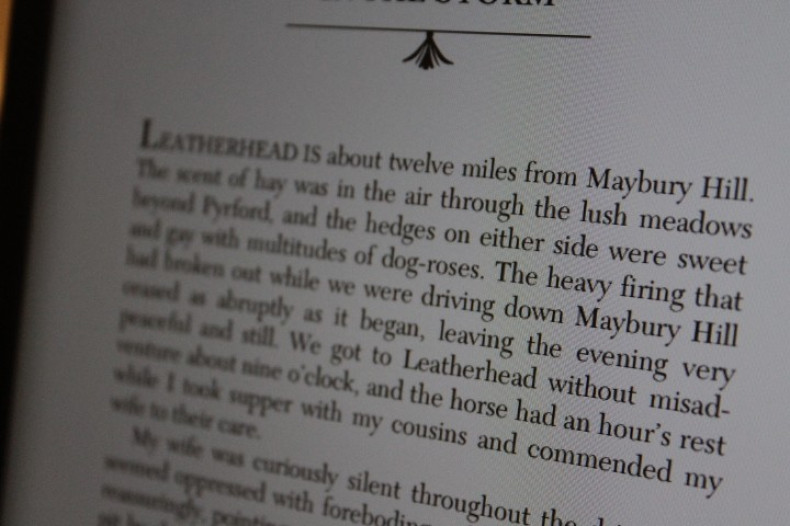 The 'low' resolution is something Google and Amazon have been using as a stick to beat Apple with, as both the Nexus 7 and the Kindle Fire HD have higher resolution displays (1280 x 800).
So yes, there is an issue with the screen. If you are coming from an iPad 3 (or indeed the fourth generation one which was launched alongside the iPad mini), or comparing it purely in resolution terms to either of its closest competitors, then the iPad mini will lose out.
However, taken on its own merits, the screen itself is perfectly acceptable. Text looks sharp and crisp and browsing the web is great. Watching video is also good, and the IPS technology means viewing angles are excellent.
Overall the iPad mini screen is both good and bad. The size makes browsing the web a much better experience and lets iPad-optimised apps work as they were intended. However for those looking for a searingly sharp and pixel-dense screen, you may be disappointed.
Though I have a sneaking suspicion that Apple didn't go for the higher resolution so it could launch the iPad mini with Retina display next year.
iPad mini: Perfromance
Like it's screen resolution, the iPad mini is powered by the same chip as the iPad 2. The dual-core A5 chip which runs at around 1GHz is paired with just 512MB of RAM however, down from the 1GB which comes as standard now on the full-sized iPad and the latest iPhones.
However, thanks to the very tight hardware/software integration, you don't notice any lag or delay when switching between apps, browsing the web, watching video or playing games.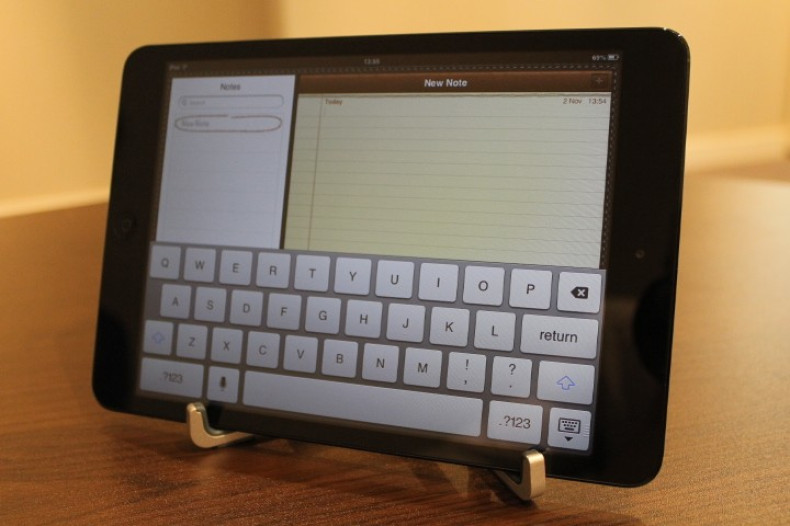 While many Android tablets boast about specs in order to get one over on Apple, the fact remains that the user experience on an iPad or iPhone simply works, with little or none of the bugginess which continues to afflict the Android software.
One thing the less-powerful A5 chip will help with is battery power, and like all other iPads we managed to get over nine hours of usage from a single charge, though this will obviously be lessened if all you do is watch video, or play intensive 3D games.
In terms of connectivity, the iPad mini features Wi-Fi N and Bluetooth 4.0. The Wi-Fi is purported to be twice as fast as any previous-generation iPad and it also supports dual-band Wi-Fi.
Apple's website says this new wireless connection can support speeds up to 150Mbps, but should you managed to ever actually record download speeds of that level, then you're probably in South Korea or Japan.
Apple is also launching a cellular version of the iPad mini and as well as running on the UK's 3G networks, it will also support the UK's first 4G network, launched last week by EE. Apple has yet to announce an exact release date for this version of the iPad mini, but said it would be coming weeks after the launch of the Wi-Fi-only version.
iPad mini: Lightning, Speakers and Camera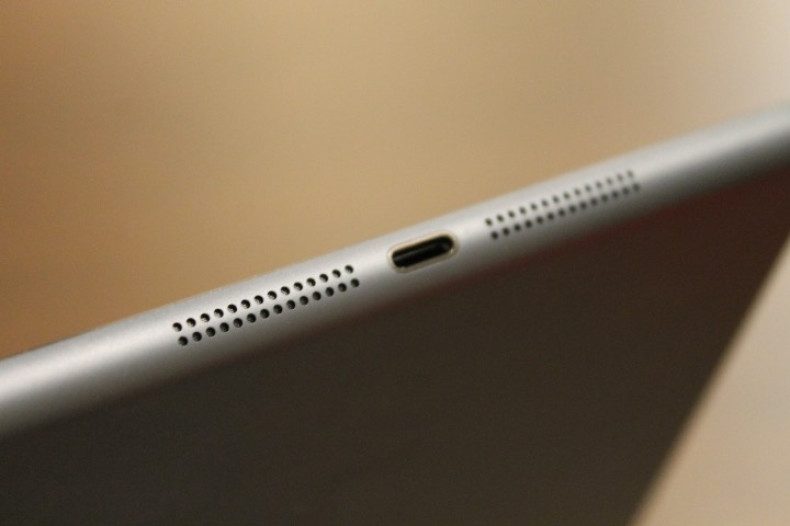 As with all new Apple mobile devices launched in the last couple of months, gone is the 30-pin connector and in its place is the much smaller Lightning connector. Other than having to replace a load of cables and docks, the Lightning connector offers little new, though it is now reversible, meaning there's no wrong way to plug in the cable.
Either side of the Lightning connector sits the iPad mini's stereo speakers, though there had been some confusion about whether or not these were stereo speakers.
Last week Amazon launched an advert for the Kindle Fire HD, showing a comparison with the iPad mini, in which it claimed the Apple tablet only featured mono speakers.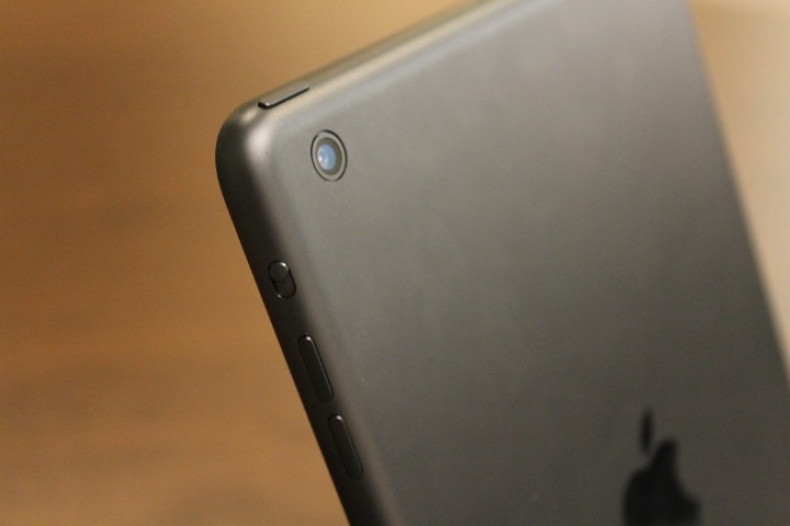 This has now been shown no to be the case, and in use while they won't power a house party, they work perfectly well for watching a film or listening to the radio while you work.
On the rear is a 5 megapixel iSight camera, complemented on the front by the much more important, FaceTime HD camera, for use in video calling. The front-facing camera works well and while the iSight camera ont he rear offers decent results, I still find using a camera on a tablet odd.
iPad mini: Software
The iPad mini comes pre-installed with iOS 6, Apple's latest version of its mobile operating system, which means you get all the benefits and all the drawbacks of this system.
On the plus side, you get a tablet-optimised ecosystem which Android tablet owners can only dream of. On the downside, you are tied into purchasing all your video, apps, books and music from iTunes and the App Store and no where else.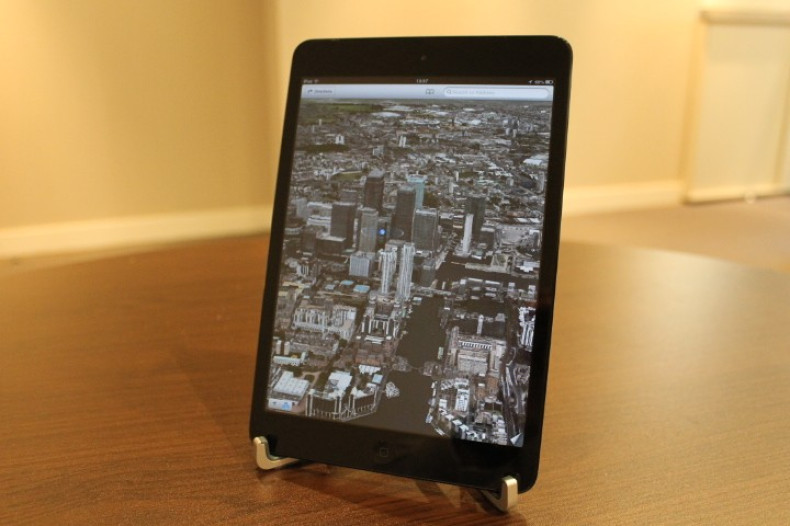 If you already own an iPad, iPhone, or MacBook, setting up your iPad mini will simply mean signing in with your Apple ID, and thanks to iCloud integration, all your music, apps and books are available immediately. If you're already invested in Apple's world, then the system simply works.
If you like the idea of mixing and matching where you buy your content, and don't want to be restricted by Apple's strict DRM policies, then maybe the iPad mini is not for you.
One of the cleverest tweaks Apple has made to the iPad mini software, is related to how the system recognised your fingers on the screen.
Because Apple has reduced the bezels along the longer edge of the screen, it means that your thumbs will naturally end up touching the screen inadvertently. However thanks to some clever coding by Apple's software engineers, the screen recognises this situation and chooses to ignore any inputs from here.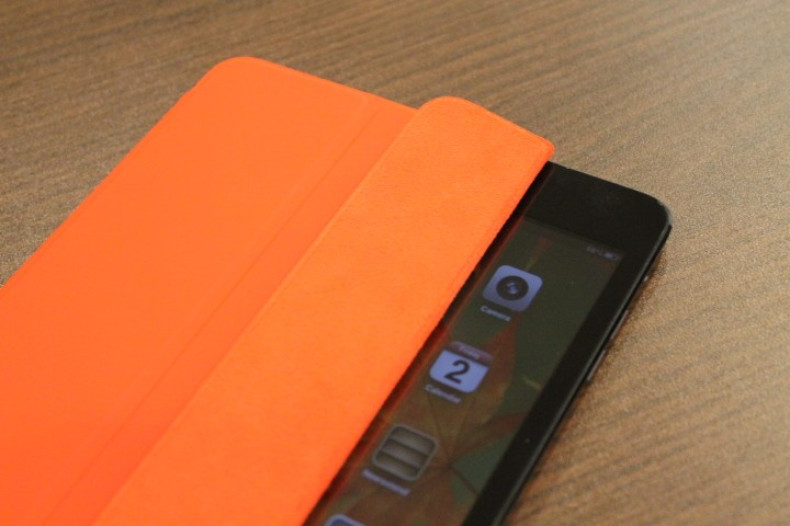 Apple should be congratulated on managing to avoid what could have been a real annoyance on the iPad mini.
Like the newer iPads, the iPhones 4S and 5, and the latest iPod touch, the iPad mini features Siri. Like the other devices a long press of the home button brings up the voice-activated personal assistant and thanks to improvements in iOS 6, Siri can now give you much more information.
Location-based results in the UK, sports results, restaurant and film reviews are all available by simply asking, though the system is still far from perfect.
iPad mini: Value
To judge the iPad mini on value is tough. On the one hand you people might think you crazy for paying £110 more than the Nexus 7 or the Kindle Fire HD [for the 16GB Wi-Fi only models] essentially for a screen which is less than an inch bigger.
But it's not fair to make a like-for-like comparison with the iPad mini and these Android tablets.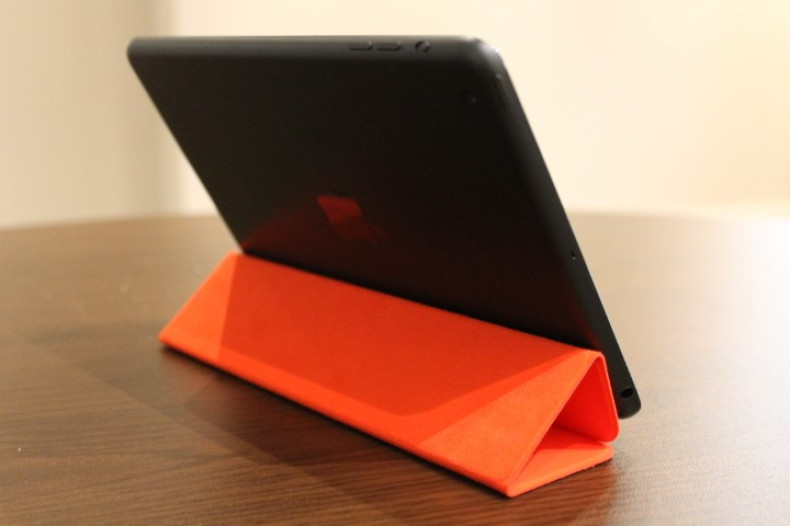 First of all, the iPad mini's build quality is of a much higher level than either of its would-be competitors. It is also thinner and lighter than the Amazon and Google tablets and just feels so much better in the hand.
Yes, the iPad's screen does not possess the pixel density of its rivals, but it is still acceptable, and the additional real estate offered by that extra 0.9in means you get so much more onscreen than you do with the Kindle Fire HD or the Nexus 7.
Finally, Apple offers an unrivalled tablet-optimised app ecosystem, with over 275,000 iPad-specific apps available, something Android users can only dream of.
The iPad mini's higher cost will put some off, but at £110 more, you are still getting great value.
iPad mini: Verdict
Steve Jobs famously said that a 7in tablet would simply not work, it was too small. But Apple has managed to solve the problem with the iPad mini.
I feel like I am repeating myself (and I probably am) but Apple has once again created a beautifully-designed, high-quality product, which simply works.
Yes you are paying a premium for that level of design and for the Apple logo on the back, and yes you are tied down to Apple's way of doing things.
However, because of the fragmented state of the Android platform, and the lack of tablet-optimised apps the experiences are worlds apart, with Android on tablets feeling inconsistent and buggy, and iOS feeling complete and smooth.
Some will be happy with the limitations of the Kindle Fire HD and the Nexus 7 because of the low price, but for a complete tablet experience in a compact and high-quality package, the iPad mini is a bargain.
Scores:
Overall 9/10
Screen 8/10
Design 10/10
Performance 9/10
Value 9/10
Software 9/10
The Good
Beautiful industrial design
Over 275,000 iPad-optimised apps
7.9in screen offers better browsing
The Bad
Screen resolution not as high as competition
Tied-down Apple ecosystem