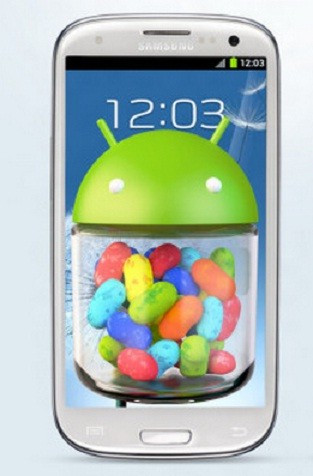 Samsung has confirmed its flagship smartphone - the Galaxy S3 - will receive the Android 4.1 (Jelly Bean) update in October. The S3, launched earlier this year, now ships with Android 4.0.4 (Ice Cream Sandwich). There is no specific date for the updates as yet. However, CNET UK reports the updates are likely to go first to SIM-free Galaxy S3 units before carrier models receive the software. The roll-out is expected to start with UK users.
The delay has been attributed to the fact that each network must test the update on their respective frequencies before transmitting to users. The good news, however, is that it has also been confirmed that 4G LTE-ready Galaxy S3 units will ship with Jelly Bean directly.
The 4G network, which was launched by Everything Everywhere (EE), will roll out in a number of cities, including London, such as Manchester, Liverpool, Glasgow, Newcastle, Belfast and Leeds.
Samsung was earlier reported as being ready to release the update with the launch of the Galaxy Note 2 at the IFA Trade Show in Berlin.
Finally, it is also reported that two of Samsung's mid-range smartphones - the Galaxy Ace 2 and the Galaxy S Advance - will skip the Ice Cream Sandwich update in favour of the Jelly Bean update. The phones were launched with Android 2.3 (Gingerbread). The news, reported by GSMArena, came to light when a Bulgarian contacted a local office asking for ICS updates. However, IBTimes UK cautions our readers that this information has not been verified by Samsung's head office and was made available over Facebook.