Samsung's flagship smartphone, the Galaxy S3, specs-wise, is one of the best smartphones of the year. The Galaxy S3 tops others in the Samsung Galaxy S family.
Before the announcement of the smartphone, Samsung announced the new processor- Exynos 4 quad-core 1.4GHz - which Galaxy S3 would be using. The S3 boasts new quad-core processor with double the processing capabilities over its predecessor. Apart from that it features a larger screen compared to the Galaxy S and the S2. Near Field Communication (NFC), S Voice and 4G connectivity are among the notable features. The eight megapixel main camera and 1.9 megapixel front-facing camera of the smartphone feature new and interesting technologies.
Here is a look at a few benchmark tests to know what the Galaxy S3 has in store: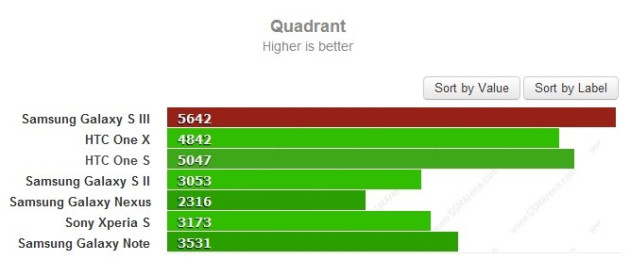 GSMArena performed some tests on the day the Galaxy S3 was launched and one was a Quadrant benchmark test in which the device scored highest with 5,642 points. The Galaxy S3 with its Mali-400MP GPU beat the HTC One X.
On the SunSpider which is the CPU-stressing JavaScript benchmark, the Galaxy S3 showed outstanding performance once again topping the other smartphones in the list which included HTC One X, One S, Galaxy S2, iPhone 4S and a few more. Even the Galaxy S3 performed quite well on the BrowserMark HTML5 test scoring the highest at 169,811 points.

Another benchmark test conducted on the pre-production model of the Galaxy S3 by Engadget shows that the Exynos quad-core processor of the Galaxy S3 is indeed powerful.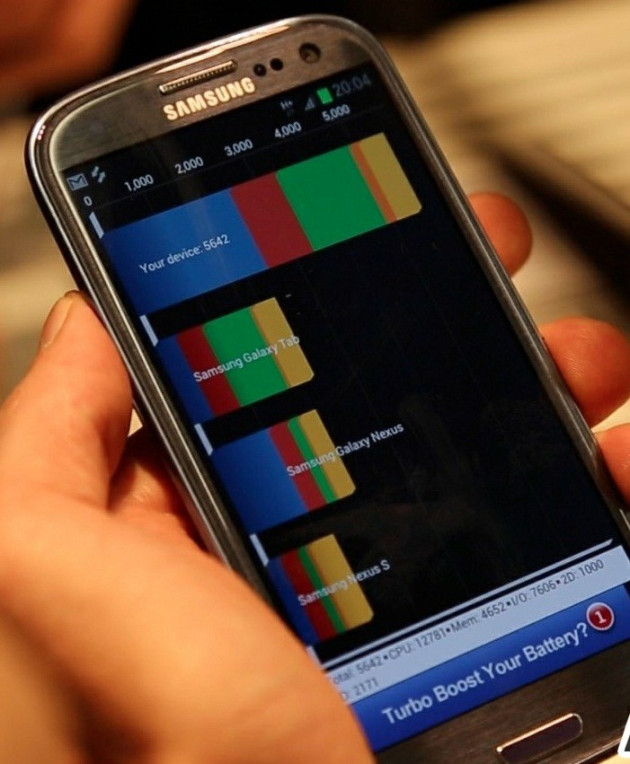 Yet another test was by running the Quadrant Advanced which is one of the most popular apps. The result suggests that the Galaxy S3 scored 5,642 and even once topped 5,700. The credit here goes once again to the quad-core processor of the Galaxy S3. In input/output which is one of the important results, the Galaxy S3 scored 7,606 whereas the AT&T variant of HTC One X could only scored about 4,900 and occasionally over 5,000. Even though the HTC One X sits above all the HTC One series smartphones, in the benchmark test, the Galaxy S3 once again appeared to be the winner, according to Android Community.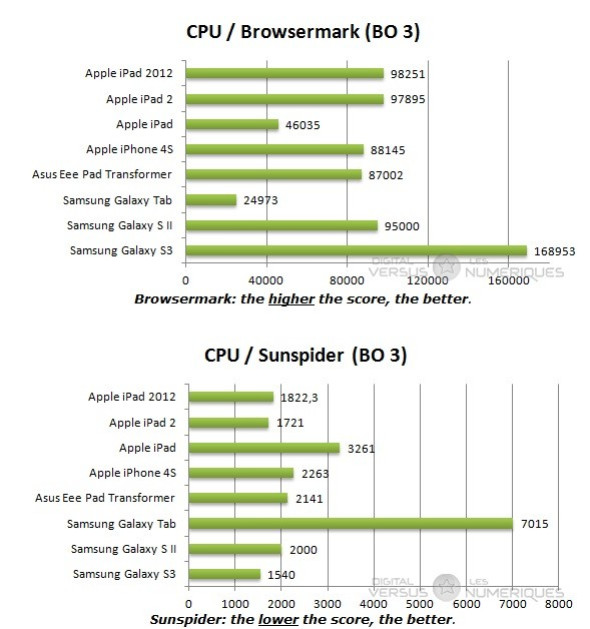 The benchmarks including Browsermark and SunSpider run by Digital Versus, states that the newest Galaxy S3 scored 168,953 on the Browsermark and 1540 on the SunSpider. The Galaxy S3, in the SunSpider test performed twice as well as the Galaxy S2 in the speed-rating index.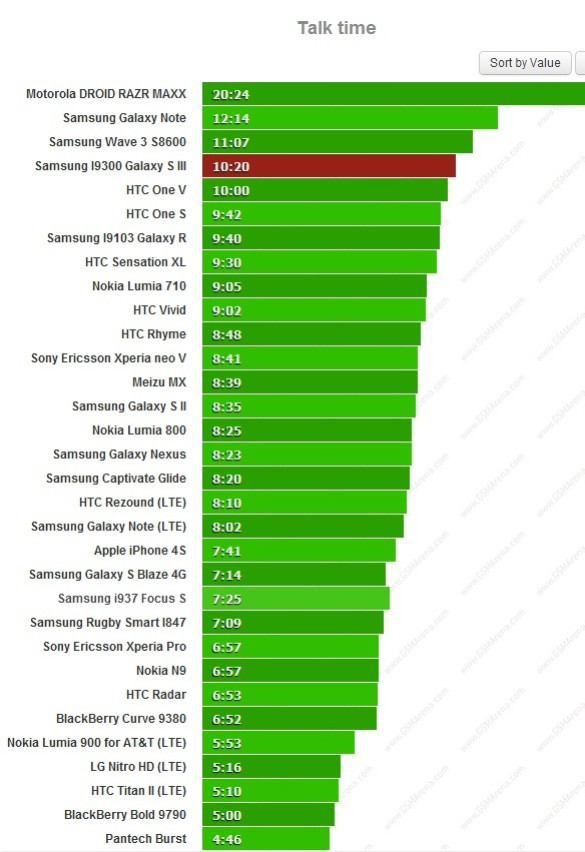 The Galaxy S3 will be powered by a 2100mAh battery, which is more powerful when compared to the other two Galaxy S series smartphones. The battery therefore is expected to deliver extended battery life. A battery test of the Galaxy S3 conducted by GSMArena has some surprising results. In the 3G talk time test, the battery survived for 10 hours and 20 minutes. The Galaxy S3 ruled even in the browsing test wherein the battery survived for five hours and 17 minutes. Finally in the video playback test, the Galaxy S3 showed amazing results wherein the battery delivered a life for 10 hours. In addition the Galaxy S3 had a pretty good standby endurance.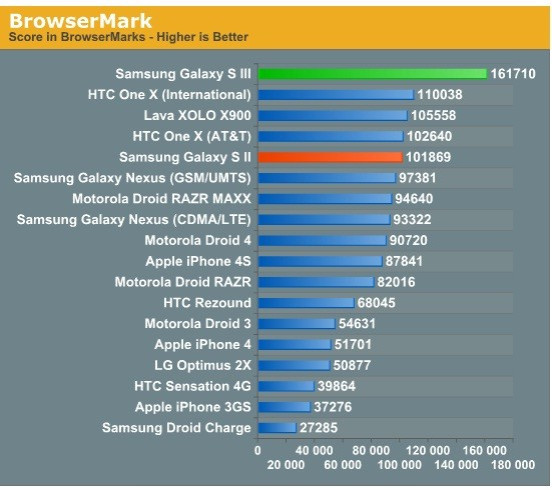 The result of the benchmark test conducted by Anandtech once again proves that the Galaxy S3 is a powerful device. The S3 performed well in the SunSpider Javascript benchmark test beating HTC One X (AT&T), Galaxy S2, Galaxy Nexus and the other leading smartphones. The Galaxy S3 scored 1,424.7 points. Likewise in the BrowserMark test, the Galaxy S3 was significantly faster, thanks to Samsung's browsing code and the fact that the Galaxy S3 runs on the Android 4.0.4 Ice Cream Sandwich. The Galaxy S3 features Mali-400/MP4 GPU which is said to be quicker than its predecessor. In the GPU performance test also the GalaxyS3 performed well.