There is yet another photograph, rumoured to be of the long-awaited Samsung Galaxy S3, which has been leaked online, according to CNET. The photograph first surfaced on Polish blog OPDA, which claims to have obtained the photograph from an anonymous individual.
The photo has been partially censored and reportedly comes from an individual testing Samsung smartphones. The smartphone in the photograph, it must be said, resembles the Galaxy S.
In the leaked image, a blue line is seen running across the top of the apps menu and seemingly not parallel to the top of the device's screen. The device further features a distinct and physical "Home" button which is similar to that found on the European version of the Galaxy Note. In addition, the icons on the screen are blurred but seem to be organised in a five-row pattern - the User Interface (UI) looks similar to the Galaxy Note, according to Softpedia.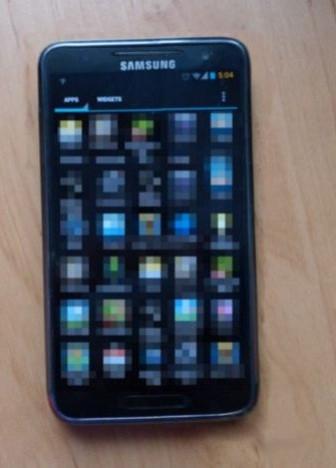 If the leaked image is indeed of the Galaxy S3, it could indicate that two of the rumoured specifications for the new phone are true. A second Softpedia report suggested that Samsung had made last-minute changes before the phone went for production. Apparently the changes were the result of a debate surrounding the probable inclusion of a "Home" button and a five-column UI; Samsung's other Android 4.0-based smartphones run a four-column UI.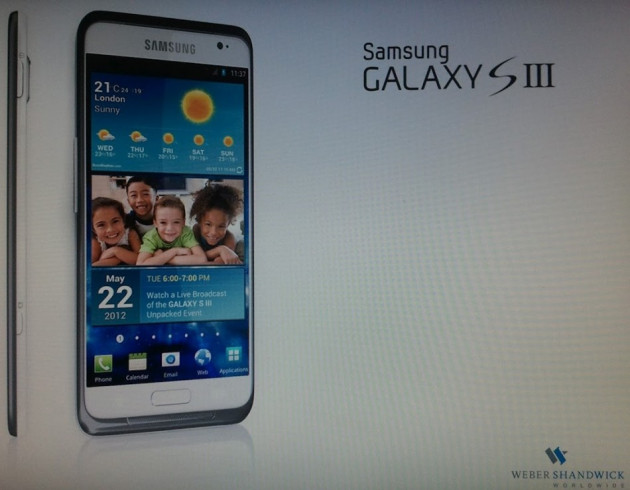 The leaked image does not carry any information on other specifications or release dates, unlike an earlier supposedly leaked image. That image, leaked last month, reportedly revealed the release date. The shot suggested the Korean manufacturer would release the phone on 22 May, at an event in London. This followed an earlier GWL report that said the phone would release in the first week of June.
Finally, according to some other earlier rumours, the eagerly anticipated Samsung Galaxy S3 will pack a powerful quad-core Samsung Exynos chipset and a 12 megapixel camera. The new device is expected to run on the Android 4.0 Ice Cream Sandwich operating system, is likely to carry a 4.65-inch Super AMOLED HD display and will support 4G LTE where available.