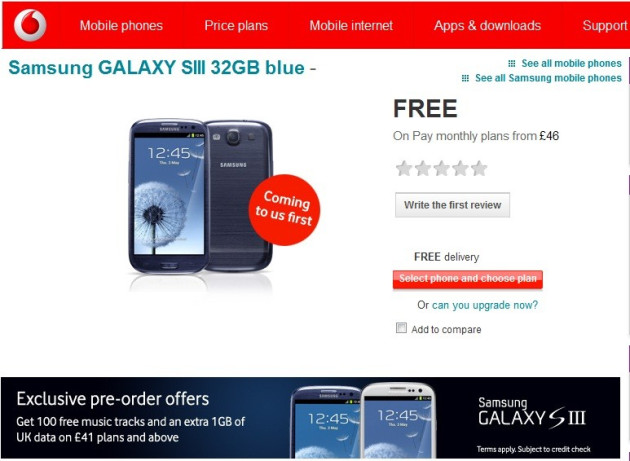 Vodafone has announced the price for 32GB version of the Samsung Galaxy S3, according to CNET UK.
The Galaxy S3 is available for pre-order on the Vodafone website and the 32GB model which is exclusive to Vodafone UK for the first month, will not be available elsewhere in the country.
The cheapest deal offered by Vodafone is, a consumer can purchase the Galaxy S3 handset by paying only £150 and £26 per month but the consumer will get 250MB of mobile data.
Likewise, customers can get the Galaxy S3 32GB by paying £46 per month wherein the customers can get 1,200 minutes of calls and unlimited text. Vodafone is offering the 16GB model of Galaxy S3 for £41 per month for two years and the deal also provides 900 minutes of free calls and unlimited texts.
Customers can also enjoy 2GB of mobile data and 2GB of Wi-Fi BT Openzone public hotspots in both 16GB and 32GB Galaxy S3 deal. Vodafone will not charge customers in the first three months in case they exceed the data allowance.
Vodafone is also offering a one-year contract for the Galaxy S3 wherein the consumer has to pay £36 a month. Some of the Galaxy S3 deals also offer 100 free tracks from Vodafone music with 25 tracks can be downloaded each month in the duration of the first four months of the contract.
Another report by Pocket-lint suggests that Vodafone claims to have priority on Samsung's next Galaxy S smartphone offering the UK consumers the handset a day early on 29 May.
"Samsung have said 30May, but we have been told we can have it on 29 May. You will be the first to have it," said a Vodafone salesman.
Samsung had announced a Korean market release on 29 May followed by release in the UK on 30 May. The Vodafone salesman further said that eager customers could register on their website if they wanted the gadget a day earlier.
Vodafone in a statement spiked early release reports and said it would be available on 30 May.