The Samsung Galaxy S4 will not be powered by Samsung's Exynos 5 Octa processor when it arrives in the UK next month, and will instead use a 1.9GHz quad-core chip.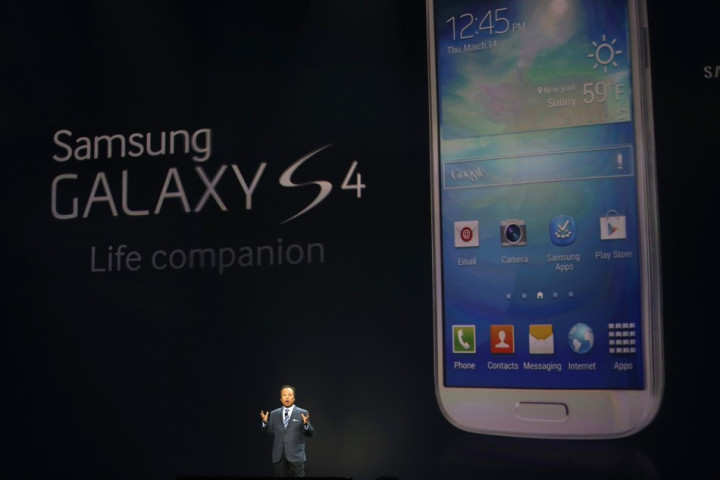 Samsung's flagship smartphone was expected to be powered by the Exynos 5 Octa, which has two quad-core processors running at different clock speeds to help strike a balance between performance and increased battery life.
But now we know this model of S4 will not be coming to the UK. Samsung said in a statement sent to IBTimes UK: "[The] Samsung Galaxy S4 is equipped with a 1.9GHz quad-core AP [application processor] or 1.6GHz octa-core AP. The selection of AP varies by market.
"In the UK the Galaxy S4 will be available as a 4G device with a 1.9GHz Quad Core Processor."
Samsung told UK publications at the Galaxy S4's New York media event, and said again in a UK-centric press release, that the smartphone would be powered by the Exynos 5 chip, but this is now no longer the case.
While the quad-core Snapdragon 600 processor has a higher 1.9GHz clock speed than the 1.6GHz Exynos, it will not benefit from the octa-core's ability to run off four slower 1.2GHz cores when less intensive applications are running.
Some UK Samsung fans may be disappointed by the news, but high-end smartphones like the S4 have reached the stage now where differences in real-world performance between handsets are hard to spot without using a benchmarking tool.
For the majority of users the differences between the two procesors will in all likelihood be small, but it will remain to be seen if the assumed battery-saving of the Exynos 5 Octa chip will give that model an advantage.
Huge demand
Earlier today, retailer Carphone Warehouse announced that consumer interest in the Galaxy S4 was four times higher than for the S3 when it was announced last year. The company said it had seen a 446 percent rise in eager consumers registering their interest in the smartphone on its website.
Graham Stapleton, Chief Operating Officer at Carphone Warehouse, says, "The vast number of pre-registrations we've had for this device is evidence how hot the Galaxy S4 is going to be. The launch event in New York clearly captured the imagination of many of our customers - acting as the driving force for the busiest pre-registration period we've ever seen."