A Samsung Galaxy S5 concept video brings together all of the rumours and speculation surrounding the Korean giant's next smartphone.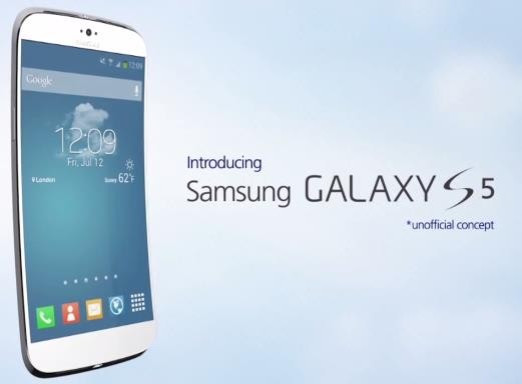 Featuring a curved design as seen on the Samsung Galaxy Round, the S5 mock-up has a metal chassis - finally doing away with Samsung's love of cheap-feeling, shiny plastic.
There is a 5in screen - same size as the Galaxy S4 - but with an upgraded '2K' resolution of 2560 x 1440, resulting in a pixel density of 587 pixels per inch, far higher than any smartphone or tablet to date.
The concept Galaxy S5 screen uses the familiar AMOLED technology, which has previously seen people complain that the phones have a cool, blue tinge to their screens - but they appear to have improved the technology with the Galaxy S4, and that will hopefully continue to improve with the Galaxy S5.
Created by UK technology publications TechRadar, T3 and Gizmodo, and published by O2 Guru TV, the concept video is in no way authorised by Samsung, but gives a fair and reasonable insight into what the Galaxy S5 might be like. Given the S4 was seen by some as only a minor update from the S3, Samsung will need to pull out all the stops to make the S5 a surefire success.
Published on 21 November, the YouTube video reached almost 200,000 views in its first 24 hours online, and earned more than 750 positive responses from viewers, compared to around 60 negative.
The Galaxy S5 is expected to be powered by an octo-core processor with 3GB of RAM - although this chip could be limited to certain markets, as is the case with the S4, which makes do with a quad-core processor in the UK.
64-bit processor
Following Apple and its A7 processor powering the iPhone 5s, the S5's chip is expected to be 64-bit. Although this doesn't yet mean much for improving smartphone processing power, the jump from 32-bit is a sign of manufacturers future proofing their devices in anticipation of games being developed to take advantage of the extra performance.
Also on the concept's wishlist is a 16-megapixel camera - up slightly from the 13 megapixel sensor in the Galaxy S4 - capable of recording Ultra HD 4K video. Again, this would be a sign of Samsung future proofing itself, given Ultra HD televisions are still very expensive and content to play on them is almost non-existent for now.
Given Samsung's track record, we can expect the Galaxy S5 to be launched sometime in the spring of 2014.