Our guide to all the rumours, news and speculation surrounding the Samsung Galaxy S5, which is due to be announced in early 2014 and feature a curved display, 64-bit processor and metal chassis.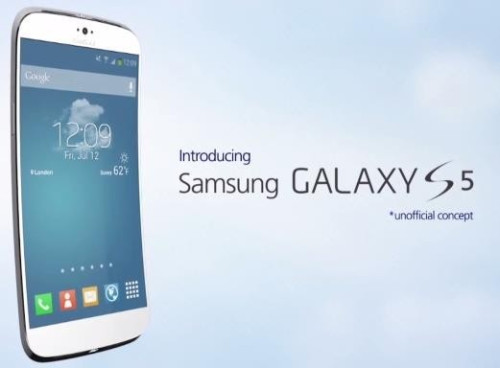 Expected Key Features:
Curved 5in display with 2560 x 1440 resolution and 587 pixels per inch
Available in plastic and metal versions
64-bit processor with 4GB RAM
16-megapixel camera with Ultra HD video recording
Introduction
Announced in March, the Galaxy S4 was easily the most anticipated Samsung smartphone of all time, demonstrating that both the South Korean manufacturer and its Android operating system can draw as much attention as Apple and its iPhone. The S4 sold ten millions units in its first month and was joined by the S4 Mini, Active and Zoom.
For 2014, Samsung will be back with the Galaxy S5, an update to the S4 which is expected to feature a curved display and use metal instead of the cheap-feeling plastic used by all previous Galaxy phones. With the expected announcement just a few months away, below is everything we think we know so far.
This article will be updated as the latest rumours and speculation leak out.
Samsung Galaxy S5: Design [UPDATED]
Finally ditching the glossy plastic used by all previous Galaxies, the S5 is expected to use metal in its construction. Ever since the Galaxy S3 of 2013, Samsung has been criticised for producing smartphones and tablets that perform excellently, but were let down by cheap-feeling plastic.
Korean news site ETNews claims the Galaxy S5 will adopt a metal construction similar to that of the HTC One and iPhone 5S -it may be more prone to scratches and dents than plastic, but metal would give the Samsung a more premium feel.
UPDATE, 14 January: Specifications leaked to website SamMobile claim the Galaxy S5 will be available in two versions - a plastic phone priced at €650 (£540), and a metal phone priced at €800.
Photographs claiming to be of the S5's metal chassis were published by French website Nowhereelse.fr in November.
Korean website Naver claimed in early December the Galaxy S5 would be available in two versions - one metal and one plastic - and could go on sale as early as the first quarter of 2014.
An unofficial concept image shows how an aluminium and leather Galaxy S5 could look, ditching the glossy plastic design used by Samsung since the S3, two years ago.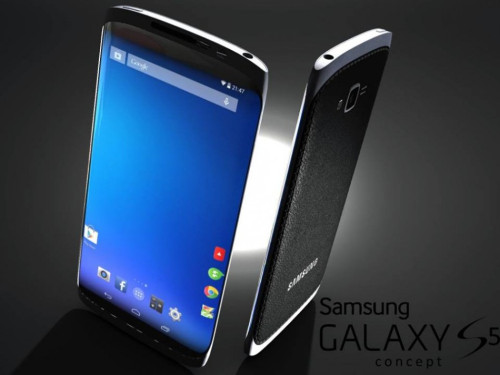 Samsung Galaxy S5: Screen [UPDATED]
The most defining feature of the S5 will be its curved display, which arcs inwards from top to bottom, mimicking the recently-launched Galaxy Round. Although the Round is believed to have sold poorly, due to Samsung not explaining to consumers the benefits of a curved screen, such a feature on the S5 would no doubt accelerate the trend into the mainstream.
Curved screens are claimed to be tougher and less likely to crack when dropped compared to regular displays - a common problem with smartphones. If the S5 does indeed get a curved screen, expect its rivals to follow suit throughout the year.
UPDATE, 14 January: A set of leaked specifications claiming to be of the Galaxy S5 state the phone's screen will measure 5.25in.
At an analyst event in South Korea, Samsung included a presentation slide - published by German site OLED.at - with a graph suggesting the screen resolutions of its future smartphones would improve over the next two years.
Specifically, it claimed a resolution of 2560 x 1440 by 2014, alongside an image of a Samsung Galaxy smartphone. Therefore, the S4 is expected to use this resolution, also known as 2K, as it is twice that of regular high definition.
Since the S4's 1920 x 1080 resolution already makes individual pixels impossible to spot - and 2K video isn't a commonly used format - it seems like an unnecessary improvement to make. It looks like we're in for another year of smartphone makers focused on outdoing each other with statistics.
Samsung Galaxy S5: Processor
Not to be outdone by the 64-bit A7 processor used by Apple in the iPhone 5s, Samsung is expected to include a 64-bit chip of its own in the Galaxy S5.
In November, a senior manager from Cambridge-based chip designer ARM said: "Executives from Samsung and ARM had a meeting...they discussed the ARM 64-bit chip, which is expected to be used in Samsung's smartphone next year," according to sources of the Korea Herald.
Another report from Samsung's home country - this time from hit-and-miss Digital Times - claims the S5's processor will have 4GB of RAM, more than any smartphone currently on the market.
Samsung Galaxy S5: Camera
Upping the game slightly from the S4's 13-megapixel rear camera, the S5 is expected to have a 16-megapixel sensor, with the added feature of being able to shoot 4K Ultra HD video. Although video of such high resolution - four times that of regular HD - cannot be played at full quality on the S5 itself, the footage could be enjoyed on one of the few Ultra HD televisions currently on sale.
South Korea's ETNews reported back in August of the S5's improved camera, which will also feature optical image stabilisation (OIS). With this, the camera should take better photos in low-light environments, as the shutter can stay open for longer without movement causing the image to become blurry.
Samsung Galaxy S5: Software
Little is known about the S5's software, but notorious smartphone leaker EvLeaks uploaded these screenshots to Twitter, claiming them to be of a new user interface Samsung is working on, and which could launch on the S5.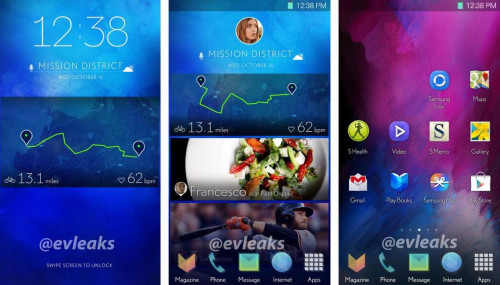 Samsung Galaxy S5: Price [UPDATED]
When Samsung released the Galaxy S4 in April, it was priced at between £550 and £600 SIM-free for the 16GB model, making it more expensive than the equivalent iPhone 5. The price soon fell, and as of December you can pick up an S4 for just under £400 - but we can't see Samsung taking the budget route with the S5.
Curved screen technology is still in its infancy and Samsung will have millions of pounds of research and development costs to recover - and since the Galaxy Round is reportedly not selling, this task falls to the S5.
UPDATE, 14 January: Leaked specifications claim the Galaxy S5 will be priced from €650 (£540) for a plastic version, and €850 for a model version.
Samsung Galaxy S5: Release Date [UPDATED]
The Galaxy S3 was announced in May 2012, and the S4 was first shown in March 2013, so we are expecting to see the Galaxy S5 around the same time, somewhere between the those two months - and it'll likely go on sale around a month later.
UPDATE: If a news report from Korean website iNews24 is accurate, the S5 could arrive as soon as February, at the annual Mobile World Congress trade show in Barcelona.
iNews24 cites Samsung executive Dong-hoon Chan as saying rumours that the S5 will arrive at MWC are "about right", although Samsung has refused to comment on the story, saying it does not involve itself in rumour and speculation.