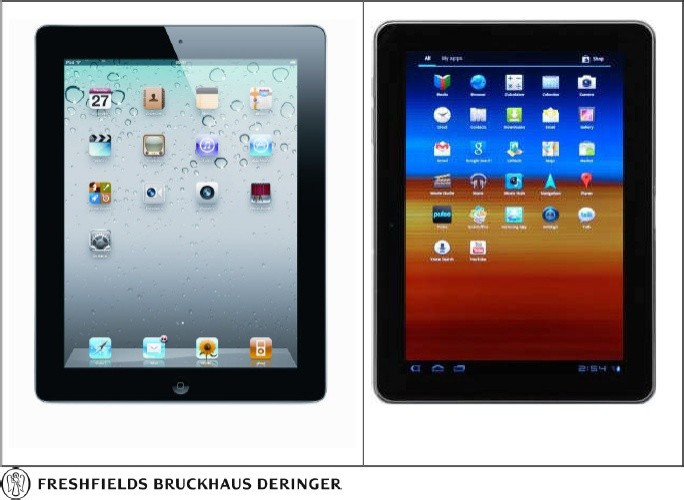 A key document used in Apple's case against Galaxy Tab 10.1 maker Samsung has fallen into question, leading to a temporary lift on a number of the tablet's European import bans.
The 44-page document allegedly misrepresented the Galaxy Tab 10.1's similarity to Apple's iPad.
A key element of the case, was that the Galaxy Tab 10.1 "slavishly" copied Apple designs. In its case Apple put forward a series of side-by-side images of the Galaxy Tab 10.1 and the iPad to show the devices similarities.
In early August the document was cited as a key reason for the court's ruling against Samsung, leading to the tablet's imports being banned in numerous European territories.
New evidence shows that Apple may have edited a number of the photos used to make the Galaxy Tab look more like the iPad. The Galaxy Tab images in question were reportedly "squashed" to make the tablet appear identical in size and shape to the iPad, when in reality it's longer and narrower than Apple's product.
The document's authenticity was first called into question after an investigation by Dutch IT news site Webwereld.
While pointing out the tailored images, the same investigation did find that the document, submitted by Apple's lawyers, also contained a number of unaltered images.
The report led to the court in Duesseldorf, Germany, to temporarily lift the Galaxy Tab 10.1's ban in certain European countries, while it re-examines the evidence.
Despite the rebuke, the ban will stay in place in several countries and Apple has confirmed that it will continue its attempts to extend the injunction into the Netherlands -- a country many technology companies use as an entry shipping point for products into the EU.
Since the news broke a number of experts have taken the development as a sign that Samsung may well recover and manage to extend the temporary reprieve.
"I believe Samsung has a pretty good chance that this temporary partial suspension will result in a partial reversal of the preliminary injunction decision at next week's hearing," commented intellectual property expert Florian Mueller.
The court is set to hear Samsung's initial official appeal against the injunction next week.
Samsung pledged to contest the ban in territories across the world. "We will take all necessary measures to ensure Samsung's innovative mobile communications devices are available to customers in Europe and around the world," said the company statement.