Secret technologies related to next-generation televisions belonging to LG and Samsung have been stolen and leaked to Chinese and Taiwanese competitors.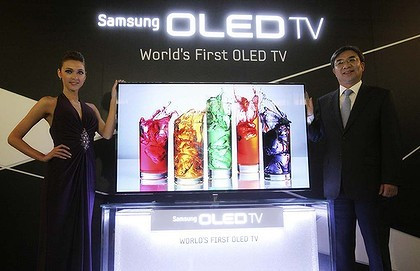 Prosecutors in South Korea have charged six employees of an Israeli company with leaking advanced TV display technology from Samsung Mobile Display and LG Display to their rivals in China.
The Seoul Central District Prosecutors' Office said today (Wednesday) that the six stole OLED display technology from the display affiliates of Samsung Electronics and LG Display and relayed it to Chinese and Taiwanese panel makers.
Orbotech Ltd., the Israeli company, makes display inspection equipment that it supplies to customers in South Korea, China and Taiwan. Its South Korean unit was also charged.
Orbotech did not respond to requests for comment.
The Israeli company wasn't named by prosecutors but Samsung and LG identified it as Orbotech.
OLED TV technology is seen by many as the future for television manufacturers, with OLED TVs set to replace LCD as the default choice in coming years.
The technology allows televisions to be a lot thinner than their LCD couterparts, as OLED panels don't need separate backlighting as LCD TVs do.
OLED TVs also promise much better colour representation as well as better contrast, meaning deeper and more faithfuls blacks, even when diplayed next to whites.
These TVs however are still too expensive, with a 55in OLED from LG set to cost £9,000 when it arrives in stores next month.
AMOLED and WOLED
The Korean Times is reporting that three of the six men arrested were operating out of Orbotech's Korean lab. The technologies stolen related to Samsung's active-matrix organic light-emitting diode (AMOLED) and LG's White-OLED (WOLED) displays, including circuit diagrams.
They are designated core national industrial technology according to the law on industrial technology leak prevention and protection.
The three other Orbotech employees were charged with similar offences but were not detained.
According to the Korean Times, the suspects allegedly stole information by using USB sticks made to look like credit cards, on several occasions between November and January.
"While checking the testing equipment at Samsung and LG's panel production lines, they filmed the diagrams for 55-inch televisions, which aren't on the market yet. They then saved the information on the USBs, which they hid in their shoes, belts or wallets," a prosecutor said.
This is not seen as a blow only to Samsung and LG, but to South Korea as a whole, with the prosecutor adding: "It is very likely that rival foreign companies have obtained the technologies through the subcontractor.
"We expect a great economic blow to the nation, and the leak may cause a huge change in the international market share in the display industry."
The television industry is one of the most competitive with the traditionally high-profile brands like Sony, LG, Samsung and Panasonic, coming under threat from cut-price manufacturers mostly based in China.
Last week Panasonic and Sony announced a deal which will see them jointly develop OLED technology to help drive the cost down.