Key Features:
13.3in HD+ display with matt finish

Windows 8

Weight: 1.13kg; Depth: 13.2mm

Intel Core i5 with 4GB RAM

Price as Reviewed: £800
Introduction
Much like smartphone manufacturers have been playing catch-up with the iPhone, laptop manufacturers have been in the same boat since Apple launched the MacBook Air back in 2008.
And just like the smartphone market, the company getting closest to Apple (and some would suggest outstripping them) is Samsung. It launched its Series 9 flagship laptop range in 2011 with an all-singing, all-dancing brush-duraluminum chassis, and followed it up last year with the more staid, but equally impressive gunmetal grey version.
The 2013 model retains an almost identical look to last year's model which is no bad thing. The laptop is clad in a grey/blue brushed aluminium which feels premium yet lightweight. At just a smidge over 1.1kg the Series 9 is extremely portable and at 13.2mm thin means it will fit in all but the smallest bags.
This is about as small as a 13in laptop can get without making everything feel cramped and difficult to use.
Connectivity
One compromise you have to make with a laptop this thin and light is in relation to connectivity, with the Series 9 offering just two USB ports (one 2.0, one 3.0), mini HDMI and VGA ports and a scaled down Ethernet port (though an adaptor to a full sized port is included in the box). You do also get an SD card reader under the right-hand edge.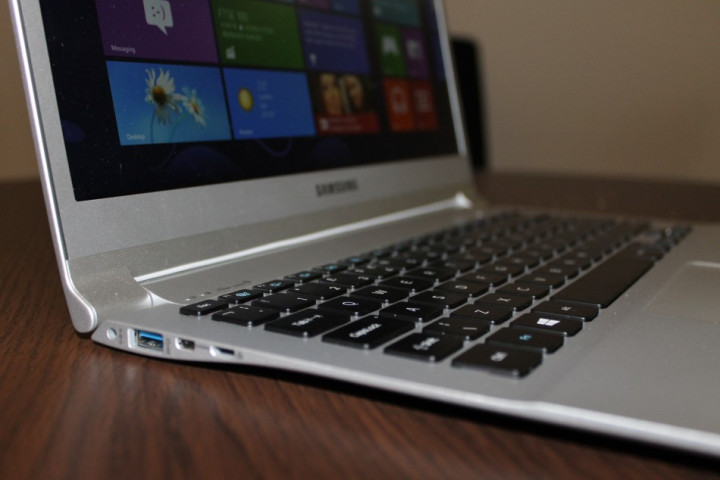 In terms of wireless connectivity you get the usual combination of Wi-Fi N and Bluetooth 4.0 as well as support of Intel's Wi-Di technology (Wireless Display - which lets you stream content from your laptop's screen onto another compatible display).
While not quite in the same league as the unibody chassis of the Air, the base of the Series 9 uses just two pieces of aluminium screwed together on the bottom of the laptop, giving it an extremely solid feel.
Keyboard and Touchpad
The excellent finish is continued with the Chiclet keyboard on the laptop, which is as good as that on the Air and while the keys are relatively shallow, there is sufficient travel in them to give you a good response when typing, and thankfully the keys are well spaced and the lay out is as you would expect.
The touchpad is one area where the Series 9 is slightly let down. While far from being terrible, despite some fiddling around with the controls and drivers for it, the single-piece touchpad was overly responsive leading to unintended taps and clicks.

The buttons are built into the single-peice touchpadand the smooth, textured-glass finish is nearly completely 'clickable', though there is a small dead zone near the keyboard side of the touchpad.
It supports multi-touch gestures to allow you navigate around the Windows 8 interface - crucial considering the laptop misses out on having a touchscreen. These gestures worked OK once you get used to them.
I hate harping back to the Air all the time, but it's touchpad it yet to be beaten
Display
Speaking of the screen, the Series 9 comes with a 13.3in HD+ display, which is Samsung's way of saying it is not Full HD (1920 x 1080) but slightly more than regular old HD (1280 x 720).
The screen has a resolution of 1,600 x 900 pixels which looks great with nice colour reproduction, good viewing angles and excellent brightness (400 nits compared to an average laptop brightness of 250 nits). The screen also has a matt finish unlike most laptops which opt for a glossy finish in order to make images look more vibrant.
This makes using it in bright light or direct sunlight much easier.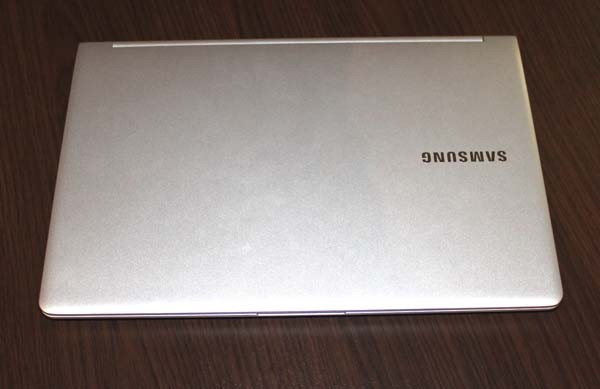 As I said there is no touch technology here which is frustrating considering it is running Windows 8. On a number of occasions I felt like a fool as I pawed the screen trying to open one of the live tiles on the Windows 8 start screen.
As touchscreens become commonplace on high-end laptops, Samsung seems to have missed a trick here on its £1,000 machine.
Performance and battery
The Series 9 has updated the hardware inside to make use of Intel's newer generation of Core i chips, codenamed Ivy Bridge. However with an even newer range (codenamed Haswell) due to launch on laptops soon, again it seems like the Series 9 is missing out.
The Core i5 chip inside the 2013 Series 9 is also not even the most powerful Ivy Bridge chip available and it tells. While for most traditional jobs like word processing or web browsing it is more than sufficient, try and 3D games or video editing and you will soon see it stutter.
The laptop comes with a 128GB SSD meaning you don't get the noise or heat you might from a traditional spinning platter hard drive, and with 4GB of RAM the laptop was responsive and wake up times fast - less than 10 seconds from cold and two seconds from sleep.

Battery life was just adequate, unable to get through a full working day (eight hours) of pretty intense use. It gave up the ghost usually between six and six-and-a-half hours though this could be stretched out as usual by dimming the screen and turning off the likes of the Wi-Fi radio - but you just don't want to have to compromise like this.
Verdict
The fact that Samsung launched this laptop with a price tag of £999 and you can now get it from numerous online retailers for £200 less tells you pretty much all you need to know.
At £1,000 it would be madness to buy this laptop when the 13in MacBook Air with identical specs (4GB RAM, 128GB SSD, Core i5) costs £50 LESS.
OK, you may not like Mac OS X, but there are better Windows laptops out there for less money. For example Lenovo's IdeaPad Yoga or ThinkPad X1 Carbon or Dell's XPS 13.
At £800 however, the Samsung Series 9 is a solid choice.
You get a superbly built and designed laptop with a great keyboard, decent touchpad, fast 128GB SSD and a bright, matt screen. It is also thin and light, making it perfect for on-the-road use.
However, if you want your laptop to carry out more intense work or gaming, or want long battery life, then you should probably look elsewhere.
Scores:
Overall: 8/10
Battery Life: 7/10
Design: 9/10
Performance: 7/10
Screen: 9/10
Value: 8/10
The Good
Beautiful design
Extremely well built
Thin and light making it very portable
The Bad
Average battery life
Iffy touchpad