Samsung has taken full advantage of the gap in the mobile phone market left by Nokia - but created by Apple.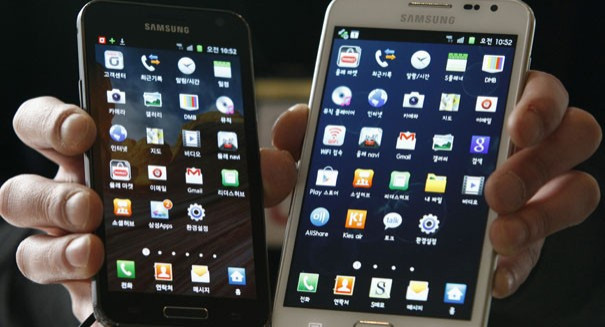 Samsung is a very busy company at the moment. It is fending off lawsuits from Apple in pretty much every corner of the world as well as facing acquisations about its questionable business practices. But, in spite of all this, the company is slowly but surely establishing itself as the dominant force in the mobile phone world.
Back in 2007, Samsung was another also-ran feeding off the scraps left by the behemoth that was Nokia. The Finnish company had over 40 percent market share and looked invincible. Little did it know that Apple was about to revolutionise the smartphone market and come out of nowhere to change the face of mobile technology forever.
However, it has been Samsung that has arguably gained the most from Nokia's demise, hoovering up the customers who have spurned Nokia's dated operating sytem in huge numbers over the past five years.
The latest figures from research firm Gartner show that Samsung now commands 21.6 percent of the mobile phone market and is the leading vendor of phones worldwide, selling over 90 million phones in the three months in the second quarter of 2012.
Nokia's star has fallen quickly. From its lofty perch in 2007, it has now lost over half of its market share and that trend sees no signs of halting anytime soon. Nokia is surviving on sales of its feature phones in markets like India and eastern Europe while its Lumia smartphones powered by Microsoft's Windows Phone OS fail to capture the public's imagination.
Earlier this week, the website BGR revealed that Nokia was selling it hugely-popular Asha range of phones as 'smartphones' when they are running the ancient S40 operating system and should really be called feature phones.
Second tier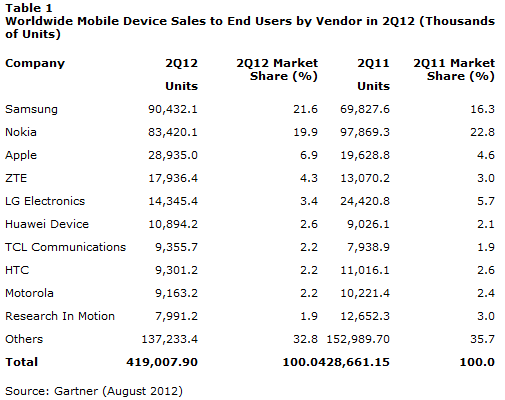 Back in 2007, Samsung was among a group of second-tier phone manufacturers including LG, Sony Ericsson and Motorola. all of whom had a decent, if not spectacular, share of the phone market. Today, Samsung is unique among this group in managing to maintain - and grow - its market share.
LG has lost half its market share (going from 6.8 percent to 3.4 percent) while Motorola has had an even bigger drop, going from second in the list with a 14.3 percent market share, to now holding just 2 percent.
Sony Ericsson (now Sony Mobile) has lost so much market share that it is no longer listed individually in the latest set of figures. It is now grouped among Others. Others now makes up 32 percent of all mobile phones sold, highlighting the exponential increase in mobile phone manufacturers entering the market - with low-cost Asian manufacturers to the fore.
Last year ZTE and Huawei were almost unknown brands, now they occupy fourth and sixth spots respectively. Another Chinese company, TCL Communications (who this reporter had never even heard of) is seventh, shipping 9.3 million phones in just three months to the end of June.
Samsung's market share has grown five percent in the last 12 months, and its combination of brand recognition and shotgun approach to smartphones, should ensure its place as the dominant force in the mobile phone world continues for a long time to come.
Sales drop
While overall mobile phone sales fell by 2.3 percent year-on-year, smartphone sales continue to sky-rocket, with growth of 42.7 percent, now accounting for 36.7 percent of mobile phone sales.
With 63.3 percent of the world still buying dumb or feature phones, it means that the market for smartphones is huge. Budget Chinese handset makers will swallow a percentage of the market, but it is Samsung who is ideally positioned to take advantage of this growing market.
Samsung is the only company in the world who has phones in every price bracket, from budget handsets like the Galaxy Mini to premium smartphones like the Galaxy S3. The range and breath of smartphones the company has available is jaw-dropping (just see here).
Whatever you may think of Samsung - whether you agree with Apple and believe it has copied its way to the top, or agree with Mic Wright and see it as a corrupt chaebol - there is no denying that the South Korean company has taken fully taken advantage of the gap in the market left by Nokia - but created by Apple.