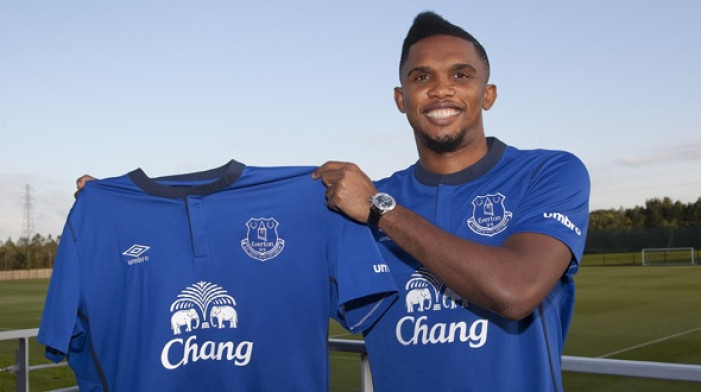 Samuel Eto'o could remain at Everton beyond his two-year deal as the Cameroon international looks to help develop other talent at Goodison Park.
Free agent Eto'o signed for the Toffees after being released by Chelsea in the summer.
The 33-year-old had been on the radar of Liverpool but the Reds' capture of Mario Balotelli all but ended their interest in the four-time African player of the year.
But Liverpool's loss is very much Everton's gain, and Eto'o, who has scored an impressive 303 in 608 career appearances, was inspired by Roberto Martinez's future vision of the club.
"I was always motivated to come here specifically to Everton. I as a player and the Club share the same philosophy and vision to play football," Eto'o said through a translator a press conference this morning.
I hope to bring my experience to Everton. When I met Roberto Martinez I felt we had a lot in common."
When asked whether the Everton move would be the final one of his career, Eto'o said he wanted to prolong his career for as long as possible.
"Today, of course, I want to stay at the top. I feel mentality and physically super. I love playing football and want to help other players," the three-time Champions League winner added.
"As long as I can feel I have 100% to give I will continue."
Eto'o has been journeyman of some of the top clubs across Europe, having started his top-flight career with Real Madrid.
He has also featured for Mallorca, Barcelona, Inter Milan and Russian side Anzhi Makhachkala before former Inter boss Jose Mourinho took him to Chelsea last summer.
It was at the Camp Nou, where Eto'o recorded 129 goals in 201 appearances, that he finished third in the 2005 Ballon d'Or and picked up two Champions League winners medals in 2006 and 2009. In his first season at Inter Milan he helped fire the Italians to a historic treble.
Now at Everton, Eto'o will wear the No.5 shirt, a choice that has raised some eyebrows. But Eto'o said he could change his squad number next year.
"The received wisdom is that as you get older the numbers change," Eto'o joked. "I could have used '22', which is the birthday of my future wife."
Eto'o's first game for Everton could be against his former club Chelsea, who visit Goodison Park on Saturday evening.