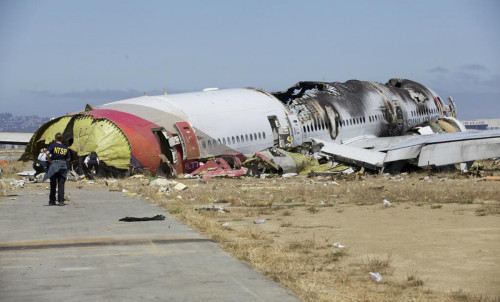 Passengers on Asiana Flight 214, which crashed in San Francisco on 6 July 2013 with the loss of three lives, are to sue the manufacturer, Boeing, claiming equipment aboard the 777 was faulty.
Flight 214 crash-landed close to the runway after slamming into a sea-wall and its tail was knocked off in the impact. As passengers escaped down chutes the fuselage burst into flames. Three Chinese schoolgirls died and around 180 passengers were injured, some seriously.
One of the girls, 16-year-old Ye Mengyuan, was killed after the crash when she was run over by a fire truck when covered in foam used to fight the blaze. New film footage of the aftermath of the crash appears to show a fire-fighter pointing her out on the ground some minutes before she is hit by the vehicle. The girl's family are pursuing a separate claim against the San Francisco Fire Department.
Last year nine passengers aboard Flight 214 filed lawsuits against both Boeing and Asiana in a federal court in San Francisco. Asiana also announced they were planning to sue San Francisco TV station KTVU-TV for inadvertently broadcasting made-up names related to the pilots' Eastern origins. The airline later dropped the claim.
The latest personal injury lawsuit on behalf of passengers of Flight 214 was filed in Cook County Circuit Court, Illinois.
Monica Kelly, an attorney for local law firm Ribbeck Law Chartered, said: "We are asking for damages to be paid to the passengers and asking the court to hold Boeing partially liable."
The lawsuit claims that faulty equipment supplied by Boeing meant the pilots weren't able to get adequate warnings about low airspeed and had inadequate auto-throttle control systems:
"Boeing was aware that its low airspeed warning system was inadequate."
Capt. Lee Kang Kuk, one of the pilots, later described his concerns on landing the plane without help from an out of order airport navigation system. However, the precise cause of the crash is yet to be determined.
Boeing has so far refused to comment.