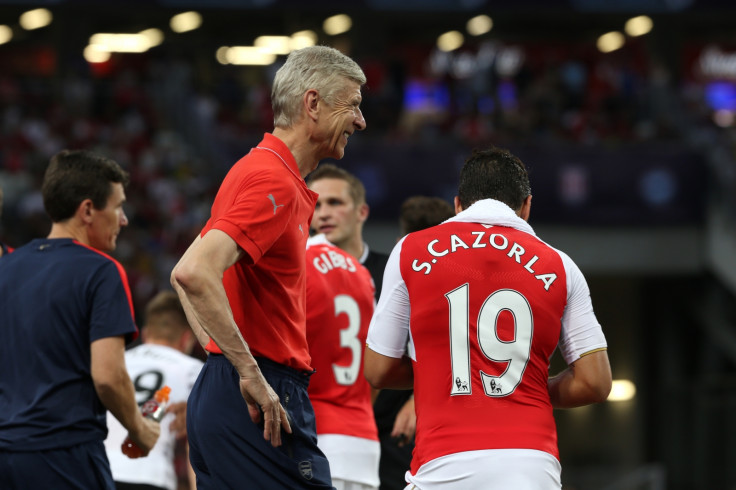 Santi Cazorla believes Arsene Wenger will continue at Arsenal beyond the end of the season, despite speculation linking the French boss with the England manager's job. The Spaniard also urged his teammates to keep their "consistency" through the season in order to finally win the Premier League.
Wenger celebrated his 20th anniversary at Arsenal this month. But with his contract set to expire at the end of the current campaign, recent reports suggested he could opt against signing a new deal to take the England job in the summer.
However, Cazorla has claimed Wenger has not given any indication that his plans lie away from the Emirates Stadium.
"The truth is we do not have that feeling in the dressing room. The boss has not indicated that this will be his last year. Not at all," Cazorla said to Cope. "He is fully focused on this season and I do not know what he is planning for the future. Today I do not rule him continuing another season because he has not said he will leave. It is in his hands and he is the one who has to make the decision but today I would say that he may continue."
"Arsene is an icon at the club. He has spent 20 years here and every bit of praise to him would not be enough," he added. "There was a time when fans demanded the club to fight for the Premier League title again or do something big in the Champions League. We were aware of that and I hope the club can take a step forward and Arsenal can be fighting for big things this season."
Cazorla believes the latest victory over Burnley could serve as a springboard for the remainder of the campaign, as those are the kind of games that could make the difference in the final reckoning. The Gunners secured the three points thanks to Laurent Koscielny's controversial goal in injury time to close the gap on league leaders Manchester City.
"Many times we talked about what we have lacked to win the Premier League in recent seasons. Because we have always had opportunities to fight for the title. Last season, when teams like Manchester United, Chelsea or Manchester City were not doing well, we had a chance to win but due to our inconsistency we didn't take it," he said.
"We are aware of that and now we know that we have to be consistent. We have to win games like the one against Burnley no matter how. Even with a controversial goal in the last minute it is OK because those games can give you the title. We cannot drop points in certain matches because at the end of the season those points could cost us the Premier League title."
He also insisted once again that he is "happy" at Arsenal, amid repeated reports linking him with a return to his homeland to play for Atletico Madrid.
Asked if he had been close to returning to Spain in recent transfer windows, he said: "I could not say that I have been close to or far from leaving Arsenal. There have been rumours about Atletico Madrid but were only rumours. There was nothing more than that. At no time I had the option to leave Arsenal because no one has come to take me. Furthermore, I am happy at Arsenal and I feel valued at the club."