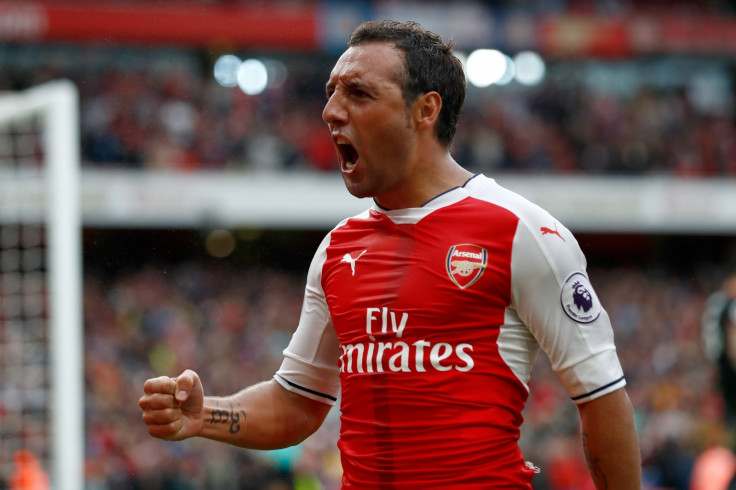 Santi Cazorla's future at the Emirates Stadium lies in the balance, with Arsenal yet to offer him a contract extension. The Spaniard says he is happy in North London, but refused to rule out a summer return to La Liga amid praise of Atletico Madrid.
The 31-year-old playmaker has been a crucial player for Arsene Wenger since his arrival from Malaga in 2012, making 177 appearances for the club despite missing a big part of last season due to injury. Cazorla's impressive performances in the Premier League saw him linked with a return to La Liga during both the summers of 2014 and 2015, with Diego Simeone said to be a big fan of his skills.
However, the Spaniard decided to stay at Arsenal and in July 2015 signed a new two-year deal with the Gunners that will expire at the end of the current season.
The Spaniard has remained a key figure for Wenger during the opening games of this season. However, he has now revealed Arsenal are yet to offer him a new deal.
"I am happy here. A player wants to play and since the moment I arrived at Arsenal I have had the trust of the manager. But I only have one year left on my contract," he said to Cadena Ser. "I don't have any news from the club [regarding a new deal]. I still have one year and we'll see what the club's decision is. I hope to keep playing and continuing here is an option. My focus now is on playing and being able to enjoy playing football following a season when I had lots of [injury] problems."
"I'm very happy here," the Arsenal star added. "The club has treated me very well. I'm at a great club and I'm playing minutes, which is what I want. If I didn't play, then I would consider leaving, but now I am playing in a great club."
Asked if he would definitely stay in the Premier League should Arsenal hand him a new contract, he replied: "When the offer arrives, if it arrives, I will sit down to check the offer to decide what is best for me, whether to stay here or if I consider a change."
Asked what his decision would be should Atletico Madrid call him again about a return to his homeland, he replied: "We would need to put all the things on the table. It is obvious that that Atletico are big club. Just have a look at the results they are having. You only can hail them. El Cholo [Simeone] is doing a really good job. It is not easy to reach two Champions League finals, winning La Liga..."
"There was talk [about a move to Atletico Madrid in the past] but it was rumours. I do not want to focus on things that are not real. I want to play, give my level best and what will be will be.
"I don't know what will happen in the future but I haven't closed the door to anything. I just want to enjoy football because it is what I missed the last year.
Asked whether Atletico Madrid would be his first choice should he leave Arsenal, he replied: "I don't have any particular choice. Honestly I don't know what I will do if I don't continue at Arsenal. I don't know if I will return to Spain or go to another league. If Arsenal don't give me a contract I would have to see other options either in Spain or in another league, but today it is still something that I have not even considered. When the day arrives I will make a decision. Today it's difficult."