Santi Cazorla exclusive: Arsenal losing Hector Bellerin would be a big mistake
Spanish playmaker spoke to IBTimes UK after his side's 3-2 victory over Swansea City.
Barcelona and Manchester City are reportedly interested in the right-back.
Gunners are also yet to offer Cazorla a new deal despite him being out of contract in the summer.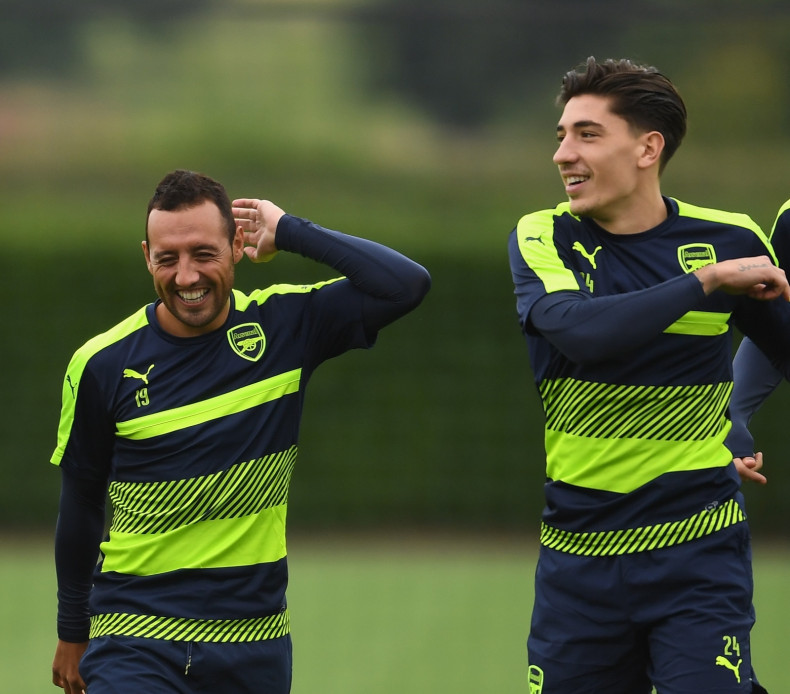 In an exclusive interview with IBTimes UK, Santi Cazorla has warned Arsenal that losing teammate Hector Bellerin to the likes of Barcelona or Manchester City would be a major mistake, calling the Spaniard "the right-back of the future". The Gunners playmaker also revealed he is not worried about his future at the Emirates Stadium, despite his contract expiring at the end of the current season.
Bellerin left the La Masia academy to move to North London in 2011, following a path taken by other Barcelona academy products such as Cesc Fabregas. However, the defender's long-term future at Arsenal has been under scrutiny in recent times, with many seeing him as one of the best young full-backs in Europe.
Barcelona have been linked with his signature since the summer departure of Dani Alves to Juventus, while Pep Guardiola is understood to be keen on luring the player to Manchester City. With both Pablo Zabaleta and Bacary Sagna the wrong side of 30, Bellerin would be an ideal fit for Guardiola's offensive passing strategy.
Arsene Wenger has attempted to ward off potential suitors, recently revealing the club are ready to offer the 21-year-old a new deal to tie his future down.
"He has nearly three years to go and we always try and get players to the level where we think they deserve to be," Wenger said ahead of the game with Swansea City. "So we will try to extend his contract. For me, his long-term future is here."
Now Cazorla has revealed to IBTimes UK that Arsenal need to tie the youngster down soon rather than later, as the Gunners cannot afford to lose him to Barcelona or Manchester City – as they previously did with big stars such as Sagna, Fabregas, Thierry Henry, Samir Nasri and Gael Clichy.
"We'll see [what happens with Hector]. It is clear that Hector is the right-back of the future," Cazorla told IBTimes UK after Arsenal's 3-2 win over Swansea. "You could see in the victory over Swansea how good he is. He was all over the place and never stopped running. For Arsenal it would be a mistake to let him go. It is obvious that many teams want him. There has been talk about Manchester City and Barcelona. He is a player with great potential and I am sure he will also be a key part of the future of the Spanish national team."
Cazorla's own future at the Emirates Stadium is also up in the air, with the 31-year-old maestro out of contract at the end of the season. The Spaniard admits the Gunners are yet to offer him a new deal, but says his focus right now is on helping Arsenal fight for silverware.
"In my case I will finish my contract at the end of the season but I'm not thinking about it now. I'm just focusing on playing and giving my best on the pitch. Last season was very difficult for me after spending so much time on the sidelines [due to a knee injury]. Now I just want to enjoy myself again – and we'll see what happens in the future," Cazorla revealed.
Asked if he wants to remain at Arsenal, he continued: "I'm happy because I'm playing regularly. If I didn't play I would tell you that I would consider leaving, but I'm having minutes and I have the confidence of the manager. That's what every player wants.
"Since the very first day at this club I have had the affection of the fans, and that is amazing. I have only words of gratitude to the fans of Arsenal for how they've treated me from day one, and I try to repay them by giving my best on the pitch."