LGBT rights activist Sarah McBride became the first transgender woman to speak at a national convention on the final night of the 2016 Democratic National Convention (DNC) on Thursday, 28 July. McBride, who works for the Human Rights Campaign as its national press secretary, gave an emotional address on her husbands battle with cancer and her belief in Hillary Clinton's campaign.
McBride was introduce by New York Congressman Sean Patrick Maloney, the first openly gay member of Congress, Bustle reported. The 25-year-old former White House intern spoke of her experience coming out as transgender, her husband's death and her work furthering LGBT rights.
Despite the progress being made for LGBT people, McBride said there is more to be done. "Will we be a nation where there's only one way to love, one way to look, one way to live?" McBride asked. "Or, will we be a nation where everyone has the freedom to live openly and equally; a nation that's Stronger Together? That's the question in this election."
McBride discussed her husband, who was a transgender man, and their fight for equality. Her husband Andy, died just four days after they married.
"Knowing Andy left me profoundly changed. More than anything, his passing taught me that every day matters when it comes to building a world where every person can live their life to the fullest," she said.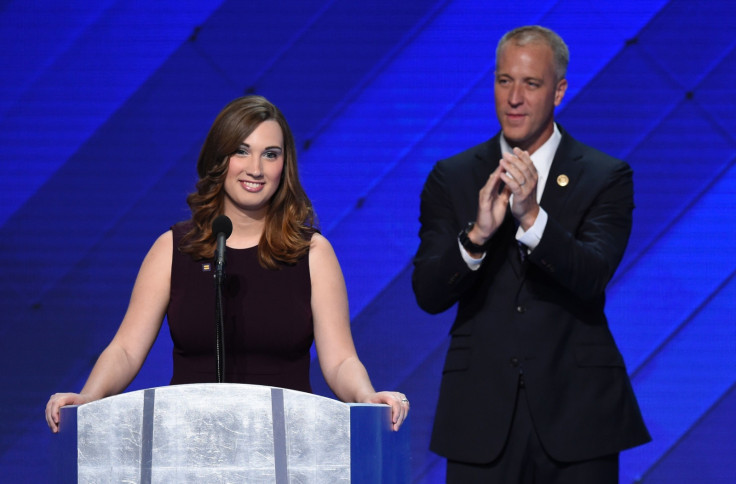 She then gave Clinton a ringing endorsement, noting that the Democratic nominee "understands the urgency of our fight" and will work to pass the Equality Act, combat violence against transgender women of colour and end the HIV and AIDS epidemic.
"Today in America, LGBTQ people are targeted by hate that lives in both laws and hearts," McBride said. "Many still struggle just to get by. But I believe tomorrow can be different. Tomorrow, we can be respected and protected—especially if Hillary Clinton is our president. And that's why I'm proud to say that I'm with her."