On Monday (5 September 2016), two of the world's largest oil producers Saudi Arabia and Russia – which together account for more than 25% of the world's crude oil production – announced that the countries would cooperate on stabilising world crude oil prices.
The OPEC group of oil-producing nations produce around 40% of the world's crude oil, and about 60% of the oil exported internationally.
This has historically allowed them some degree of control over the Brent crude oil price, a power that seems to have deserted OPEC since 2014 as Brent fell all the way from $115 per barrel at peak to a low of just $29 per barrel in January this year (Chart 2).
This collapse can be traced to Saudi Arabia's announcement not to cut oil output in 2014, but to add to the glut of oil by pumping even more in the hope of forcing higher-cost oil producers out of business.
This was a strategy that does not seem to have worked, given that oil prices remain a very long way from their 2014 $100+ levels.
So does this announcement really change anything?
There have been announcements before from oil-producing nations, which have resulted in little or no eventual impact on the level of global oil production. So is this announcement really any different – are Saudi Arabia and Russia just talking the talk, or can they really walk the walk this time?
Thus far, neither country has committed to a production freeze, hoping to get cooperation from the other OPEC nations when they all meet later this month in Algiers.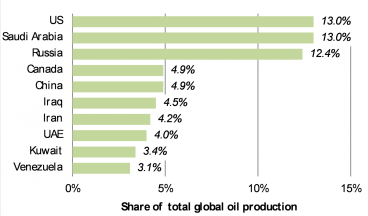 But a production freeze will be necessary to get the Brent oil price above $50 per barrel, given that outstanding inventories of crude oil remain very high (Chart 4).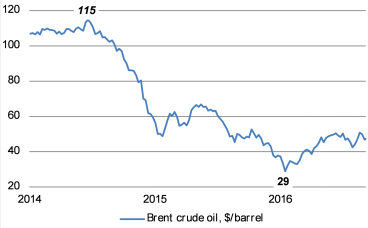 OPEC has a poor record of compliance with oil quotas
Even if OPEC and Russia manage to agree on a freeze on oil production, the long-term effect on the oil price is rather uncertain. After all, OPEC countries have a poor record historically of sticking to production quotas, usually producing well above official quotas and thus undermining any price effect thanks to this "cheating".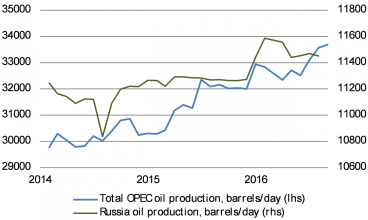 So is there any point looking at oil company shares today?
I think that investors should not be thinking of buying oil company shares in the hope that share prices benefit from any short-term bounce in the oil price on the back of this announcement.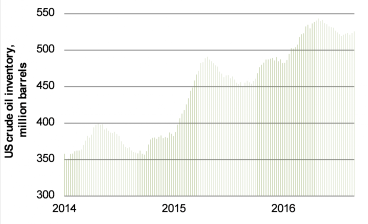 That is not to say that I think that oil company shares should be avoided.
Both Royal Dutch Shell and BP have certainly seen the benefit of an oil price recovery since late January 2016 (Chart 5), while they both report dividends in US dollars before paying them out in pounds.
So from an income point of view, the post-Brexit fall in the pound sterling against the US dollar has boosted the future dividends of Shell and BP in pence.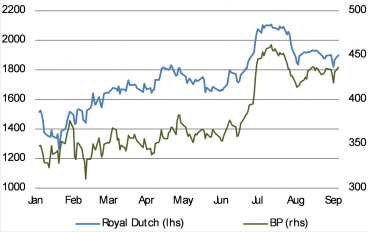 At the moment, Royal Dutch Shell offers an impressive income yield from dividends of 7.4%, while BP is close with a yield of 6.8% from dividends.
So for those who are tired of the ever-falling cash ISA rates (only 1.1% on offer at best these days), these oil giants are tempting sources of dividend income.