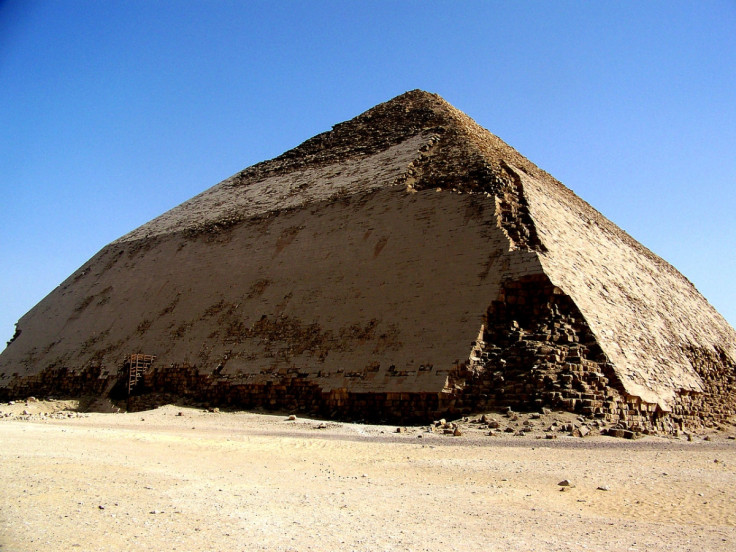 Secrets of the pyramids at Giza and Dahshur are set to be solved as part of a project that will scan the ancient structures to better understand their architecture and interior design. Mamdouh Eldamaty, Egypt's antiquities minister, said Scan Pyramids will also provide 3D photos of the pyramids.
He told Ahram Online: "The survey will be implemented through invasive – though non-destructive – scanning techniques using cosmic rays in cooperation with scientists and experts from Japan, France and Canada.
"King Sneferu's Bent Pyramid in Dahshur was selected to be the first pyramid that will be subjected to such a survey due to its distinguished and unique architectural design and because it is the first attempt at pyramid construction that has not been carefully studied."
He said the cosmic rays are the same as those used by Japanese scientists to try to detect volcanoes and earthquakes but this is the first time this sort of laboratory has been set up outside of Japan. The project is due to begin at the end of October and is a joint venture between Japan and Egypt, with additional support from the Heritage Innovation Preservation Institute, France.
The Bent Pyramid in Dahshur was built around 2600BC and was the second built by Sneferu, the founder of the 4th dynasty during the Old Kingdom. It is considered a transitional pyramid between the step-sided and smooth-sided pyramids.
It stands at 105m high and is 188m at the base, rising at a 54 degree inclination. The top is shallower at 43 degrees, giving its "bent" appearance. There are several theories as to why the pyramid is built as it was.
One theory is Sneferu was close to death, so construction workers changed the angle to hurry the build along. Another more widely accepted theory is Sneferu realised the initial angle would have meant a far higher pyramid – resulting in more material and labour. A different one suggests the lower angle reduced the amount of weight above the chambers and passageways.