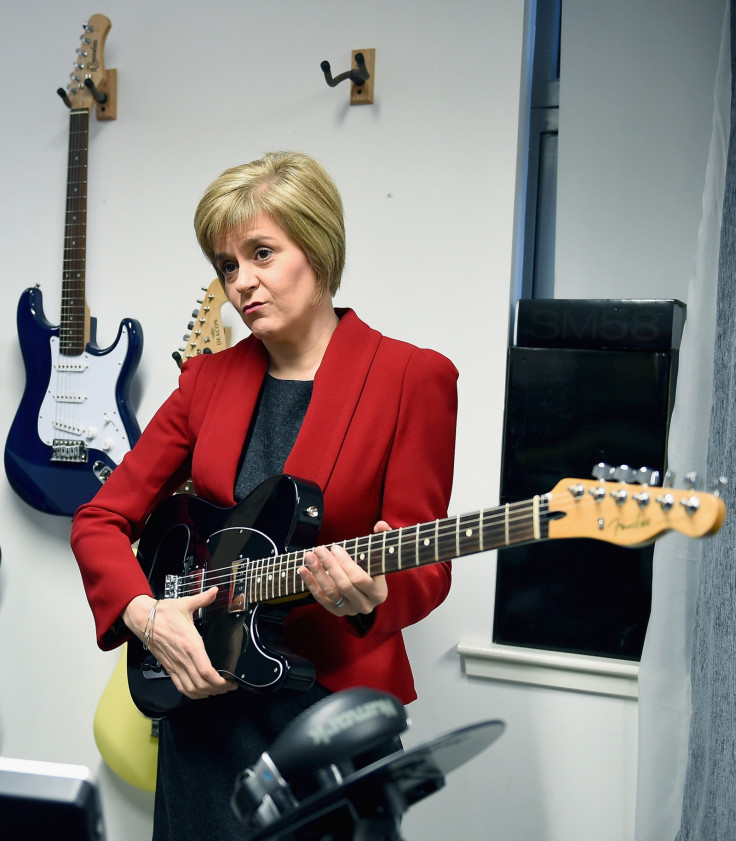 Scotland may be heading for its second referendum for independence within the next five years if the Scottish National Party led by Nicola Sturgeon wins next year's Holyrood election and if "circumstances" are right.
Scotland's First Minister Sturgeon has gone back against her earlier statement that the first referendum was a once in a generation opportunity when it was held in September last year. She is now talking about the possibility of a second one within "five years or 10 years or whenever."
SNP will set out the timescale for a possible second referendum on independence in its manifesto for next year's Scottish Parliament election, the BBC says. The Guardian said the manifesto will set out a set of "triggers" for a second referendum.
Although Scots rejected independence by 55% to 45% in the first referendum, the SNP, which campaigned strongly for independence, went on to gain thousands of new members and won 56 of Scotland's 59 seats in the UK's May general election.
The BBC noted that Sturgeon has come under increasing pressure to clarify her position on a second referendum ahead of the party's conference in Aberdeen in October.
In a tweet, Sturgeon congratulated newly elected Labour party leader Jeremy Corbyn but warned that if Labour "can't quickly show that they have a credible chance of winning a UK election, many will conclude that independence is the only alternative" to a Tory government."
"Our manifesto will set out what we consider are the circumstances and the timescale on which a second referendum might be appropriate, but we can only propose.
"It's then for people in Scotland, whether it is in this election or in future elections, to decide whether they want to vote for our manifesto and then if there is in the future another independence referendum, whether that's in five years or 10 years or whenever, it will be down to the people of Scotland to decide whether they want to vote for independence or not.
"So at every single stage this is something that is driven by and decided by the people of Scotland, not by politicians," she said.
This was echoed by SNP deputy leader Stewart Hosie who suggested that the failure by the Tory government to keep its promises on the devolution of further powers to Holyrood could also trigger a second vote.
He said any prime minister who tried to prevent a referendum from taking place would be "very, very foolish," the Independent reports.
The newspaper said recent polls have suggested that a majority of Scots now support independence which Sturgeon said was not surprising "in the slightest", attributing the change to the Conservative government for failing to deliver the further powers promised before the referendum.
The BBC says that scenarios that could trigger a referendum ballot would include the UK voting to leave the EU in which Scotland has voted to remain in. It said Sturgeon does not want to hold another referendum unless she is sure of winning this time.
Sturgeon move draws criticism
Other political parties have been quick to criticise Sturgeon's latest announcement, referring to her promise last year that the referendum was a once in a generation event.
Ruth Davidson, Scottish Conservative party leader said: "Most people in Scotland want to put last year's referendum behind them and get on with life. Despite her own promises, it is now clear that Nicola Sturgeon wants to take Scotland back to a referendum."
Scottish Liberal Democrat leader Willie Rennie said: "People who regretted the divisive nature of the referendum and thought that democracy counted will be disappointed and that Nicola Sturgeon is putting another referendum as a priority in her manifesto.
"A year after she promised us that it would be a once-in-a-lifetime event she is now putting her party first before the country by plunging us into another protracted campaign for independence. With the police in crisis, the NHS in difficulty and educational standards slipping, we need a government focused on the challenges in our daily lives rather than their own political ideology," Rennie said.
Labour's Shadow Scottish secretary Ian Murray said: "While Labour is facing the future with new leaders who have an overwhelming mandate for change, the SNP are stuck in the arguments of the past. The SNP want the next election to be about the past arguments on independence because they can't defend their record in government."