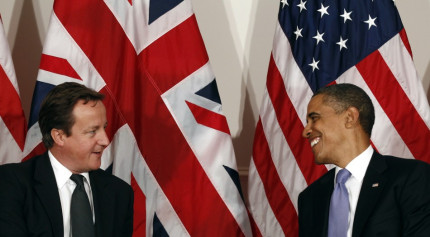 It is highly unusual for a US President to jump into the middle of contentious domestic UK politics, but Barack Obama has done just that over the thorny issues of Scottish independence and membership of the EU.
Speaking during a joint press conference with David Cameron at the G7 meeting in Brussels, the president gave the clearest possible message that he did not favour Scottish independence.
And he underlined his previous belief that the UK would damage its political and economic standing if it withdrew from the European Union.
Asked about September's referendum on Scottish independence, the president stressed it was for the Scots to decide their own future.
But, in precisely-chosen terms, he added: "I would to say the United Kingdom has been an extraordinary partner to us. From the outside at least, it looks like things have worked pretty well.
"We obviously have a deep interest in making sure that one of the closest allies that we will ever have remains strong, robust, united and an effective partner."
It was his careful use of the word "united" that will delight Cameron and infuriate the SNP who will not be happy at what they will see as a US intervention into purely domestic politics.
The remarks were welcomed by the "Better Together" campaign with Labour's Douglas Alexander saying: "As a global statesman President Obama understands that interdependence is a defining feature of our modern world, and that building bridges, not putting up new barriers, is the challenge of our generation."
But pro-independence supporters were less impressed, with some tweeting attacks on the president for daring to intervene in a purely Scottish issue.
It was even suggested his statement may backfire if it succeeds in strengthening Scottish opposition to being "lectured" by other leaders.
None the less, it was a significant moment in the campaign and along with similar sentiments form international businesses and economists, is bound to feature prominently in the arguments being pressed by the "no" campaign.
The president's words on the EU, coming just ahead of the D Day celebrations, did not represent a new position, but they did come at an important time as the main political parties in Britain are attempting to combat Ukip's anti-EU message.
Obama said it was hard for him to imagine the EU project going well without the UK and that it should keep a seat at the table.
"It's hard for me to imagine it would be advantageous for Great Britain to be excluded from political decisions that have an enormous impact on its economic and political life. I'm sure the people of Britain will make the right decision," he said.
Cameron will certainly be heartened by the strong support for EU membership particularly as he is facing continuing demands from his Eurosceptic backbenchers for him to be prepared to lead an "out" campaign in the promised 2017 referendum if he fails to reform the Union.
But it is the president's direct intervention in the Scottish referendum that is likely to cause genuine controversy with, as yet, an uncertain outcome.