As Britain's political parties continue to struggle with the aftermath of their electoral drubbing at the hands of Nigel Farage's Ukip, David Cameron is attempting to seize victory from the jaws of defeat.
The prime minister is using a Brussels dinner with other EU leaders to press home his demands for some major re-thinking of the European project, believing he is now running with the tide of European reforms.
He has already set a great deal of store by his pledge to re-negotiate Britain's relationship within the EU, allowing him to head an "in" campaign when he delivers that promised "in-out" referendum in 2017, assuming he wins the next election.
He believes the upsurge in anti-establishment, Eurosceptic parties across the continent has handed him a golden opportunity to advance his cause which would, in turn, help him towards victory in 2015 by persuading voters to trust him on the issue.
The other big parties, however, continued their post-mortems with Labour leader Ed Miliband being urged by senior figures including Tony Blair and Alan Milburn not to move onto Ukip's anti-immigration agenda.
And the demands for Liberal Democrat leader Nick Clegg to resign in the wake of his party's near wipeout in the EU poll intensified, pitching the party into a distracting internal battle.
He has again insisted he will not quit or walk out of the coalition, but some local Lib Dem parties were said to be preparing plans to force a leadership election.
Senior party figures continue to back him and many in the party still believe he will survive, largely because the alternative of a leadership election or coup would only make matters worse.
But as the fallout continued across Westminster, Cameron was spared serious party divisions, despite being pushed into an embarrassing third place in the polls, thanks largely to some successful expectation management ahead of the vote which meant the result had already been discounted.
Instead, he was determined to use the rise of Eurosceptic parties across the continent to advance his demands.
In the immediate aftermath of the poll and ahead of the informal dinner, he telephoned a series of EU leaders to insist it could not be "business as usual" after the shock polls.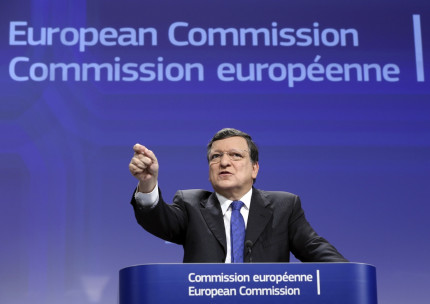 His spokeswoman said: "The point he's been making is that it's clear it cannot be business as usual, the EU needs to change, and leaders should be seizing the opportunity to start heeding the message expressed by voters."
He is, however, under growing pressure from his own party and business leaders to spell out exactly what he plans to re-negotiate. At the moment he has offered only vague, easy-to-meet demands.
Senior industry bosses, including some big Tory donors, wrote an open letter to the Daily Telegraph newspaper demanding just that level of clarity.
He is also facing demands form the pro-European wing of his party, led by former ministers Ken Clarke and Michael Heseltine, not to pander to the Ukip, anti-European, anti-immigration agenda.
The first test of Cameron's determination to get his way will come with the decision over who to appoint as the next European Commission president to succeed José Manuel Barroso.
The leading candidate is expected to be Luxembourg's former centre-right prime minister, Jean-Claude Juncker, currently backed by Germany's Angela Merkel.
But Cameron is implacably opposed to the appointment claiming Juncker is "totally unacceptable" because of his belief in a federalist EU centred on a strong euro.
Ironically, Juncker is the favoured candidate of the European People's Party group of centre-right MEPs, the largest in the parliament. Cameron withdrew his party from the EPP as part of his attempt to placate his Eurosceptic MPs who saw the group as too pro-European and they now sit with a far smaller conservative grouping with less muscle.
None the less, Cameron is convinced the tide of opinion in Europe has now offered him a real opportunity to advance his agenda and, if he is successful, that could offer him a significant boost ahead of the 2015 general election.