The Scottish Parliament has given its backing to First Minister Nicola Sturgeon's call for a second independence referendum.
MSPs voted by 69 to 59 in favour of seeking permission for a referendum before the UK leaves the EU.
Sturgeon says that the vote is necessary for Scotland to decide what course to take in the wake of Britain's vote to leave the European Union. Most Scots voted to remain part of the EU in the June 5 referendum.
However, Prime Minister Theresa May has said she will block a referendum until the process of leaving the EU has been completed, saying "now is not the time" for a second referendum.
Sturgeon told a debate, ahead of the Holyrood vote, that she was not seeking confrontation with the UK government, and only wanted "sensible discussions".
She said: "My argument is simply this: when the nature of the change that is made inevitable by Brexit becomes clear, that change should not be imposed upon us, we should have the right to decide the nature of that change.
"The people of Scotland should have the right to choose between Brexit - possibly a very hard Brexit – or becoming an independent country, able to chart our own course and create a true partnership of equals across these islands."
She added: "I hope the UK government will respect the will of this parliament. If it does so, I will enter discussion in good faith and with a willingness to compromise.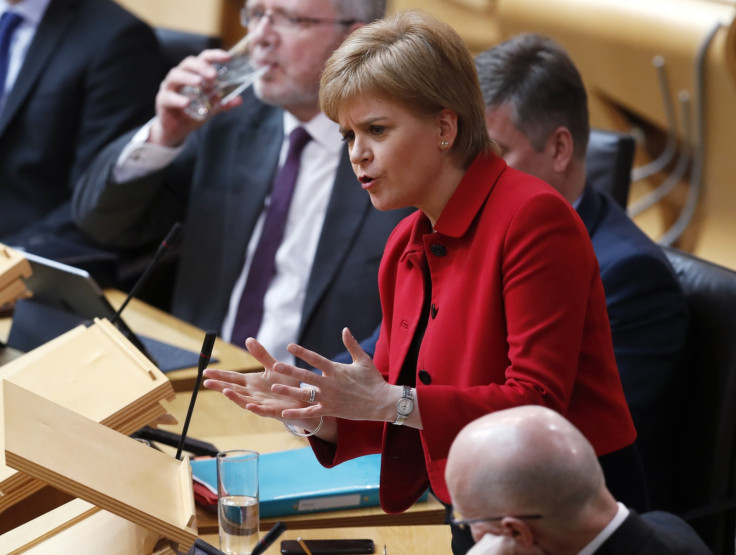 "However, if it chooses not to do so I will return to the parliament following the Easter recess to set out the steps that the Scottish government will take to progress the will of parliament."
The debate over the second referendum began last week but was suspended on 22 March after the terrorist attack in Westminster.
It gives Sturgeon the go-ahead to start discussions with May over the details of a section 30 order, which would make the referendum legally binding.
The vote comes the day before the process for leaving the EU will be formally triggered. Sturgeon is expected to begin discussions with May in which she will request section 30 later this week.
A UK government spokeswoman said it would not enter negotiations on the referendum.
"At this point, all our focus should be on our negotiations with the European Union, making sure we get the right deal for the whole of the UK," she said.
"It would be unfair to the people of Scotland to ask them to make a crucial decision without the necessary information about our future relationship with Europe, or what an independent Scotland would look like.
"We have been joined together as one country for more than 300 years. We've worked together, we've prospered together, we've fought wars together, and we have a bright future. At this crucial time we should be working together, not pulling apart."
Scottish people voted against independence in a referendum in 2014, by 55% to 44%.