Theresa May will issue calls for unity north of the border today (27 March) before meeting with Scottish First Minister Nicola Sturgeon after a war of words erupted between the two leaders over a second independence referendum.
The meeting comes a day before Holyrood is expected to pass a vote in favour of a fresh ballot after last week's vote was delayed following the Westminster terror attack.
However, the prime minister is set to tell Sturgeon in person that there will not be a second independence referendum before Brexit, the Telegraph reported. May will trigger Article 50 on Wednesday (29 March), setting the UK's divorce proceedings from the EU in motion.
In a politically significant week, the government is also set to publish a white paper on its Great Repeal Bill on Thursday (30 March). The bill will "preserve the effect of what is now EU law by transforming the current body of EU law into UK law."
Ahead of the meeting with Sturgeon, May will set out her "Plan for Britain" in an address at the Department for International Development (DFID) in East Kilbride.
"I want to make it absolutely clear as we move through this process that this is not, in any sense, the moment that Britain steps back from the world," May will say.
"Indeed, we are going to take this opportunity to forge a more global Britain.
"The closest friend and ally with Europe, but also a country that looks beyond Europe to build relationships with old friends and new allies alike."
The prime minister will also heap praise on the department's global efforts and say that Britain is "a big country that will never let down, or turn our back on, those in need". Last month ministers announced the "Dubs scheme" to rehouse lone child refugees in Britain would close, sparking anger that just 350 children would be helped.
"UK Aid is a badge of hope for so many around the world," she will say.
"It appears on the side of buildings, school books, medical supplies and food parcels in some of the toughest environments and most hard-to-reach countries on the planet.
"And it says this: that when this great union of nations, England, Scotland, Wales and Northern Ireland, sets its mind on something and works together with determination, we are an unstoppable force.
"That is why the Plan for Britain I have set out, a plan to get the right deal for Britain abroad as well as a better deal for ordinary, working people at home, has as its heart one over-arching goal: to build a more united nation.
"Because I believe when we work together, there is no limit to what we can do."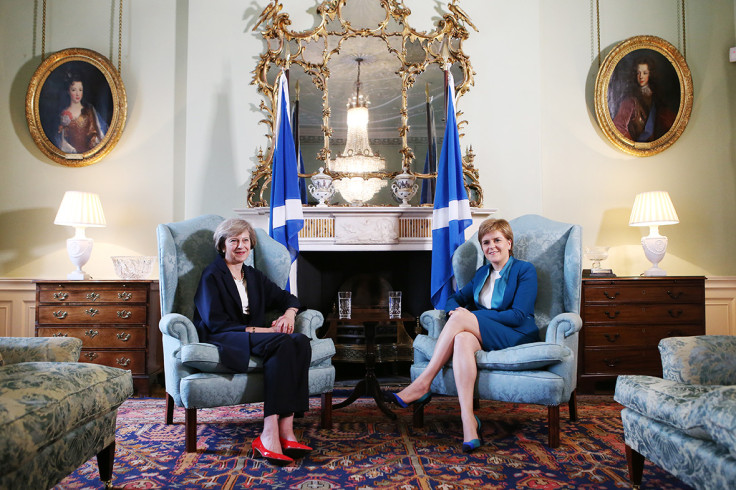 Sturgeon has said she is looking forward to meeting with May and said she hoped the prime minister is prepared to "provide answers" on a number of areas after her demand for a vote between Autumn 2018 and Spring 2019 was rejected.
A spokesman for Sturgeon said: "We understand the UK government wishes to discuss Article 50. Given we are just days from the formal process of Brexit being triggered there have, as yet, been no discussion with the Scottish government over what will be in the letter triggering departure from the EU.
"There has been no discussion over how Scotland's interests will be represented, what role the Scottish government will play in negotiations, nor which powers the Tories intend to take for Westminster and which powers will rightly be determined by Holyrood.
"Most worryingly there has been no discussion over how the UK government intends to manage the financial impacts of Brexit and the consequences for jobs and the economy in Scotland.
"There are clearly a lot of areas where we hope the prime minister intends to provide answers," the spokesman added.