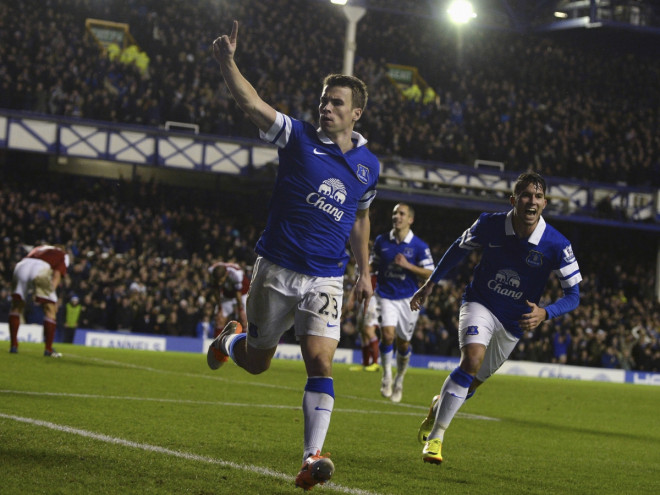 Everton full-back Seamus Coleman believes that Arsenal will drop points in the final three games of the season thereby allowing the Toffees to come back and put in a performance to clinch the fourth spot ahead of the Gunners.
The Toffees are currently a point behind the Gunners with three games left in the season and need Arsenal to falter in the run-in to make their dream of qualifying for Europe a reality.
Everton have been in good form over the past couple of months, losing only once in a shock defeat to Crystal Palace at the Goodison in midweek.
However, Roberto Martinez's men came back to beat Manchester United 2-0 and keep the pressure on Arsenal for a place in the top four.
Meanwhile, the Gunners seized the opportunity to take the lead over Everton after being thrashed 3-0 a couple of weeks back by the Toffees. Their 3-0 win over Hull means that the Gunners still occupy the fourth spot and with a relatively easier set of fixtures, are favourites to pip Everton in the run.
Arsenal will face West Brom and Newcastle at home and conclude with a trip to Norwich away while Everton have a couple of tricky fixtures against Southampton and Hull City away from home along with a visit from title chasing Manchester City.
However, inspite of the gulf in fixtures, Coleman insists that Everton have the momentum to take Arsenal all the way.
"We've got a lot of naturally-fit lads and the manager has always said we'd peak around this point," said Coleman.
"You wouldn't have thought we'd played three games in a week. We're ready to keep at it until the end now and we still believe we can get fourth.
"The manager has always said that, the way he works, we'd be fresh at this time of the season and I think we proved it against United.
"We knew it was going to be difficult, but the manager made us forget about Palace very quickly and move on to this. Thankfully we got three points.
"We just move on now, wanting to finish the season strongly and hopefully we get that fourth spot," he concluded.