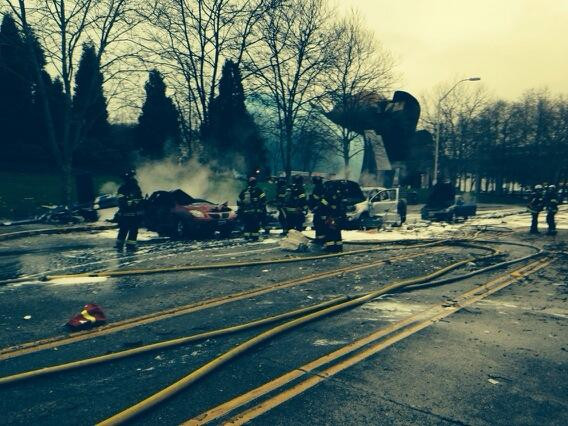 Two people have been confirmed dead after a US news helicopter crashed and burst into flames near Seattle's iconic Space Needle tower.
The Seattle Fire Department said three cars caught fire when the aircraft plunged into a street in the Washington state capital.
"The two people that were on board that helicopter are deceased," said Kyle Moore of the Seattle Fire Department. "We have not found anyone else."
A man said to be in his 30s pulled himself out of one vehicle and was taken to the local Harborview Medical Center in a critical condition, the fire department said.
Moore said the man had burns over 50% of his body and suffered from life-threatening injuries.
The female driver of another car managed to escape uninjured although she was in emotional distress at a local police station, Moore said.
Authorities were trying to trace the driver of a pickup truck who walked away from the scene. "We want to make sure he is ok and get him evaluated," Moore said.
Moore said it was not clear what caused the crash but there was no indication the helicopter hit a building.
The crash happened south of the Seattle Center, which is dominated by the landmark 605ft Space Needle on Broad Street.
The helicopter was reportedly being used in a joint partnership between two local TV stations, KOMO and KING 5.
Seattle Fire Department tweeted:
The area has been cordoned by police.
Dramatic footage uploaded on YouTube showed several cars burning on the street as plumes of black smoke poured from the vehicles.