Seven reasons why Tesla China has a stockpile of 2,300 unsold cars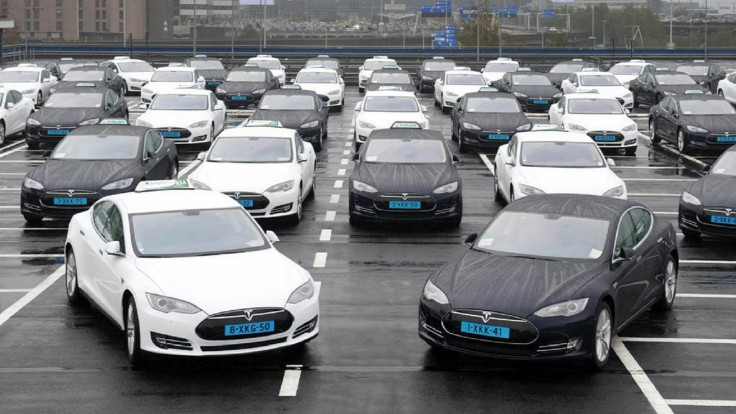 Tesla reportedly has a stockpile of over 2,300 unsold cars in China, having sold just 2,499 of its Model S electric saloon car in 2014.
The bad news comes in the same month that Tesla said it would be cutting its Chinese workforce as part of wider restructuring efforts. Although refusing to say exactly how many staff will be cut in China, reports claim the loss could be as high as 30%, or around 180 of its 600 Chinese employees.
The masses of unsold cars have already been produced and shipped to China, where they are parked up outside dealerships and the company's headquarters. The majority are in storage at the Port of Tianjin, where almost all vehicles enter China from the US, with another 170-200 cars stored in a warehouse in Beijing.
So why has this happened to a company which could seemingly do no wrong?
1. Customers cancelled their orders because they want the newer model
Tesla recently announced it would be dropping the Plus versions of its Model S in favour of an all-wheel-drive configuration with a second motor powering the front wheels. The range-topping P85 D caused a stir for having almost 700 horsepower and accelerating to 60 miles per hour faster than almost every Ferrari ever built, luring some customers into switching their orders for the new car.
2. The early adopters have already bought their cars
Being unlike almost anything else on the road, the Tesla Model S was always going to appeal to a small group of niche early adopters before being bought by the masses. The slowdown in Chinese sales since its January 2014 launch could well be because those early adopters now have their cars, like how Apple sees enormous sales in a new iPhone's opening weekend, but a downturn towards the end of each product life cycle.
Tesla isn't quite ready to launch an all-new car - although the Model X and smaller Model E vehicles will be along in the next year or so - but it simply cannot be expected to sell at a continuous rate like Ford, Honda and VW Group.
3. ...and so have the scalpers
New luxury cars always sell for a premium in the months after they first go on sale. So-called scalpers looking to turn a quick profit - or run a car for a year and sell for zero loss - get their names onto the waiting list as fast as possible, collect their car, then sell it almost immediately for a substantial profit. Those looking to pick up a Model S without joining the six-month waiting list can do so - and there is also a grey market of imports, side-stepping Tesla's Chinese dealerships.
4. The Supercharger network is expanding too slowly
Tesla's network of Superchargers in China consists of 228 chargers spread across 29 stations. By comparison, the US has 884 chargers across 140 stations. Compounding the issue is how 74% of China's urban population live in apartments instead of houses and many park in shared garages where electric car chargers are deemed a fire hazard, reports Quartz.
5. Dealers and service centres are also few and far between
In a country with a population of 1.4 billion Tesla has 10 dealerships and just three service centres. Beijing, a city of 22 million people, has three dealerships, one of which also contains the city's only service centre. A second Beijing service centre, open until at least June 2014, is now closed. Shanghai, with a population of 25 million, has three dealerships, two of which double as service centres.
6. An unorganised ordering process led to cancellations
Until late 2014, buying a Tesla in China required an initial deposit of CN¥15,000 (£1,620; $2,300), followed by a second payment of CN¥250,000 to be paid when the car is built and ready to be shipped. Firstly, that means it cost just £1,600 to cancel the order, but by then it was too late for Tesla to stop producing your car.
Secondly, anonymous sources speaking to CarNewsChina claim Tesla rarely bothered to collect the second deposit. A source described as a "Tesla insider" said collecting the second payment was "too difficult," and that this lenient policy caused a lot of cancellations.
When Tesla's US headquarters learnt of this behaviour the initial deposit was upped to CN¥50,000 without consultation with the company's Chinese operations, who reportedly warned against the raise.
7. In Beijing you need to win a lottery before you can buy a car - zero-emission Teslas included
Air pollution and road congestion in Beijing have forced authorities to introduce a lottery system for new cars. Every person wishing to buy a new vehicle must enter the lottery, with the winners given a registration plate and the right to use their new car. Odds of winning the lottery stand at 0.8 percent.
Although the lottery excludes most electric cars, Teslas do not qualify for the exception as it is for Chinese manufacturers only. There is also a government-issued subsidy for buying electric cars (as there is in the UK), but this too, worth up to £11,500, excludes Tesla.
© Copyright IBTimes 2023. All rights reserved.