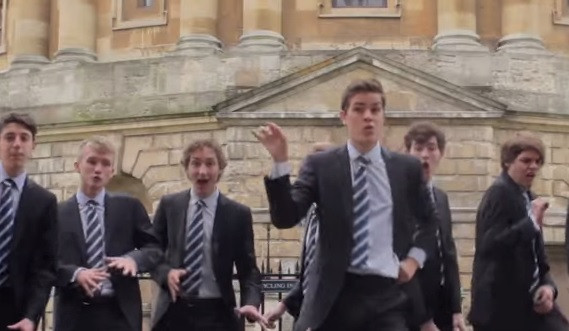 Pop superstar Shakira has given a group of male Oxford university students her seal of approval after they covered her number 1 hit, Hips Don't Lie.
The hilarious four-minute video shows the choir - called Out Of The Blue - singing a cappella while shaking their hips and dancing around the historic grounds dressed in blue suits.
Sharing the clip with her 26 million twitter followers, Shakira said: "Hey @ootboxford, we LOVE you're a capella Shak medly!"
And she is not the only one that has been left impressed.
Their rendition of the track, which has been released to raise money for charity, has already racked up nearly 900,000 views on YouTube.
"This is so great! I love it! It is so refreshing to see men shaking their hips instead of women!" One viewer said.
Speaking to the Daily Mail, the club's president Josh Barr said they selected the song because it was a classic and could be enjoyed by everyone. Following its release in 2006, Hips Don't Lie topped charts across the globe.
"For our first charity single, we wanted to pick a song that everybody recognises, but would also be fun," the English Literature student said.
"You can see from the video just how much fun we had making it, and I think that's important too.
"We try to appeal to as many people as possible. Shakira is such a global artist people have been watching our video from all over the world."
He added: "We can't believe the overwhelmingly positive response we've had to it."
All profits from the sale of the track will be given to Helen & Douglas House, a children's hospice in Oxford.